(Ben Sellers, Headline USA) America's biennial festival of gaslighting—also known as campaign season—has officially kicked into high gear with the arrival of Labor Day and an alarmingly demagogic hate speech from President Joe Biden.
This is parodically bad imagistics for a president. It's as though a bunch of meme-addled morons decided to reify a Dark Biden image in the hopes that it would somehow make him look powerful and cool, rather than demagogic and demonic. pic.twitter.com/ePVRbnG0gA

— Ben Shapiro (@benshapiro) September 2, 2022
It's not the run-of-the-mill fakery that one might expect from Karine Jean-Pierre and the talking heads at MSNBC (as well as those yet to be fired at the foundering CNN).
With the election year ahead, the media has proven yet again its willingness to cast off any pretense of impartiality and go all-in for the radical leftists like never before.
...article continued below
We all know how that worked in 2016 with the Russia collusion hoax and in 2020 with Hunter Biden's laptop from Hell, both of which caused irreparable damage to the MSM's credibility.
But as the phoney narratives abound, it will be amid a backdrop of equally fake polls that show wind in the sails of Democrats, once all but written off politically in the midterms. Many of the methodologies used to manipulate polling data are well documented.
A LEGACY OF FAILURE
For more than a year, Republicans have had generic polls showing an insurmountable advangage that would produce a red wave perhaps even more sizeable than former President Barack Obama's 63-seat net loss in the House in 2010's legendary tea-party midterm.
But lo and behold, as of August the numbers have suddenly tightened again, giving Democrats a 0.1% lead according to the average on RealClearPolitics.
...article continued below
Suffice it to say, history shows the polls to be completely bogus—and almost always slanted in one direction.
After Democrats entered Election Day 2020 with a projected 6.8% polling advantage in the generic ballot, Republicans in the U.S. House enjoyed a net gain of 12 seats.
Moreover, GOP senators like Mitch McConnell, Susan Collins and Lindsey Graham—expected by many to face dramatic seat-flipping losses—were able not only to eke by but to blow out their Democrat competitors.
The question, thus, is not whether the current polls are lying to us, but by how much.
DATA CORRECTIONS
According to David Faris—an unabashedly leftist author and politics professor—data show that Democrats' numbers tend to be close to where they are polling, while Republicans, on average, are short-changed in polls by about 4.1 percentage points.
"The lower the GOP candidate was polling and the greater number of undecided voters, the greater the effect tended to be," Faris wrote in a recent opinion column for Newsweek.
In an election season that has found Republicans (including myself) fretting the most about Arizona's Blake Masters, Pennsylvania's Mehmet Oz and Georgia's Herschel Walker, none of those races may, in fact, have the game-changing impact that will deliver the Senate back into GOP hands.
By adding an extra 4.1 percentage points to the RCP averages of each race, both Oz and Masters would trail slightly be behind their Democrat rivals. However, Walker, who has seen a recent rebound in ratings, would handily win his race against incumbent Raphael Warnock.
That amounts to a wash in terms of net gains, since the GOP would lose its seat in Pennsylvania but gain one in Georgia.
But applying the same standard 4.1% readjustment also puts several other seats into play that few have been focusing on.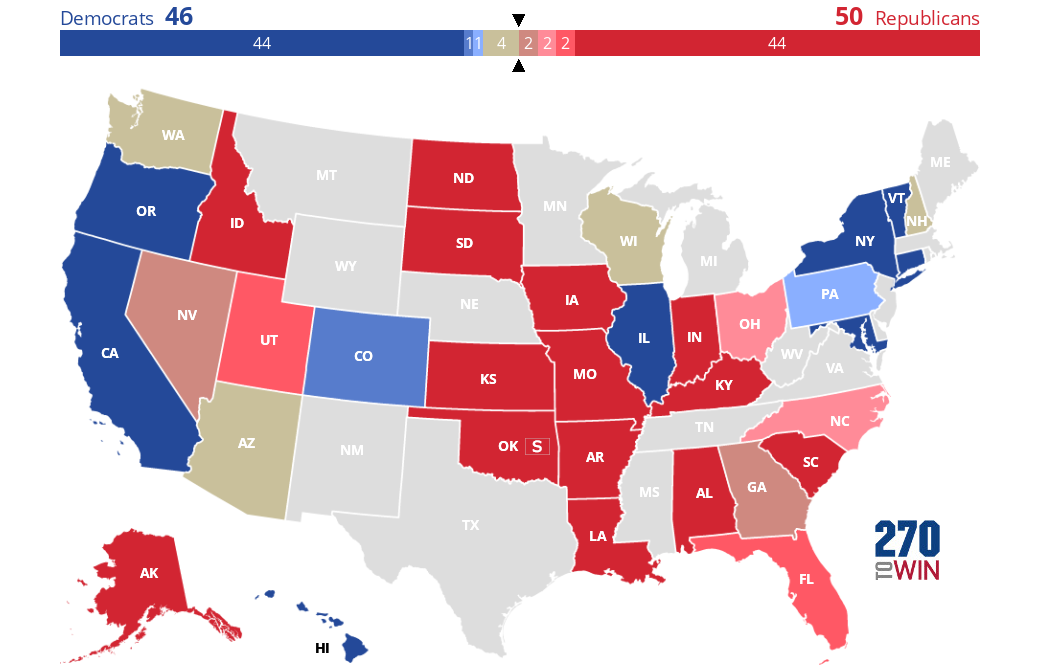 On the downside, it still shows a much closer race for Wisconsin incumbent Ron Johnson than many would prefer to see. Johnson's defeat is one of the prize picks for big-money Democratic donors, given the senator's efforts to investigate some of the Left's biggest scandals.
Johnson's Democrat rival, Mandela Barnes, has a 4.3% edge in the RCP average, so the readjusted numbers would show a razor-thin margin.
On the upside, it shows that New Hampshire and Washington state—both considered to be on the bubble, could be closer to turning red than we realize. And the polling readjustment  puts Nevada contender Adam Laxalt safely into the seat occupied by Democrat incumbent Catherine Cortez Masto.
It also puts Florida's Marco Rubio and North Carolina's Ted Budd in much safer positions than the polls currently indicate.
All in all, by making the cautious and conservative readjustment that even a partisan leftist university professor writing for Newsweek acknowledges to be true, Republicans still at least hold their 50 net seats.
But with any of the four too-close-to-call tossups swinging their way, they coast to a victory that is potentially a net of four Senate seats.
The adjusted data also suggest the GOP will hold all its current governor's seats while adding pickups in three key battleground states: Wisconsin, Nevada and Minnesota.
THE BRANDON FACTOR
Of course, contrary to what the left is claiming, Dark Brandon's decision to go goblin mode hasn't really done it any favors.
While the abortion issue will certainly mobilize some voters, the outrage on the Right over the FBI's invasion of Mar-a-Lago—particularly if Biden's Justice Department foolishly decides to perp-walk the former president—could far counterbalance it.
Biden's vicious attacks—calling MAGA Republicans "semi-fascists" and a threat to democracy— also have fallen flat, with most independents agreeing he went too far.
And most of all, Biden's student-loan amnesty has backfired in splendid fashion, with entitled Democrats complaining that it didn't go far enough while the vast majority of working-class, taxpaying citizens are utterly appalled by the partisan giveaway.
That has brought even more unexpected races into contention and put the momentum once more in the GOP's favor.
Folks I know the GA, WA, & NY #poll numbers are surprising but we at @Trafalgar_Group have seen a big shift in favor of non incumbents since #Biden announced his #studentloanforgiveness package. No other issue this cycle has enraged middle and working class voters more than this

— Robert C. Cahaly (@RobertCahaly) September 3, 2022
With two months to go, there is still plenty of time for a seismic shakeup on either side.
Perhaps another stroke knocks Pennsylvania's John Fetterman out of contention in his race against Dr. Oz.
Perhaps a mysterious virus forces everyone back into lockdown, with mail-in voting becoming the only option.
Perhaps the sitting president incites a civil war.
But as it stands, Republicans trailing in the polls by less than 4 points on average may be exactly where they want to be.
Ben Sellers is the editor of Headline USA. Follow him at truthsocial.com/@bensellers.