On the same day that then-President Donald Trump declared a national pandemic emergency, coronavirus czar Anthony Fauci may have been scheduled to meet with a shadowy, globalist group linked to everything from Jeffrey Epstein's pedophile ring to 9/11 conspiracy theories to the "Great Reset" and new-world order.
According to Fauci's recently released trove of e-mails, he was especially eager to accept an invitation to speak at the annual meeting of the Trilateral Commission, an exclusive society founded by banking oligarch David Rockefeller.
The commission may be second only to the Bilderberg Group in its suspected ties to illuminati-type social-engineering.
"Some even believe we [the Rockefeller family] are part of a secret cabal working against the best interests of the United States, characterizing my family and me as 'internationalists' and of conspiring with others around the world to build a more integrated global political and economic structure—one world, if you will," Rockefeller wrote in his memoirs.
"If that's the charge, I stand guilty, and I am proud of it," Rockefeller added.
According to its Wikipedia page, the Trilateral Commission even has the rare distinction of having been criticized as "undemocratic" by both far-left linguist Noam Chomsky and far-right media personality Alex Jones.
Its ties to other globalist networks have long fueled rumors—which have thrived in online forums like Reddit—about potential conspiracies that the group might have been involved in.
Among those is the notion that it might have engineered the Sept. 11 terrorist attacks in order to justify military involvement in the Middle East.
But at least one salacious detail involving the Trilateral Commission is confirmed: Disgraced pedophile financier Jeffrey Epstein was an active member.
And the group's gatherings may have been a very useful way for Epstein to build up the list of powerful clients in his notorious "little black book."
AN OFFER HE COULDN'T REFUSE
Fauci—whose private correspondence has revealed him to be an insatiable media hound—was growing increasingly more selective with his engagements when he received the Feb. 10 invitation from the Trilateral Commission.
He had been complaining that the lack of sleep during the pandemic crisis was similar to the long nights of his medical internship.
On Feb. 5, he was reluctant to conduct a YouTube forum with Steve Clemons, an editor for The Hill who was producing a new webcast for Al Jazeera.
"Let us discuss," Fauci wrote to his assistant, Patty Conrad. "Steve is a good guy, but I do not want to kill myself trying to do too many things at the same time."
Fauci also hesitated over a Feb. 21 meeting with Johnson & Johnson's Paul Stoffels to discuss its "experimental work on the development of a COVID-19 vaccine," citing his growing list of obligations.
"My schedule is at the mercy of the White House and the Congress and so I cannot guarantee anything right now," Fauci told Stoffels.
He declined a Feb. 26 event at the US–Asia Institute: "Sorry. Cannot do. Congressional Hearing."
And he wondered aloud whether an appearance on PBS's Firing Line with Margaret Hoover was worthy of his time: "Are they a big deal?"
But Fauci seemed deeply intrigued by the Trilateral Commission's offer from North American chair Meghan O'Sullivan, a former deputy national security adviser under George W. Bush who oversaw foreign policy in Iraq and Afghanistan during the wars in those countries.
The commission's annual meeting, to address the topic of "Democracy and Capitalism at a Crossroads," clearly seemed worthy of Fauci's time and growing stature during such a pivotal moment.
"Let us discuss," he wrote Conrad, while advising her not to vet it with others at the National Institute of Allergy and Infectious Diseases.
"We do not need to bring before the OD AM group" he said. "I would like to do this if possible. It is an invitation from Meghan O'Sullivan who was one of the security crew from Bush 43." 
A RATS' NEST OF GLOBALISTS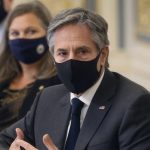 But rubbing elbows with the architect of Bush's wars on terrorism was hardly the only networking that an ambitious civil servant might do during the March 13-15 meeting.
The group's January 2020 membership list is a who's who of power-brokers from the US, Europe and Asia.
Among the names in the North American Group alone were:
future Biden Secretary of State

Tony

Blinken

leftist billionaire Michael Bloomberg

former Swedish ambassador

Mark Brzezinski (brother to MSNBC's Mika Brzezinski and son to Carter National Security Adviser Zbigniew Brzezinski)

former Obama Defense Secretary/Biden cuckold Ash Carter


former Bush Homeland Security Secretary Michael Chertoff

former anti-Trump witness

Fiona Hill

(fresh off her impeachment testimony)
Washington Post columnist David Ignatius (who published the leaked transcripts of Michael Flynn's conversations with a Russian ambassador)
former Secretary of State

Henry A. Kissinger

NBC News correspondent Andrea Mitchell
former Obama CIA Director

David Petraeus

Carlyle Group co-founder

David M.

Rubenstein

future Biden National Security Adviser

Jake Sullivan

former Federal Reserve chair

Paul A. Volcker
This veritable rats' nest of deep-state never-Trumpers also included a litany of wealthy CEOs, elite academics, career politicians and left-wing journalists.
Moreover, its Asia Pacific Group included an array of powerful Chinese, Japanese and Korean business and political leaders.
If there were one gathering where powerful people might have plotted to overthrow the Trump administration using a coordinated plan of attack that leveraged the utmost in global resources, this would have been it.
'BETTER THINGS TO DO'?
Since then, the Trilateral Commission has had many alarming discussions about how to move forward in the post-pandemic world, addressing everything from the global economy to the food supply.
It is unclear from Fauci's emails whether he wound up attending the group's plenary annual meeting in Washington, DC, or whether his obligations to lead the US pandemic response got in the way.
However, he did conduct an August 2020 "virtual conversation" with the group that shockingly had been viewed fewer than 3,400 times as of this writing.
During that talk, moderator Juliette Kayyem—a former Boston Globe columnist turned Harvard lecturer—immediately "cut to the chase" by asking Fauci, "Do we need a reset or restart in the United States, and what would that look like."
Fauci, well aware of the influence his audience had, hammered the "midwestern" red states for prematurely reopening; and he spoke in veiled, vague language to criticize the Trump administration, while suggesting that the November election would be among the top factors in ending the pandemic.
Fauci said if he had to choose one priority other than vaccine development, it would be to "implement a uniform response that's consistent" rather than empowering the states to make their own pandemic decisions.
Yet, the virologist made clear that the power for determining that response should not rest with then-President Donald Trump, but rather with himself.
"The worst thing you can do when you have an outbreak or a challenge to your nation … is to have political divisiveness," Fauci said, thereby injecting his own politics into the response to a non-political question about his medical expertise.
"You don't need to be a political scholar to know that that's going on in spades in this country," he griped. "And that should not be."
The August 2020 discussion seemed to garner little public notice. However, blogger Fred Donaldson was one of the few to comment on it, questioning Fauci's purpose in meeting with the group.
"As a taxpayer and American citizen, are you disturbed that the doctor—in the midst of a pandemic—finds time to spend an hour or more with an organization that is dedicated to establishing a new world order—one without borders—ruled by technocrats in the model of China, instead of by national democratic institutions?" Donaldson asked.
"Fauci has better things to do for the American people than conducting a love fest … with this notorious organization," he added.