(Ben Sellers, Headline USA) Few people when they travel to Zurich, Switzerland, are likely to make the Cabaret Voltaire one of the top destinations on their tourism list.
However, it may have been one of the most influential landmarks in defining modern-day art and culture.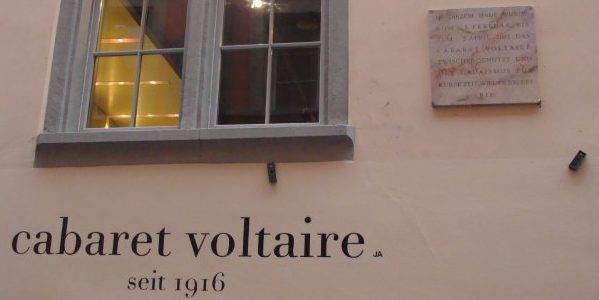 It is considered to be the birthplace of Dadaism, the subversive post-World War I movement that broke down barriers and redefined the very nature of art, from something intended to mirror reality into something designed to provoke and reshape it.
Its adherents often relied on repurposing existing artifacts—whether previous works of art or discarded junk—and trying, in the words of poet Ezra Pound, to "make it new," much as today's rap music often "samples" earlier works.
Among the most famous Dadaist examples may be Marcel Duchamp's "L.H.O.O.Q."—a reproduction of the Mona Lisa with a goatee—the title of which is a sort of pun translating from the French to mean "she has a hot ass."
Duchamp also was known for his sculpture "Fountain," which was simply a urinal with the signature "R. Mutt 1917" painted on it, and for the painting "Nude Descending a Staircase (No. 2)." His artistic style was embraced non-ironically by latter-day Cubists like Pablo Picasso, who likewise deconstructed conventional standards of beauty in their art.
Wordsmiths like James Joyce, T.S. Eliot and Ernest Hemingway also absorbed aspects of the Dada movement, breaking down traditional literary formats and transforming modernist literature into a more fragmentary medium that relied on free-form, "stream of consciousness" prose to tap into a more sincere type of expression.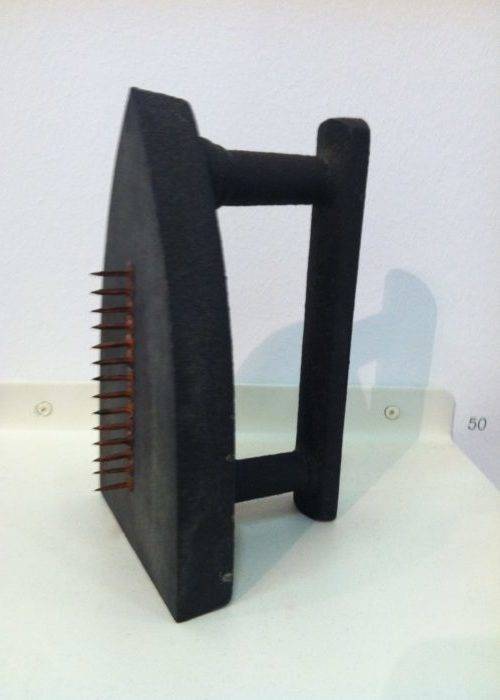 Meanwhile, Man Ray, an American artist living in Paris at the same time, offered up his Dadaist interpretation with "The Gift," a sculpture of an iron with nails in it, effectively destroying its functional intent while turning it into something unique and equally practical in its own right—a tool of destruction, both literally and symbolically.
And Belgian Rene Magritte subsequently helped transition Dada into the surrealist movement with paintings like "The Treachery of Images," which questioned the very notion that art could represent reality by using a drawn depiction of a pipe with the words (in French) "This is not a pipe" written underneath.
AN EXCLUSIVE CLUB
Much of Dada's aim was intentionally mocking its contemporary mores at the same time that it was tearing them down—a powerful mix of entertainment and social revolution that was one of the first of its kind to blur the boundaries in such a way.
There also is a meta-esoteric sort of self-aware quality to it: Those who "get it" are part of the club, while those who do not remain on the outside.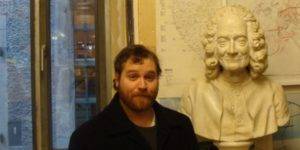 As a lover of irony and all things ridiculous, I lapped it up, making Cabaret Voltaire one of my first stops during a 2010 visit to Switzerland.
It was something of a badge of honor that I and my travel companions were among the only people in the modern-day museum, tucked in Zurich's bustling, commercially-driven Old Town and surrounded by high-end fashion shops like the Trois Pommes—a store so exclusive it refused to let Oprah Winfrey handle its wares.
In light of his recent antics, it is increasingly clear that Kanye West (who now insists people call him "Ye") is part of the same club of Dada aficionados.
But his next-gen Dadaism has flipped the movement's subversiveness on its own head, repurposing it into something morally repugnant that its iconoclastic originators—like today's elite, liberal intelligentsia—would consider to be the antithesis of what art should represent.
West, who was only recently re-instated to Twitter by new CEO Elon Musk following an earlier anti-Semitic rant, was banned once more for tone-deaf and inflammatory statements that claimed Adolf Hitler had "a lot of redeeming qualities" and retweeting a symbol that contained a swastika inside a Jewish Star of David.
Kanye 'Ye' West: "I like Hitler. … I'm not trying to be shocking, I like Hitler. The Holocaust is not what happened, let's look at the facts of that and Hitler has a lot of redeeming qualities." pic.twitter.com/UwCu2ZJfid

— Ryan Saavedra (@RealSaavedra) December 1, 2022
It is Dadaism in its purest form, on one hand. But it is an exclusive club to which few who "get it" may wish to belong.
A MOTLEY TRIO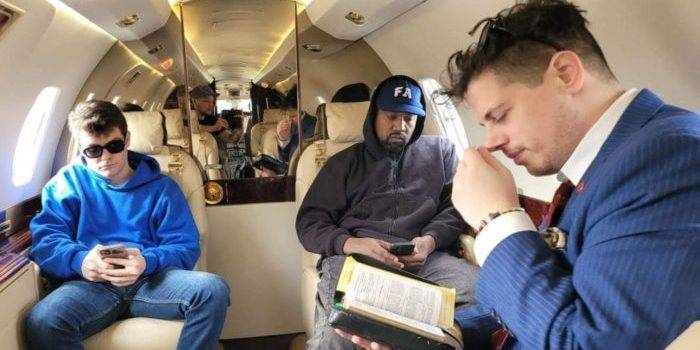 From a political standpoint, West's anti-establishmentarian sentiment may be an alluring to disaffected conservatives who seek to surround themselves with influential allies in America's ongoing culture war, but his cause ultimately serves nobody but himself, and he will throw anyone under the bus who allows him the opportunity to do so.
Call it Trumpism on steroids.
It is fitting, thus, that the latest target in West's campaign of destruction is former President Donald Trump, whose 2024 re-election effort got off to a shaky start last week after he drew negative headlines for dining with West and self-avowed Holocaust denier Nick Fuentes—which later proved to be an ambush.
Joining the unlikely duo is Milo Yiannopoulos, once a rising star of the alt-Right, whose fall from grace came after he expressed sympathies for pedophilia.
The British-born ex-Breitbart editor's claims to be a reformed "ex-gay"-turned-Bible-toting-evangelical have been met with some skepticism.
Yiannopoulos has acknowledged that he set up Fuentes to attend the Nov. 22 dinner-meeting with West at Mar-a-Lago in order to "make Trump's life miserable" and to "send a message" to the ex-president, The Guardian reported.
In a sense, West and his cohorts succeeded in using against Trump the same brand of scortched-earth tactics that Trump has regularly used to attack mainstream Republicans—from former Florida Gov. Jeb Bush to current Florida Gov. Ron DeSantis.
However, Trump is now the victim of his own success. Having refashioned the Republican Party in his image by tearing down the previous order, he now must face similar attacks as the new old-guard candidate.
Fuentes, a podcaster whose racist rhetoric often gives fodder to leftist tropes about the "rise of white supremacism," is just as self-serving and insincere as West and Yiannopoulos in terms of his conservative allegiances.
Among his bizarre and provocative notions, Fuentes—who considers himself a proud part of the internet's "involuntary celibate" subculture—has claimed that "Dating women is gay. Having sex with women is gay…"
Jimmy Kimmel just played the Fuentes "having sex with women is gay" clip on national television 😬 pic.twitter.com/vWTJFzUSKR

— RPG (@RedPillGangTV) November 29, 2022
As for the recent spat with Trump, Fuentes said he considers it a "win–win," according to The Spectator.
Either it pushes Trump farther to the right or "if Ye wins, that's even better," Fuentes said, failing to acknowledge that both might emerge unelectable as a result.
WHORING FOR HEADLINES
Like Trump circa 2016, West's spectacle seems to generate a new headline every day. In fact, it can be hard trying to keep up with all of his shenanigans—and hardly worth the effort given that all are but a means to one end: notoriety.
However, leftist site Buzzfeed attempted to catalogue the series of events in October that led West to be canceled by the bicoastal forces in Hollywood and Manhattan who first helped propel the rapper from Chicago's South Side into a world-renowned billionaire.
It began with the Oct. 3 Paris fashion show during which West and conservative commentator Candace Owens, both African-Americans who reject the leftist dogma, showed up wearing "White Lives Matter" shirts.
View this post on Instagram
The controversy drew in several scions of pop-culture, rending leftist celebs into divided camps and eliciting in conservative onlookers a sort of gleeful Schadenfreude.
Jaden Smith—the son of disgraced Oscar-winner Will Smith, who is no stranger himself to self-destructive behavior—walked out of the fashion show and tweeted that West had lost the support of youth culture.
I Don't Care Who's It Is If I Don't Feel The Message I'm Out.

— Jaden (@jaden) October 3, 2022
However, Selah Marley—the daughter of rapper Lauryn Hill and granddaughter of Bob Marley—who wore one of the "White Lives Matter" shirts, remained defiant after the backlash.
"The past 24 hours as allowed me to realize that most of yall are stuck in a hive mentality," she wrote on Instagram.
"You do what the group tells you to do and think what the group tells you to think," she continued. "Witnessing someone break free from 'the agenda' sends you all into such a panic that you will do whatever it takes to force them back into the box that you feel they should exist in."
Vogue editor Gabriella Karefa–Johnson put the controversy into a broader Dadaist context.
"I guess I get what he tried to do—he thought it was duchampian," she wrote on Instagram.
"It wasn't," she continued. "It didn't land, and it was deeply offensive, violent and dangerous. There is no excuse, there is no art here. I do think if you asked Kanye, he'd say there was art, and revolution, and all of the things in that t-shirt. There isn't."
Per the New York Post's Page Six, West responded with his own historical allusion—whether intentionally or not—invoking the famous Magritte painting by posting a picture of Karefa–Johnson subtitled "This is not a fashion person."
UNITED IN OUTRAGE
Both the Left and Right may safely agree that West is a brilliant jackass.
His nihilist "movement" is a sort of parasitic performace-art that relies on public outrage to thrive. And, like the "Black Lives Matter" cause that he recently lampooned, it also is fundamentally rooted in Marxist principles that are intended to undermine America's institutional values.
While Dadaism may be an intriguing topic of conversation in the abstract—a way of challenging conventions and upending the status quo—it ultimately leaves nothing of value in return.
Its destabilizing impact arguably may have been a contributing factor to the rise of movements like Nazism and communism.
While European elites preoccupied themselves with avant-garde navel-gazing, Dadaism proved a convenient distraction from the real problems that Vladimir Lenin and Adolf Hitler  exploited to shore up power.
In that sense, it may not have been a cause of extremist movements that resulted in the worst mass genocides in modern history, but it was a symptom of the same social ills.
Contrary to the claims of left-wing panicmongers like Ari Emanuel and the Anti-Defamation League, Kanye West's rhetoric is not likely to recruit many people to his cause, whatever that may be.
There is no immediate threat that he will sway broad swaths of public sentiment against Jewish culture—although the cabalistic efforts to cancel West and other prominent celebrities may, to some extent, validate the very stereotypes they are denouncing.
Still, the sideshow created by West and his gang of misfits is dangerous precisely because it is toothless. The more attention it receives, the more likely we are to misinterpret and ignore the true threats that emerge to fill the power vaccuum it creates.
And that is playing precisely into the hands of the radical Leftists who hope to topple America altogether.
Ben Sellers is the editor of Headline USA. Follow him at truthsocial.com/@bensellers.