(Ben Sellers, Headline USA) "We need a Sgt. Slaughter today," said Fox News personality George "Tyrus" Murdoch during a visit Friday to Greensboro, N.C.'s historic Carolina Theatre for a show made possible by High Point University's College Republicans.
As it turned out, Slaughter (né Robert Remus), the iconic professional wrestler who became a G.I. Joe character and role model to young boys growing up in the 1980s, was in the audience.
But the line might easily have been part of Tyrus's regular script for the eclectic performance—part stand-up, part sermon, and interspersed with personal stories and insights into some of his famous colleagues. (Geraldo Rivera, in particular, bore the brunt of his derision: "We get it, you don't like to wear your shirt and you've met some people.")
With a best-selling book, regular spots on several Fox News shows (including the top-rated late-night talk show), and a budding career as an actor and stand-up performer, Tyrus—who is also a championship wrestler with the National Wrestling Alliance—seems poised to wrestle away another title, supplanting washed-up shock jock Howard Stern as the new "King of All Media."
...article continued below
His performance on Friday pulled the audience—mostly older, white Fox viewers—away from their nightly dose of Tucker Carlson, Sean Hannity and Laura Ingraham, but conveniently back home in time for Tyrus's signature show, Gutfeld!, where the 6-foot-7 gentle giant unconventionally plays the "straight-man" foil to oddball host Greg Gutfeld.
The 7:30 p.m.early show time "means there is a room full people saying, 'I'm having a good time, and I'm home by 10:30,'" opening act (and regular Gutfeld! guest) Joe DeVito quipped.
"We know our demograpic. These are the folks, 'Did you have your Relief Factor?'" DeVito mused in a take-down of both the audience's age and the regular repertory of Fox News advertisements.
"I think Fox needs to add maybe a fourth commercial in the rotation," he continued. "At this point, I think Mike Lindell is just selling s**t that he has around the house."
...article continued below
Although the performance was far from G-rated, it did include an appearance from Tyrus's 8-year-old daughter, Georgie, who joined her dad onstage for a series of jokes.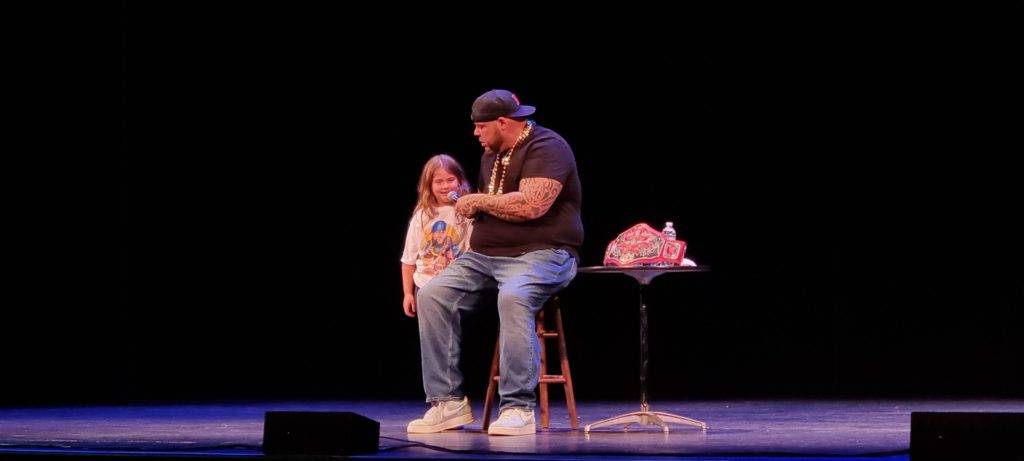 And despite the night's occasional raunchiness—including an anecdote about Tyrus's experience in a fertility clinic that made a certain notorious scene in American Pie seem like the Donna Reed Show—the act did have something in common with the wholesome television of a bygone era: a moral message.
That was the payoff that Tyrus's fans were yearning for: a way to laugh and make light of the senseless reality that confronts us all in the era of Joe Biden, while still finding hope and reassurance that common-sense values will prevail.
The Los-Angeles-native-turned-Louisiana-transplant spoke of the need for right-minded people to stick together and to confront problems head-on without fear of being canceled or attacked.
"We're all racists now," said Tyrus, a former security guard for rapper Snoop Dogg who counts himself among the growing rank of red-pilled black Americans abandoning left-wing politics.
"It's like you're being inclusive—you're part of a group," he continued. "'I watch Fox News'—it's like, 'Right on, brotha.'"
As he does on the Gutfeld! show, Tyrus sometimes seemed to speak with the authority of a token minority offering permission and validation to his white counterparts.
"I have to teach you how to act a fool when you're confronted," he told the audience.
But he also held whites to task for their utter capitulation to wokeness and identity politics.
"The people who used to challenge, used to not take s**t, conquer, innovate—white people, what happened to you guys?" he asked.
Tyrus's refreshingly unflinching look at race touched also on the need for personal responsibility and accountability in the black community—values instilled in him by his 1980s mom that he now finds himself trying to pass on to his own children alongside his wife, Ingrid Rinck, who acted as the show's emcee.
As a young man, Tyrus fell into the trap of "blaming white honkies for everything," he said.
"I got cut from the NFL cause they didn't want any black people in it," he joked of his former victim mindset.
"We've go so many crutches now—not for the people who need them," he continued. "So what do we do? We've gotta turn off social media. We gotta go back outside."
After such a poignant moral, one might have expected to hear the famous line from the Reagan-era public-service announcements during G.I. Joe cartoons: "Now we know, and knowing is half the battle."
But instead, in a final onstage Q&A segment of the show, Tyrus brought out Chris Castelli, the GOP candidate in North Carolina's (blue-favored) 6th Congressional District, whose distinguished military career, including as Army Green Beret, reads like that of a real-life G.I. Joe.
"The catalyst for me to jump into this race was watching the botched withdrawal" from Afghanistan, Castelli said.
After outlining his stances on the economy and border-security—two of the five pillars of his campaign platform—Castelli asked Tyrus a series of questions submitted by V.I.P. members of the audience.
In one, Tyrus recounted how he first came to meet and work with Gutfeld, which all began with a sarcastic tweet.
He spoke also about how he responded to the many obstacles in life by learning from his failures.
"The only way you can grow is when you look at the guy in the mirror and tell the truth," he said.
Although it may have been for the best that few kids were present in the audience to hear the more colorful parts of the act, seeing the champion wrestler swap inspirational tales of conquering adversity with a real-life war hero did prove Tyrus wrong about one thing:
We do not need more Sgt. Slaughters in the world today.
We just need to bring back toy stores to start selling more of their action figures.
My action figure will be available first thing in the morning so get rest super fans but same deal tag me when you get your mini me and I will follow you!!!! Annnnnnd the first 3 get my audio book code for free!!!!! @nwa @FoxNews @nwa @MajorPodNetwork #nuffsaid pic.twitter.com/UzmkULmPoU

— Tyrus (@PlanetTyrus) July 8, 2022
Ben Sellers is the editor of Headline USA. Follow him at truthsocial.com/@bensellers.