Over the course of the last week, cancel culture has come up against two roadblocks by the names of Dave Chappelle and Mark Robinson.
Both have come under fire from the LGBT community for what were construed as derogatory remarks uttered under very different circumstances.
But both of the speakers happened to be fearless, outspoken black men who scoffed at the idea of getting canceled for expressing their personal truths.
Chappelle, a stand up comic, released his sixth and final special last Tuesday, titled The Closer. Since its release, it has whipped up controversy due to his common sense statements on many left-leaning topics, particularly transgenderism:
"Gender is a fact," Chappelle says in the speical. "Every human being in this room, every human being on Earth had to pass through the legs of a woman to be on Earth, that is a fact."
Chappelle went on to defend J.K. Rowling, author of the Harry Potter series and another celebrity who has come under fire for supposedly "transphobic" comments.
He also came out in support of women called TERFs, or "trans-exclusionary radical feminists."
Of course, jokes such as these attracted the wrath of the cancel culture mob.
Jaclyn Moore, Netflix showrunner for the show Dear White People, said that he would no longer be working with the streaming service after watching Chappelle's new special.
Moore, who was born male but identifies as a woman, condemned the special, saying he could not work for a company profiting off of "blatantly and dangerously transphobic content," Yahoo News reported.
Moore has also called for a boycott of Netflix.
No stranger to controversy, Chappelle has been sticking to his guns like a champion—and it seems as if his audience is sticking with him as well.
In a Thursday night showing of his new documentary, Untitled: Dave Chappelle Documentary Film, Chappelle received a standing ovation for his defiance:
"If this is what being canceled is about, I love it," Chappelle said.
The cancel mob met a second strong opponent this week—North Carolina's Republican Lt. Gov. Mark Robinson.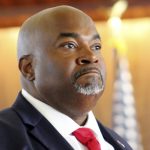 Speaking from the pulpit of a black church in June, Robinson railed against the "filth" that is being taught in our nation's public schools, the Right Scoop reported.
Robinson—a vocal critic of public-school indoctrination who recently released the findings of a task force seeking to hold schools more accountable for their curricula—questioned what teachers were actually promoting to students in the classroom. .
"They teach them a bunch of stuff about how to hate America," he said.
"They teach them a bunch of stuff about why they're racist," he continued. "They teach them a bunch of stuff about transgenderism and homosexuality. … Those issues have no place in a school."
The clip went viral.
Some, who pointedly misconstrued the statement, conflated Robinson's objection to promoting sexual content to school children with homophobia, calling on him to resign.
However, he rebuffed the effort.
Robinson was later interviewed on his local news station where he doubled down on the message of protecting children from indoctrination.