Editor's Note: This is the fourth installment of the Fed Files, a series revealing the sinister relationships between the FBI and groups associated with U.S. right-wing extremism. Stay tuned to Headline USA for more information about a forthcoming weekly podcast in which investigative journalist Ken Silva will dig into similar issues.
(Ken Silva, Headline USA) On Aug. 11, 2017, right-wing extremists converged on the college town of Charlottesville, Virginia. Wielding tiki torches, they marched up the steps of the University of Virginia's Rotunda, shouting slogans such as, "You will not replace us!"
The following day, roughly two miles away, they gathered near the city's Downtown Mall to protest the illegal efforts by the city council to remove two nearly century-old monuments to Confederate generals Robert E. Lee and Thomas "Stonewall" Jackson.
The groups involved in the "Unite the Right" rally had legally obtained all the necessary permits to protest—despite efforts by local officials to thwart them in a city, once home to Thomas Jefferson, that had prided itself on its tolerance and embrace of free speech.
But while there, the demonstrators were met by Antifa counterprotesters, some wielding improvised flame throwers and other projectiles. At least one of the left-wing activists, University of North Carolina teaching assistant Dwayne Dixon, brought a gun, which he used to patrol the mall and intimidate the right-wingers.
Sure enough, deadly violence ensued.
A 20-year-old Ohio man, James Alex Fields Jr., found himself surrounded by counterprotesters at the pedestrian crossing at the intersection of 4th and Main streets, and accelerated his car into the crowd, killing onlooker Heather Heyer and injuring several others.
In the aftermath, then-President Donald Trump sought to defend, in principle, the rights of the protesters by arguing that there were "very fine people on both sides"—comments often distorted and taken out of context by the mainstream media.
Democrat Joe Biden would go on to claim that he entered into the 2020 presidential race after witnessing the Charlottesville violence.
"Close your eyes—you remember what those people looked like coming out of the fields carrying torches," he said during one debate, falsely implying that the U.Va. athletic fields were some backwoods, Southern farm to conjure images of a Ku Klux Klan cross-burning.
As it turns out, both men may have been far off-base about what really happened in Charlottesville—something more akin to a powder keg of racial tensions that exploded with the knowledge and tacit support of federal law-enforcement.
The FBI declined to comment for this story. The White House did not respond to questions.
A Confederacy of Feds?
Last week, Headline USA revealed that a longtime FBI informant co-founded one of America's oldest and largest neo-Nazi groups, the National Socialist Movement, which participated and committed violence in the 2017 Charlottesville "Unite the Right" rally.
With only a little over 20 NSM members at Charlottesville, the group's involvement could, at first blush, be viewed as relatively minor—if viewed in isolation.
But that's far from the whole story.
Court records further show that the NSM was part of a larger neo-Nazi coalition called the Nationalist Front, an alliance comprising a number of other groups at Charlottesville that were allegedly infiltrated by the FBI, including the Confederate Hammerskins and the League of the South.
Moreover, a fourth member of the FBI-linked Nationalist Front, the now-defunct Vanguard America, was seen marching with James Fields—the man who murdered counterprotester Heather Heyer with his car.
Vanguard America has since mutated into yet another group widely believed to be infiltrated by the FBI: the Patriot Front.
The accusations about the League of the South and the Confederate Hammerskins come from former NSM member and convicted felon Bill White. As Headline USA reported last week, the prison inmate's accusations are newsworthy because he's provided FBI memos and affidavits to support at least some of his claims, and because the U.S. government has retaliated against him for his disclosures.
In a Freedom of Information Act lawsuit in 2017, White cited the book Undercover Nazi, written by former FBI informant David Gletty, to support his allegations that the League of the South and Confederate Hammerskins were infiltrated by the FBI.
"I know from Gletty's book that the FBI used the NSM to infiltrate a group of Confederate Hammerskins in Florida," said White, whose FOIA lawsuit was ultimately unsuccessful for procedural reasons.
White further noted that Gletty was "tasked to infiltrate" the League of the South, according to Undercover Nazi.
Additionally, White noted that the League of the South's merchandising store, the Southern Patriot Front, was at one point operated by the father of a confirmed FBI informant, Joshua Sutter—another reason to suspect that the League of the South was federally co-opted, White argued in his lawsuit.
As for former Nationalist Front member Vanguard America—now infamous for marching with Fields before he murdered Heyer—White's lawsuit doesn't mention the group by name. By the time Vanguard was formed, White had already been incarcerated for nearly a half-decade.
A 'Front' for What?
Since mutating into the Patriot Front, the group's online presence has exploded—though perhaps not in a way that its members intended. With their khakis and freshly ironed polo shirts, the Patriot Front has frequently been mocked online for being an apparent FBI front group.
Joe Rogan rips the feds for staging a Patriot Front march#FBI #DOJ pic.twitter.com/6afpa1TBSL

— • ᗰISᑕᕼIᗴᖴ ™ • (@4Mischief) May 15, 2023
And while the Patriot Front hasn't been outright accused in lawsuits of being an FBI subsidiary, its infiltration by federal informants is well documented.
As Headline USA reported, one of its former members admitted to being an FBI informant in court documents earlier this month. That admission followed the Patriot Front's disclosure earlier this year that it had been infiltrated by a leftist.
Additionally, undercover FBI-JTTF agents have been spotted at Patriot Front rallies, and records show that the group was monitored—and therefore likely infiltrated—for more than a year before dozens of its members were arrested for allegedly plotting to riot in Idaho.
Patriot Front members and groups in the now-defunct Nationalist Front have all denied working with law enforcement. The Confederate Hammerskins could not be reached for comment, while the League of the South did not respond to email questions.
Vanguard has also reportedly denied that Fields was a member.
The Unheeded Warning
Along with naming the NSM, Confederate Hammerskins and League of the South as groups that were allegedly co-opted, White's 2017 FOIA lawsuit also described how the FBI would use such groups to ignite racial violence.
"The FBI-[Joint Terrorism Task Force] would use the National Socialist Movement to hold phony 'white supremacist' rallies," White said in his July 17, 2017, Freedom of Information Act lawsuit.
"The FBI-JTTF would also arrange for violent counter-demonstrations against these rallies through informants in groups such as Anti-Racist Action," White added, referencing the ARA, a precursor to Antifa.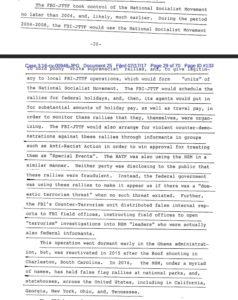 White's lawsuit was prescient: Weeks after it was filed, the NSM marched on Charlottesville, clashing with counterprotesters in an event that turned deadly.
Did White have a crystal ball in his prison cell? Hardly.
White's foreshadowing of Charlottesville came from firsthand experience at a similar event 12 years prior in Toledo, Ohio.
In October 2005, the NSM organized a march through black neighborhoods in Toledo.
The event, predictably, ended in disaster, with angry residents responding violently to the Nazis walking through their neighborhoods.
"Local residents and counter-demonstrators began throwing rocks and bricks at vehicles, local residences and businesses," an FBI memo said of the event. "Local residents and counter-demonstrators continued with the clash with the police, looting a store and setting fire to a local bar."
According to White, law enforcement was a big reason why things got out of hand at Toledo.
In a 2020 sworn declaration, White said on the morning of the 2005 Toledo demonstration, police and the FBI occupied a parking lot where the NSM members were convening. About an hour later, police directed NSM members to enter the parking lot by driving through a crowd of angry counterprotesters, White said.
"This started problems," he said.
"After the mob began throwing things at the police, the police then continued to direct traffic through the mob, leading to one person·having the windows broken out of their car," he said.
"Eventually, about 32 people, including the 9 who started out with me, made it through the mob, and, we began our march. At this time, violence broke out on the street on the other side of the school at, where the Communists attacked the police," he added.
"The police then blocked our march, and, I led the NSM contingent back to [the parking lot]."
About a year later, the NSM planned another march through a black neighborhood, this one in Orlando.
Luckily for all civilians involved, there was no violence reported at that event.
However, the noteworthy fact about the Orlando event is it was later revealed to have been organized by an FBI informant.
"That revelation came Wednesday in an unrelated federal court hearing and has prompted outrage from black leaders, some of whom demanded an investigation into whether the February 2006 march was, itself, an event staged by law-enforcement agencies," the Orlando Sentinel reported at the time.
White, who was also attended the Orlando rally, said in his 2020 declaration that he now believes the majority of Nazi demonstrators were informants.
"I estimate that about three of the twenty to twenty-five persons who participated were not federal agents: myself, Laura Sennett, aka Isis, and an undercover reporter for a local paper," White said.
A Jan. 6 Test Run?
The troubling FBI involvement with the NSM Toledo, Orlando and Charlottesville rallies raises the question: Was the Jan. 6, 2021, Capitol Hill riot taken from the same playbook?
In his 2021 documentary Patriot Purge, which aired on Fox Nation, former Fox News host Tucker Carlson first brought to widespread public attention the possibility that the Jan. 6, 2021, uprising at the U.S. Capitol might have been a government-organized campaign to undermine the out-going Trump administration and facilitate the transition of power after Trump insisted on challenging the highly suspicious 2020 election outcome.
If Carlson's premise is to be accepted, then the 2017 Charlottesville riot can be considered as its bookend—used early in the Trump presidency to undermine the Republican leader, just three months after Trump had fired FBI Director James Comey and allowed his highly partisan deputy, Andrew McCabe, to take over as acting director.
McCabe had well-known ties to then-Virginia Gov. Terry McAuliffe, a longtime Clinton surrogate and former Democratic National Committee chairman who had given McCabe's wife, Jill, nearly half a million dollars for a campaign to run for the Virginia Senate.
McCabe was rebuked by the Justice Department's inspector general for his lack of candor, in part for failing to disclose the conflict of interests, and was later himself fired by Trump.
Andrew McCabe FIRED, a great day for the hard working men and women of the FBI – A great day for Democracy. Sanctimonious James Comey was his boss and made McCabe look like a choirboy. He knew all about the lies and corruption going on at the highest levels of the FBI!

— Donald J. Trump (@realDonaldTrump) March 17, 2018
Although McAuliffe ordered the National Guard to be deployed on stand-by during the Charlottesville riot to support local law-enforcement, eyewitnesses said police were given a stand-down order, and many criticized the fact that they were slow to act in preventing violence and dispersing the crowds.
"State police and National Guardsmen watched passively for hours as self-proclaimed Nazis engaged in street battles with counterprotesters," reported the left-wing ProPublica.
Speculation has likewise arisen that then-House Speaker Nancy Pelosi, D-Calif., was behind a plan to intentionally leave the U.S. Capitol defenseless on Jan. 6.
Other common threads between the Charlottesville and Jan. 6 events also suggest a government cover-up of some kind.
One of the lead investigators in both was Tim Heaphy, a former U.S. Attorney during the Obama administration, who was tasked by Charlottesville officials with leading their "independent review" following the 2017 riot.
After the out-going McAuliffe selected Harvard education school dean Jim Ryan to be U.Va.'s next president in 2018, Ryan then appointed Heaphy as his wing-man to oversee the school's general counsel's office. (Full disclosure: A relative of Headline USA's editor worked alongside Heaphy in that office.)
But in 2021, Heaphy took a leave of absence from his U.Va. role to become the top investigator for the House's Jan. 6 Committee.
A member of that committee, former Rep. Liz Cheney of Wyoming, now works as a professor in U.Va.'s politics department. However, a representative from the school's Center for Politics denied that Heaphy played any role in facilitating Cheney's hire.
"We had an existing connection with her because she was part of our Jan. 6 anniversary event in early 2022," Kyle Kondik, the managing editor for Larry Sabato's Crystal Ball, told Headline USA in March.
In addition to the actions of government officials, Jason Kessler, the local-activist-turned-patsy who supposedly organized the "Unite the Right" rally, acknowledged that he had previously been an Obama supporter and had even participated in an Occupy Wall Street rally before taking a turn to the hard right, Fox News reported.
Missing Evidence
At this point, any evidence of FBI involvement in Charlottesville may be long gone.
During the Charlottesville civil litigation, former NSM leader and alleged FBI informant Jeff Schoep had his phone "fall into a toilet" before it was turned over as discovery evidence, according to court records. It was also revealed during civil litigation that new NSM leader, Burt Colucci, deleted Schoep's email accounts after he left the group.
Schoep has now purportedly repented from his neo-Nazi past, and is currently working with the FBI and other law enforcement groups on counter-extremism matters. Schoep has strongly denied being an FBI informant while he was a neo-Nazi, or that the NSM had anything to do with provoking violence at Charlottesville.
"Outright accusing me of being an informant: Wow," he said in an email to this publication. "If I was still in the movement, you might have gotten a visit for that accusation—and not a visit from law enforcement."
The Nationalist Front largely disbanded soon after Charlottesville. The movement remains in shambles, and the recent civil litigation aims to keep it that way.
In November 2021, a jury found the NSM, Vanguard America and the League of the South liable for $1 million apiece over their actions at Charlottesville.
Schoep—who punched a counterprotester at Charlottesville—was also ordered by a jury to pay $500,000. He has an appeal pending in that case.
Ken Silva is a staff writer at Headline USA. Follow him at twitter.com/jd_cashless.
Headline USA's Ben Sellers contributed to this report.