(Molly Bruns, Headline USA) In the first of six made-for-TV specials airing Thursday, the House's partisan Jan. 6 Committee was expected to float the idea of a seditious conspiracy between members of pro-Trump groups like the Proud Boys and the Oath Keepers with political insiders who helped them gain access to the US Capitol.
There is substantial video evidence suggesting that someone inside the Capitol opened a door that was locked from the inside, allowing people to enter into the Capitol Rotunda.
However, conservatives have long pointed out that the ease of access to the public building supports arguments that there was no "insurrection," since they were welcomed freely into the seat of government in accordance with their constitutional rights.
It remains to be seen whether House Democrats and their two GOP patsies, Reps. Adam Kinzinger and Liz Cheney, can prove an explicit link to support the bombastic allegations that conservative lawmakers were involved in a conspiracy.
But Democrats must also answer questions about their own motives in the face of evidence that they deliberately refused the Trump administration's offers for additional security.
CAUGHT OFF-GUARD?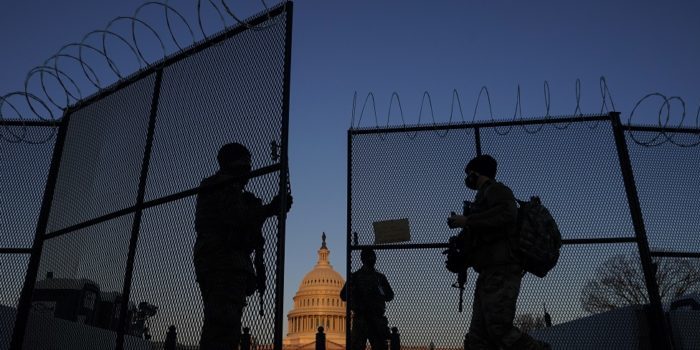 Four days before Jan. 6, 2021, the Pentagon raised the possibility of sending in National Guard troops to keep things civil, Just the News reported.
The official timeline, which is being put together by the US Capitol Police, shows that a Defense Department official reached out to Sean Gallagher, Capitol Police deputy chief.
Earlier analyses of the event suggested such violence was unlikely and the Jan. 6 would be "similar to the previous Million MAGA March rallies in November and December," leading the police to turn down the Pentagon's initial offer.
However, Police Chief Steve Sund changed his tune after the department issued a new security assessment highlighting the massive size and possible danger of the gathering.
After this report, Sund started seeking permission from people working under House Speaker Nancy Pelosi, D-Calif., and Senate Democratic Leader Chuck Schumer, D-NY, to deploy the National Guard in a preventative capacity on Jan. 4, two days before the rally.
Sund's request was denied by Senate Sergeant at Arms Michael Stenger and House Sergeant at Arms Paul Irving.
He was subsequently directed to contact Gen. William Walker of the D.C. National Guard to discuss whether or not there would be support available.
Meanwhile, at the White House, then-President Donald Trump's staff also attempted to get as many as 20,000 National Guard troops into the Capitol at the request of Congress, according to staffer Kash Patel.
"We went to the Capitol Police and the Secret Service and law enforcement agencies and Mayor Bowser days before Jan. 6, and asked them, 'Do you want thousands of National Guardsmen and women for Jan. 6?'" said Patel, who worked as chief of staff in the Defense Department, in a detailed interview earlier this year.
"They all said no," he continued. " Why did we do that? The law requires [Congress] to request it before we can deploy them, and the DOD [inspector general] found we did not delay—we actually prepared in a preemptive fashion, which is what we do at DOD."
Patel said that the timeline created by the Capitol Police proves that Trump and his staff followed protocol and made the offer of increased protection. However, the final call was left to Congress and was rejected.
In addition to refusing extra military support, unknown officials within the Capitol even displaced some of the building's natural defenses.
On the day of the event, Capitol Police requested that the Capitol architect move a bike rack which would initially be used as a perimeter barrier. The architect obliged—but, according to internal emails, thought it was a bad idea.
"This seems absolutely illogical," Architect Brett Blanton wrote to a colleague. "It removes a zone of defense. If you find out a logical impetus for the change, let me know ASAP. I'll make calls to the board if necessary."
It has not been stated whether the Capitol Police timeline will be treated as evidence in the upcoming hearings.
EERIE FALSE-FLAG PARALLELS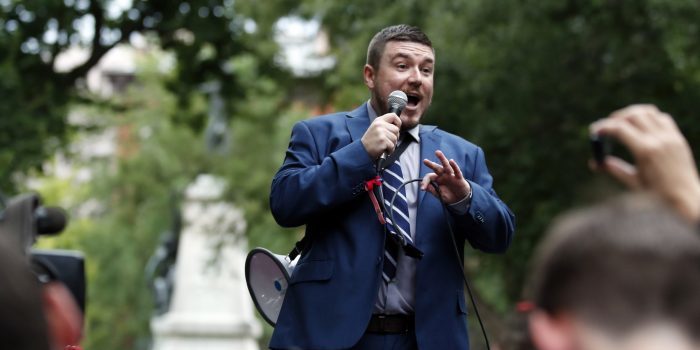 Pelosi's unprecedented move to reject GOP appointees for the Jan. 6 Committee has cast an air of illegitimacy over the probe, which is expected to rehash many of the same stale talking points raised by House Democrats' earlier impeachment effort against Trump.
Nonetheless, Pelosi's hand-picked selection of panelists has helped to deflect official scrutiny of her own actions and those of any Democrat leaders who may have been implicated in the security lapse.
Yet, outside the official investigative channels, speculation continues to run rampant that federal agents actively sought to infiltrate groups of right-wing political dissidents in order to encourage lawbreaking activity.
The case parallels an earlier false-flag attempt in Michigan, during which FBI agents embedded with a ragtag group of right-wingers to sow the seeds of a failed attempt to kidnap far-left Gov. Gretchen Whitmer.
The Jan. 6 story also appears to echo a 2017 clash between right- and left-wing extremists in Charlottesville, Va.
Although Democrats—including President Joe Biden—have repeatedly used misinformation and out-of-context quotes from the aftermath of the "Unite the Right" rally to smear Trump as a violent racist, strong evidence suggests that the scheme may have been engineered by then-Gov. Terry McAuliffe with the help of Jason Kessler, an unknown political operative who was later revealed to have supported former President Barack Obama.
During the Charlottesville riots—as Antifa members wielding guns, projectiles and improvised flame throwers clashed with protesters legally rallying on of two Confederate monuments—McAuliffe delayed declaring a state of emergency and city police were mysteriously told to stand down.
Headline USA's Ben Sellers contributed to this report.