(Headline USA) With an impending red wave anticipated in the 2022 midterm elections, two more prominent House Democrats, Rep. Bobby Rush of Illinois and Rep. Brenda Lawrence of Michigan, joined the growing list of more than two dozen who will not seek re-election this year.
The news follows after political murmurings that octagenarian House Speaker Nancy Pelosi, D-Calif., is preparing to step down, although few think her replacement will be any less radical.
Rep. Hakeem Jeffries, D-NY, has been floated as the frontrunner for the top position, which is third in line for the presidency after the sitting president and vice president.
Rush, a former Black Panther who first entered politics in 1992, is the only person to win an election over former President Barack Obama, whom he defeated in a 2000 congressional primary when Obama was an Illinois state senator.
...article continued below
Hailing from a safe blue district based on the South Side of Chicago, he likely had nonpolitical considerations when he formally announced Tuesday that he will not seek a 16th term in the U.S. House.
"I will remain on the front lines," he said in a speech at a Chicago church.
However, the state's gerrymandering may have put him in a district where his firebrand rhetoric will be less welcome, setting the stage for a competitive primary while still assuring that Democrats control the seat.
Under newly approved congressional maps, the district will stretch into suburban and rural areas located south and southwest of the city.
...article continued below
In a statement Tuesday, Pelosi said Rush showed "fearless leadership to combat violence in our communities—from heinous hate crimes to the horrors of gun violence," during his nearly three decades in Congress.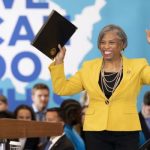 Lawrence becoming the 25th House Democrat to decide against seeking reelection in 2022 with her announcement Tuesday.
"This year marks my 30th year in elected public service, and I've had the good fortune of serving Michiganders on the local and national level," she announced on Twitter.
"After reflecting on my journey & having conversations with my family, I'm announcing that I will not be seeking re-election to Congress," Lawrence said.
The 67-year-old former Southfield mayor is the only black lawmaker representing Michigan in Congress and the only Michigan Democrat on the powerful House Appropriations Committee.
She has been in the U.S. House since 2015, representing a district that includes parts of Detroit, Hamtramck, the Grosse Pointe communities, Farmington Hills and Pontiac.
Being around more for her family was a major consideration for Lawrence, a grandmother whose last-living sister died last month.
Eleven House Republicans have said they won't seek reelection this fall, when the GOP is looking to win control of the chamber.
Among them are RINOs such as Rep. Adam Kinzinger, R-Ill., who has lost much of his Republican support after breaking with the party over the second impeachment of former President Donald Trump and his participation on the Jan. 6 Commission.
Kinzinger, like Rush, was gerrymandered by Illinois Democrats into a more competitive district where he likely would have faced significant primary challenges.
However, at least one of the GOP's top House leaders, Rep. Devin Nunes, R-Calif., is also departing after redistricting in his state posed challenges for California's few remaining Republican officials.
Nunes, who exited without finishing his term, is assuming a position with Trump's nascent social-media venture, Truth Social, which is expected to launch later this year.
Adapted from reporting by the Associated Press