The brilliant libertarian sociologist and proto-feminist Camille Paglia famously equated the way men and women think to the way they urinate.
"[B]oys have to learn… how to aim," she mused. "If they don't learn how to aim, when they try to urinate, they will soil themselves and the wall and everything else."
That translates to a more linear, direction-oriented way of thinking, she added.
The same appears to be true for cable-news personalities, as Fox News's Brit Hume revealed.
On Wednesday, Hume dropped an embarrassing fact-check on Jake Sherman, a political reporter and analyst for NBC News and MSNBC.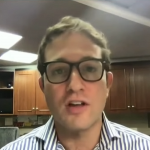 Sherman was gleefully editorializing on Twitter about Republican infighting after a House GOP vote this week to remove anti-Trump Rep. Liz Cheney, R-Wyo., from her leadership post, Twitchy reported.
During his celebration, the Phish-loving journalist observed that Cheney's standing within the GOP remained uncertain.
You know what they say: Better to have someone pissing in the tent than out of the tent. Cheney is officially out.

— Jake Sherman (@JakeSherman) May 12, 2021
"You know what they say: Better to have someone pissing in the tent than out of the tent. Cheney is officially out," wrote Sherman.
The crude image seemed to suggest that Republicans would live to regret their repudiation of Cheney. The only problem was, it made no logical sense.
As it turned out, Sherman butchered the quote, attributed to former Democrat president Lyndon B. Johnson in reference to FBI Director J. Edgar Hoover.
The colorful and unfiltered Texan used the analogy to explain why he wanted to keep Hoover close at hand rather than force him out.
Brit Hume stepped in to offer the proper context.
The full saying, from LBJ on J. Edgar Hoover, was that it was "better to have him inside the tent pissing out than outside the tent pissing in." House Republicans gripe with Cheney is that she's been inside the tent pissing in. https://t.co/rJCYVL6hF7

— Brit Hume (@brithume) May 12, 2021
Other Twitter users applauded Hume for cleaning up Sherman's sloppy reporting.
That is the most succinct description I've heard

— Kevin Casey (neanderthal) (@Barbarous01) May 12, 2021
Thank you for sharing the actual quote. LBJ was a sonofabithch, but he was right about J. Edgar Hoover. Your analysis of Cheney is apt.

— Louis Allen ???????????? (@trecoal) May 12, 2021
And while Sherman may have s*** the bed when it came to accuracy, some Cheney critics noted that he wasn't too far off base when it came to characterizing the erstwhile House Republican Conference chair.
Her problem is that she can't STFU. Her job was to raise money for the GOP, which she was not doing very well. Was it because she was lazy or hugely unpopular. You decide.

— Roux (@rouxdsla) May 12, 2021