Seeing former president Donald Trump return to the podium Saturday for a fundraising speech in Greenville, North Carolina, it was as if the past half-year of rudderless drifting toward the socialist whirlpool ahead was briefly forgotten.
Buoyed by a raft of evidence validating his longtime dismissal of China's coronavirus claims—as well as encouraging signs related to 2020 election audits in several battleground states—Trump hammered away at the Biden administration's policy disasters with the assuring air of an inevitable reascendancy.
He seemed almost as energized as he was during his epic pre-election barnstorm, when he traversed the entire country delivering speeches before packed airplane hangers and other venues, promising Americans that "the best is yet to come."
Of course, Trump has hardly been a non-entity in the days since the mostly peaceful transfer of power last January. In lieu of his banned Twitter account, he has continued to release statements to his supporters via email, and his coverage in the news media often appears to rival that of Biden, as if the two were still going toe-to-toe on the campaign trail.
That means plenty of speculation, murmurs, hearsay, false reports and open-ended questions about his political future—upon which the future of the Republican Party also rests.
One surprising storyline to emerge last week was that Trump was toying with the idea of running for Congress to become speaker of the House.
The idea has been germinating within conservative circles for a while, but it may have been master story-planter Steve Bannon who gets credit for cultivating it to fruition.
The former president reacted during a phone call Friday with conservative radio host Wayne Allyn Root.
"Yeah, you know it's very interesting," Trump said, according to The Hill.
The former president said others had suggested he run for Senate. "But you know what, your idea might be better," he continued. "It's very interesting."
All in all, the idea seems a bit far-fetched for several reasons, Trump's ego being foremost among them.
But it is worth looking at the pros and cons of such a prospect.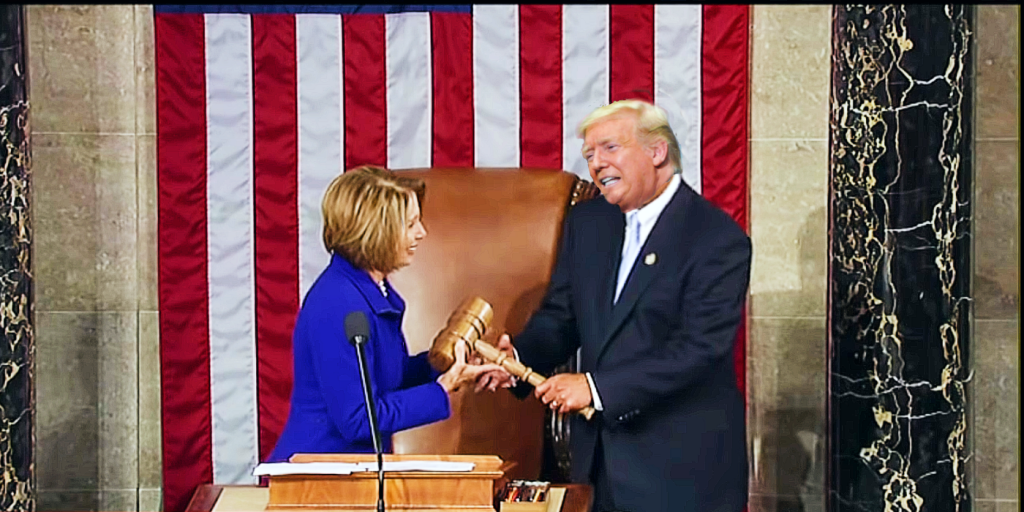 PRO:

The fastest way to put Trump back into power
Running in Florida, Trump could pick a district where he would unseat a Democrat but coast to an easy win. His return to DC would make him something of a tour de force in helping to oversee the revised "Contract with America" that he and former House speaker Newt Gingrich have reportedly been crafting. And with Trump third in line for the presidency, Democrats might stop seeing Biden as merely a placeholder.
CON:

Inherently risky
Trump has never shied away from a good gamble, but his run in a congressional race would undoubtedly kick the vote-fraud-committing, dark-money machine back into high gear with hopes of effecting the career-ending humiliation for Trump that a House loss would bring.
The plan also hinges on Republicans securing the House majority—a strong bet given the historical trends, but not a guarantee. And then, to become speaker, Trump would have to win enough of his own party members over possible contenders, including current House Minority Leader Kevin McCarthy, R-Calif., and Rep. Liz Cheney, R-Wyo., (if she is re-elected), which could lead to some nasty infighting.
PRO:

A bludgeon against Democrats
The House's unprecedented overreach during the Nancy Pelosi era has eroded many of the checks and balances that preserved our system of government. While pawning off its legislative functions to the other branches, including the judiciary, the House has carved out a role as a sort of kangaroo court, a staging ground for partisan attacks and political theater. It is enticing, to say the least, to think that Trump might give Democrats a taste of their own medicine, leveraging the same lopsided by-rules normalized under Pelosi to antagonize the lower chamber's peanut gallery of race-hustlers and demagogues.
The current lawsuits in New York being waged by partisan prosecutors like Manhattan DA Cyrus Vance Jr. and state Attorney General Letitia James would also be forced to the back-burner in all likelihood. Even though Trump would not enjoy prosecutorial immunity, he could make sure that those offices received an extra dose of federal scrutiny.
CON:

Dems bludgeon back…
There is no doubt that the Left would have a field day referring to Rep. Trump as the freshman from Florida. And it is sort of cringeworthy to think of Pelosi or someone equally repugnant putting Trump through the House hazing rituals before he was able to assume the gavel for himself. The crazed California congresswoman could push the limits of her authority into uncharted new territory by trying to refuse to seat him, perhaps re-invoking Democrats' debunked claims that he incited a riot during the Jan. 6 Capitol revolt.
PRO:

Accountability and oversight for Biden
The Left's ethical double-standard has been a particular affront as Biden and his surrogates/handlers cash-in with impunity on all the things they tried to frame Trump for. Recent reports indicated that Biden accepted kickbacks from a Russian lobbyist before greenlighting the Nord Stream II pipeline. Now we know who the real Russia-colluders are.
Reports about Trump running for the House indicated that he could use it to impeach Biden—much the way he, himself, was the subject of an endless fishing expedition that culminated in two sham impeachment efforts.
CON:

Then what?

By turning the process into an overtly political and deeply contrived stunt to raise campaign funds, Democrats already debased any hope of using the impeachment stigma as punishment unto itself. Thus, the only possible goal for a Biden impeachment would be removal. But, as I wrote last December, that could play right into the radical Left's hands.
Biden's buffoonery, harmful though it may be to the country, is still benign compared to the toxic mix of inexperience, ambition and uber-extremism that America would face with Kamala Harris in charge. In the end, impeachment would be a hollow gesture, and while satisfying to consider from a vengeance standpoint, it would only further undermine the US political system, pushing us closer toward anarchy.
PRO:

The pinnacle of conservative populism
"I'm not the one trying to undermine American democracy," Trump said in his speech Saturday. "I'm trying to save it."
Although it has never been thoroughly defined beyond its eponymous practitioner-in-chief, "Trumpism," as an idea and a political movement, is fundamentally populist and anti-establishment in its nature. That is a remarkable feat considering the Republican Party has long embraced the corporate world and defended the institutions of 'elite' society. As a man among the plebeians in Congress's lower chamber, Trump could make an even more compelling case that he is the true defender of democracy.
CON:

Would Trump really want it?
While personalities like Gingrich and Pelosi are remembered as having played foils to the rival party's president, congressional leadership has rarely been a glorious prospect for becoming a household name. Most find themselves mired in the wonkish minutiae of political sausage-making and administrative tasks.
Moreover, the same knives would be out against Trump as during his Oval Office term, but he would lack the elevated vantage point to defend himself. The job is perfectly suited to someone with a conniving and calculating mind like Pelosi, who can quietly use death by a thousand paper cuts against her enemies—as opposed to Trump's juggernaut, bull-in-a-china-shop approach to leadership.
PRO:

Training for 2024?

Surprisingly few House speakers have been able to use it as a springboard for bigger things. Only one, James Knox Polk, went on to become president—after serving, in between the two roles, as governor of Tennessee.
Two presidents returned to Congress after the presidency: John Quincy Adams to the House and Andrew Johnson, briefly, to the Senate. And only one president—Grover Cleveland—has served nonconsecutive terms. But certainly, none of the prior 44 presidential officeholders ever managed to be elected to the House after the presidency and then return to the presidency.
Yet, Trump's unconventional trajectory has already broken many historical barriers, so that unique feat would be par for the course. It would serve as an intriguing opportunity for him to witness the process from a different perspective and draw on both of those experiences to craft an airtight legislative agenda for his second presidential term.
CON:

A lot of work

If Trump were to get elected to the House with a 2024 presidential run in mind, he would immediately have to begin his next campaign. But given the workload he would be taking on as speaker, the balancing act could prove too much even for him—especially as he pushes, age-wise, into his upper 70s. Given Trump's notorious eye for detail and perfectionist nature, having to farm off one or the other commitment would be no easy feat.
Note: After the column was published, other outlets touted an obscure, never-before-used technicality that there is nothing in the Constitution or congressional by-laws to say that the House speaker must be an elected member of the legislative body.
Although this adds another layer of intrigue to the array of hypothetical scenarios, putting the loophole into practice inevitably would create further complications and unintended consequences.
For example, some have flagged this as a potential security concern through which China-compromised Democrats might elect Xi Jinping, or somebody who does not otherwise meet the requirements for holding office, to the powerful post as third in presidential succession.
Once elected, Speaker Trump would be wise to immediately close this vulnerability before a constitutional crisis ensues.