(Associated Press) California won't lift its mask requirement until June 15 to give the public and businesses time to prepare and ensure cases stay low, state Health Director Dr. Mark Ghaly said Monday.
"This four week period will give Californians time to prepare for this change, while we continue the relentless focus on delivering vaccines particularly to underserved communities and those that were hard hit throughout this pandemic," Ghaly said.
Many other states lifted their mask requirements last week after the U.S. Centers for Disease Control and Prevention said it's safe for fully vaccinated people to skip face coverings and social distancing in most situations.
"On June 15 California plans to implement CDC's guidelines around masking to allow fully vaccinated Californians to go without a mask in most indoor settings," Ghaly said.
...article continued below
California Gov. Gavin Newsom already has said that if cases remain low the state will drop nearly all COVID-19 restrictions on June 15.
Until then, California will keep its rules saying people who are fully vaccinated against the coronavirus do not need to wear a mask outdoors unless they are attending crowded gatherings.
But the state has said they still must wear masks indoors unless they are meeting with other vaccinated people. The state has other rules for businesses and other public places that vary by county under its color-coded tier system, which is based on the prevalence of the virus.
Newsom's former chief of staff, Ann O'Leary, was among those upset by the CDC's decision.
...article continued below
"My blood is boiling that @CDCgov acted so irresponsibly to adopt an 'honor code' for public mask wearing," she tweeted. "It's not good public health advice to say to parents whose kids can't get vaccinated, just trust the public to do the right thing with all the politicization over masks."
Newsom, like the Biden administration, has been under pressure to ease mask restrictions particularly for those who are fully vaccinated and as coronavirus cases ease nationwide.
The governor is facing a recall election this fall driven largely by frustration with his handling of the pandemic.
Inslee to Allow Washington to Fully Reopen on June 30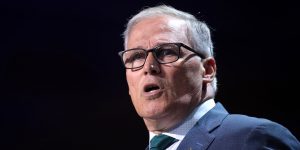 (Cole Lauterbach, The Center Square) Washington Gov. Jay Inslee said the state's prepared to return to normal next month.
Inslee announced he would remove his remaining COVID-19 restrictions June 30 after a brief transitional phase.
The governor paused his "Roadmap to Recovery" after a brief increase in cases earlier this month but announced Thursday he would resume the process after seeing cases decline.
"What we know now gives us the confidence to close this chapter in this pandemic and begin another," Inslee said. "This next part of our fight to save lives in Washington will focus on increasing vaccination rates and continuing to monitor variants of concern as we move toward reopening our state."
Businesses are capped at 50% occupancy in the final phase of Inslee's restrictions.
Inslee announced earlier Thursday the state would adopt Centers for Disease Control and Prevention guidance that allows for fully vaccinated people to stop wearing masks unless required by a business or other entity. He said the state could lift all restrictions sooner should the state reach COVID-19 vaccination benchmarks.
By his metrics, Inslee said Phase 3 would lift if 70% or more of Washingtonians over the age of 16 got their first vaccination shot. The state has administered more than 6 million doses of vaccine, and 56% of Washingtonians have initiated vaccination.
Republicans countered that federal data supports opening June 15.
Senate Republican Leader John Braun of Centralia and House Minority Leader J.T. Wilcox, R-Yelm, said in a joint statement Inslee doesn't connect lifting economic restrictions and ending the state of emergency.
"[W]e have concerns about what his new guidance will mean for hospitality establishments, grocery stores and other places where people congregate," they said. "After dictating for 439 days about what employers can and can't do, the governor is now saying, 'You figure it out.' Republicans have pressed relentlessly for that freedom all along."…Original Source…