(Ken Silva, Headline USA) Exactly 30 years ago, the FBI was planning to raid a purported religious compound in Benton, Tennessee—but bureau officials aborted the plan after agents killed 76 people during the disastrous April 19, 1993, raid in Waco, Texas, according to a previously unpublicized document reviewed by Headline USA.
The FBI's planned raid on the Tennessee-based "Order of St. John of Jerusalem" was part of a sweeping 1990s-era undercover operation called Patriot Conspiracy, or PATCON, which entailed undercover agents and informants infiltrating the right-wing militia movement.
Extremism researcher J.M. Berger has extensively covered PATCON, including the planned Tennessee raid. In an April 2012 article for Foreign Policy, Berger wrote that the FBI closed its investigation into The Order of St. John in July 1993 because officials were worried that agents were "only obtaining intelligence and not moving forward with the criminal investigation."
But that's not the whole story. Neither Berger's research nor publicly available FBI documents indicate that agents had, in fact, planned a similar Waco-style raid in Tennessee.
This is only revealed in a March 2013 email written by former FBI informant John Matthews, who participated in PATCON. Matthews wrote the email to Jesse Trentadue—an attorney currently embroiled in litigation against the FBI over PATCON—who recently provided the record to Headline USA. The email has not received media attention until now.
Matthews' email matches much of what's written in publicly available FBI PATCON records.
Those records describe The Order of St. John as an extremist religious group led by a medical doctor named John Grady, who was calling for violence against the federal government. An April 1992 FBI memo said Grady, who also headed the American Rifle and Pistol Association, owned some 340 acres of land that he used to locate a sprawling compound.
"Survival and firearms training has been conducted on the OSJ and APRA property and men have been seen wearing camouflage units and carrying firearms," the FBI memo said.
Matthews' email described how he helped the FBI plan its raid. In the email, Matthews wrote that Grady "had bunkers all over his land."
"I took pictures of them inside and out," he said.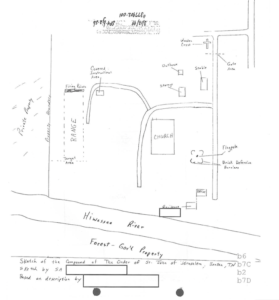 According to Matthews, the FBI had him bring another undercover government agent—"I believe he was from the Army (Delta Force)," he said—to conduct reconnaissance on the Tennessee property. Grady and his wife were gone for the night, Matthews said, giving him and his Delta Force partner the run of the place.
"Dr. Grady did not know I brought this guy in at night … He took notes on how wide the bunker walls were and how the doors were made … I already knew that a team was building up to hit Doc Grady's place next. They had to know everything about the place in case of a standoff with his followers inside the compound," Matthews wrote.
Matthews further said that "within hours of Waco" agents were already headed to Tennessee to plan the next raid.
But top officials apparently had second thoughts, as the Tennessee raid was called off amidst the negative attention federal agencies were receiving after the Waco massacre.
"Doc Grady was saved by Waco," Matthews wrote. "Seeing Waco did not go over so well in the eyes of a lot of folks, they did not raid Doc Grady's, for it would have opened a bigger can of worms and a war may have started from the groups across the country."
Headline USA was unable to contact people who can corroborate Matthews' story. The FBI has declined to comment on PATCON, while Grady died in 2018. The Order of St. John's website is still active, but the group did not respond to an email seeking an interview or comment.
Grady reportedly denied all allegations of illegal activity when interviewed by extremism researcher Berger in 2012.
"Every statement that you've shown me is false," Grady reportedly told Berger, disputing the contention in FBI documents that his religious and gun-rights groups were white supremacist in nature. To Grady's point, the fact that the FBI called off its raid after receiving public backlash from Waco indicates that agents found no hard evidence of criminality at his compound.
Berger has also been quiet about PATCON in recent years. Whereas his early work exposed FBI malfeasance, journalist Matt Taibbi recently revealed in his Twitter Files reporting that Berger later became a contractor for the State Department's "Global Engagement Center." Berger created a tool that's now being used by the GEC to push censorship on the internet, according to Taibbi.
28. The Hamilton 68 dashboard creator, J.M. Berger, was on the GEC payroll until June of 2017, just before the dashboard's launch. Hamilton claimed the list was "the fruit of more than three years of observation."

Berger "unequivocally" denies working on Hamilton for GEC. pic.twitter.com/1QJpV39tIH

— Matt Taibbi (@mtaibbi) March 2, 2023
Matthews, for his part, is unavailable because he has been off the grid since around 2014, when he was going to testify as a witness for Trentadue in his lawsuit against the U.S. government. Matthews changed his mind about testifying the night before he was supposed to take the stand, leading to Trentadue alleging that the FBI engaged in witness tampering and threatened Matthews.
Trentadue's allegations have been subject of a court-appointed investigation for the last nearly eight years. The investigation has been conducted behind closed doors, with gag orders on all parties.
Trentadue told Headline USA he believes Matthews' story to be highly credible, as the former PATCON informant has provided accurate information about numerous other secret FBI operations.
The FBI also finds Matthews to be highly credible.
As Newsweek noted in a 2011 article about the informant-turned-whistleblower, the bureau honored Matthews for his service after serving as an informant throughout the '90s, giving him a plaque that says the following: "John W. Matthews: In appreciation and recognition for your outstanding efforts in assisting the FBI to combat domestic terrorism throughout the United States: March 28, 1991–May 30, 1998."
Ken Silva is a staff writer at Headline USA. Follow him at twitter.com/jd_cashless.