(Headline USA) Still sickened by COVID-19, President Donald Trump on Tuesday played down the disease that hospitalized him for three days.
He compared it anew to the seasonal flu, and was promptly censored by Twitter: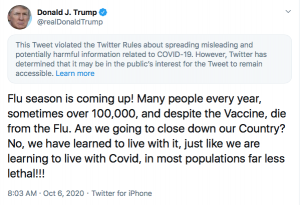 The president also signaled he plans to return soon to the campaign trail.
Anxious to project strength just four weeks from Election Day, Trump tweeted Tuesday morning that he plans to attend next week's debate with Democrat Joe Biden in Miami.
"It will be great!" he said.
Trump's doctors have not provided an update on his condition since Monday afternoon, shortly before his departure from Walter Reed National Military Medical Center.
On Tuesday, Trump also returned to his previous comparisons of COVID-19 to the seasonal flu.
"Many people every year, sometimes over 100,000, and despite the Vaccine, die from the Flu," he tweeted. "Are we going to close down our Country? No, we have learned to live with it, just like we are learning to live with Covid, in most populations far less lethal!!!"
COVID-19 has shown to be mostly harmful among older populations, most with other problematic health conditions.
Democrat presidential nominee Joe Biden said he'd "listen to the science" ahead of the upcoming debates, adding that the campaigns and the debate commission should be "very cautious" in making plans.
"If scientists say that it's safe, that distances are safe, then I think that's fine," he said. "I'll do whatever the experts say."
Adapted from reporting by Associated Press.