(Ben Sellers, Headline USA) Let's get something out of the way, first and foremost:
The headline (and a few portions of the article itself) are satirical.
Some might call it a cheap clickbait gimmick. However, it is intended to make a point about the problem of abandoning journalism's longstanding ethical code for a more solipsistic, self-indulgent approach, as influential thought-leaders in the field are now advocating.
The fact is, I researched online for a good 15 minutes before coming up with this theory.
Public records suggest that Rep. Eric Swalwell, D-Calif., recently purchased a fancy $1.025 million duplex on Trinidad Drive in Washington, D.C.
That would make Joseph H. Cole Park playground, just a block away, the perfect recruiting ground for whatever his nefarious intentions may be, and the trash bin in an alleyway behind the Cole Community Center would be a convenient disposal spot.
Do I have any hard evidence linking Swalwell to this particular Dumpster? No.
Nonetheless, as a journalist, I am apparently justified in pressing the above claim since it is my truth, stemming from my own personal biases and lived experiences, such as the quarter-hour I spent Googling Swalwell's address. (Note: I make no guarantees that he really is the current resident.)
FAREWELL TO FACTS
Is it reasonable to suspect that the disgraced California Democrat—recently booted from the House Intelligence Committee for posing a direct threat to national security—might be dumping bodies near a D.C. playground?
As former FBI Director James Comey would argue, "it's possible."
Unfortunately, readers looking for salacious new details about Swalwell will have to wait till his hometown paper, the Washington Post, picks up the case. But don't hold your breath.
In truth, this piece is a critique about the sorry state of the news media under the reckless stewardship of woke, Marx-loving leftists whose goal is to leave American society devoid of its moral foundation and vulnerable to a radical, anti-democratic social revolution once the Overton window reaches a certain threshold.
Fortunately, I happen to have a lot of field experience with that particular topic.
As a former journalism instructor at the high school and university levels, I often told students that there is no such thing as an unbiased journalist, but it is the duty of all to recognize and acknowledge those biases—and strive to overcome them on a personal and institutional level.
Then came Donald Trump, and leftists everywhere decided that rules no longer applied.
According to Leonard Downie Jr., the former executive editor of the Washington Post, objective facts are no longer the primary function of journalism.
Instead, it is the duty of every journalist to let you into his/her/xir own private world, Downie wrote in a Jan. 30 op-ed.
"[I]ncreasingly, reporters, editors and media critics argue that the concept of journalistic objectivity is a distortion of reality," Downie wrote.
"They point out that the standard was dictated over decades by male editors in predominantly White newsrooms and reinforced their own view of the world," he continued. "They believe that pursuing objectivity can lead to false balance or misleading 'bothsidesism' in covering stories about race, the treatment of women, LGBTQ+ rights, income inequality, climate change and many other subjects."
WORSE THAN WATERGATE?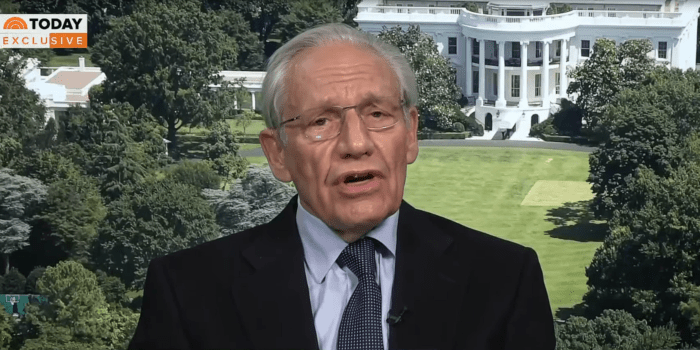 Downie goes on to say that he bore witness firsthand to a similar shift in newsroom paradigms in the late '60s and early '70s, culminating in the Watergate scandal.
That is fitting for two reasons:
1) The first is that hindsight now suggests there may have been much more to the Watergate scandal than was reported.
Some even argue that Bob Woodward—the famed reporter who broke the story after colluding with a top FBI deputy, Mark Felt, during the chaotic power-vaccuum that followed J. Edgar Hoover's death—may have been involved with the CIA's Operation Mockingbird and that the intention all along was to sow disinformation and carefully orchestrated half-truths in order to set up then-President Richard Nixon.
Nixon, who had signaled to the FBI that he knew the truth about John F. Kennedy's assassination, was conveniently replaced by Gerald Ford, one of the seven Warren commissioners who helped cover it up.
Ironically, Downie claimed the opposite in his op-ed, suggesting that idealogues from the hippie generation swooped in to rescue the media from its folly of overly credulous reporting.
"Under the leadership of a few editors… our generation of young journalists moved away from mostly unquestioning news coverage of institutional power," he wrote.
2) Of course, the media's questioning of "institutional power" was lopsided from the very beginning, and it's safe to say that Watergate ushered in the era of blatant media bias and double standards when it came to covering right- and left-wing topics.
The attack on Nixon—whose offenses undoubtedly paled in comparison with the Clinton and Biden crime syndicates—inspired even more radicals to follow suit, all hoping to break their own Watergate just like Redford and Hoffman Woodward and Bernstein.
FALLEN HEROES
The key players all relished in helping create the Watergate mythos. As a young journalist, I had the opportunity to see Downie speak at an Arizona State University workshop, and a few years later to see Woodward and Bernstein at the University of Virginia.
Even though my political values were different from theirs, I bought into their bill of goods that journalism transcended politics and that the pursuit of truth trumped all.
But now, Downie admitted in his op-ed, "I never understood what 'objectivity' meant. I didn't consider it a standard for our newsroom."
Woodward has been exposed as no less of a charlatan, revealing during the 2020 campaign season that he had sat on important information about the early threat of the coronavirus in order to keep it as material for his anti-Trump book.
More recently, he claimed that Post reporters failed to heed his warnings about the Russia-collusion hoax, even though he evidently never considered going public with his reservations concerning the bogus smear campaign against a sitting president.
With media credibility cratering as a result of such false, politically driven coverage, it seems these elite journalists are now wholly complicit in aiding and abetting the "institutional power" they once took such pride in questioning—if that ever was the case.
A DOWNWARD SPIRAL OF DISINFO
Despite their haphazard handling of the the Fourth Estate's sacred obligation to inform the public, as a core function of democracy, Downie and his ilk now have the audacity to double-down on the lackadaisical mentality that polarized and eroded trust in U.S. media to begin with.
By declaring an end to objectivity, newsrooms and journalism training programs will now heed the clarion call to tell reporters that their own perspectives are more important than those on whom—and for whom—they are reporting.
"The consensus among younger journalists is that we got it all wrong," said Emilio Garcia–Ruiz, editor in chief of the San Francisco Chronicle. "Objectivity has got to go."
They also seem to think that those who disagree with their flawed worldview will simply accept this and continue with the status quo.
But while conservative media will be able to hammer these fragile snowflakes with hard facts, some may be tempted to respond in kind by speaking their partisan counter-truths, and the lines between fact and fiction will, inevitably, blur even more.
The media itself may be the biggest casualty, as the pressure to compete leads to more sensationalism that proves antithetical to its core mission.
The deep-state intel community, whose underlying goal is essentially the opposite of telling the truth, will continue to benefit from a free-for-all environment where nobody really knows what is going on and nobody is there to truly keep institutional power in check beyond an illusory overture.
NOT ALL FAKE NEWS IS EQUAL
Shockingly, while fact is being actively fictionalized on one side of the political spectrum, the corrupt Justice Department is busy brutally prosecuting memes on the other side.
It recently charged 31-year-old Douglas Mackey of Florida over a Twitter post from the 2016 election telling voters that they could text-message their votes for Hillary Clinton instead of going to the voting booth.
"There is no place in public discourse for lies and misinformation to defraud citizens of their right to vote," said Seth D. DuCharme, acting U.S. Attorney for the Eastern District of New York.
"With Mackey's arrest, we serve notice that those who would subvert the democratic process in this manner cannot rely on the cloak of Internet anonymity to evade responsibility for their crimes," he continued. "They will be investigated, caught and prosecuted to the full extent of the law."
By the time Mackey is released from prison, of course, Democrats may well have reached the point of allowing voters to text their selection.
Will the media stop navel-gazing long enough to take note? Don't hold your breath.
Ben Sellers is the editor of Headline USA. Follow him at twitter.com/realbensellers.