(Ben Sellers, Headline USA) In spite of having known that Jimmy Buffett had canceled shows recently due to serious health concerns, I found myself taking the 76-year-old's passing last week due to skin cancer particularly hard. 
I counted myself a fan, having long-ago, in my youth, formed personal connections with many of his greatest hits and having reviewed him at a fantastic Labor Day weekend show 15 years ago in Virginia. But I was not, by any stretch, what one would call a "Parrot Head."
Buffett occupied a fittingly casual and unassuming spot in my life, as the soundtrack to a few happy memories and nothing more, while his mid-life memoir, A Pirate Looks at Fifty (technically, published two-thirds of the way through his mortal coil, in 1998), had spent a quarter-century collecting dust on my bookshelf without ever having been cracked open.
Still, Buffett seemed to exude life and embrace a spirit of adventure—like a modern-day Ernest Hemingway but more cheery and fun-loving than depressive and hyper-masculine. One takes for granted that such buoyant, seemingly invincible individuals will always be around.
I loved the music of Robbie Robertson just as much, but felt nothing like the sense of shock when the longtime front-man for The Band passed away last month.
With Buffett, however, I found myself sitting poolside as the news broke on Twitter and knew there was but one way to mourn.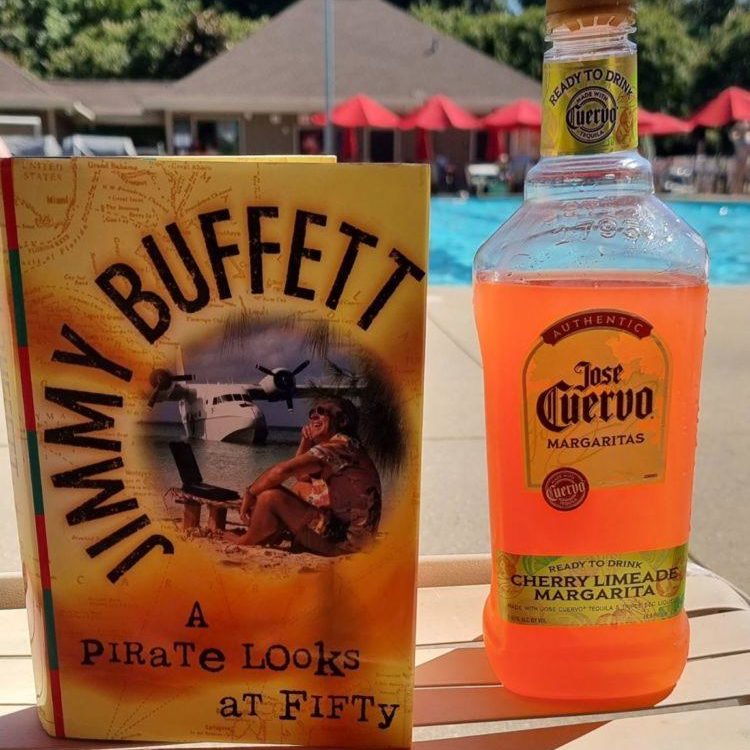 Many others undoubtedly shared my sense of grief and shock at the fading of one more glimmer of sunshine in an otherwise increasingly dismal world.
"If it were possible to have a sad day in Margaritaville, today would be the day," the Babylon Bee noted in its article "Margaritaville Orders All Little Umbrellas To Be Flown At Half-Staff."
Fortunately for fans, Buffett was also a self-identified "plate-spinner," whose creativity and work-ethic meant he always had multiple projects in the works at any given time, right down to the very end.
On Friday, three singles were posthumously released as part of his forthcoming album, Equal Strain on All Parts—presumably the final planned album of original, new material— which is due for a November release.
The album features guest appearances by luminaries including Paul McCartney, Emmylou Harris and the Preservation Hall Jazz Band, hailing from New Orleans's French Quarter—where Buffett, himself, first launched his musical career busking on Bourbon Street.
McCartney plays bass on a track titled "My Gummie Just Kicked In," but in an online tribute he praised another of the singles, "Bubbles Up," as being "probably the best I've heard him sing ever."
View this post on Instagram
Such high praise from the legendary Beatle great undoubtedly will draw attention to the song and elevate its standing as, perhaps, Buffett's final swan song, so to speak.
Vulture called it "the most poignant of the tracks, a sweet inspirational ballad full of Buffett's signature nautical imagery in service of a soothing and uplifting message."
It refers to the titular phrase as a "scuba diving metaphor," and McCartney refers to it as "a diving phrase that is used to train people under water."
For Buffett, though, "bubbles up" was quite literally a life-defining mantra.
He recounts in A Pirate Looks at Fifty how it was those two simple words that helped him to emerge, relatively unscathed, from a 1994 plane crash while flying home from a fishing trip off Nantucket.
"What I had learned years earlier at the U.S. Navy flight-survival school in Norfolk, Virginia, saved my life, pure and simple," Buffett wrote.
He had attended the grueling, weeklong training program as part of an agreement with Navy Admiral James "Red" Best, the end result of which was that Buffett would be allowed to fly in the backseat of an F-14 Tomcat during Navy training exercises in Key West.
"As I was strapped in for my ride down the rails, Red banged me on the helmet, looked me straight in the eyes, and shouted, 'Remember, rock star, bubbles up!'"
As the disoriented Buffett later struggled to find his way out of the cockpit in his Grumman Widgeon Seaplane, the Lady of the Waters, Red's advice came bubbling up in his memory.
"Now I dove down into the murky waters of Madaket Harbor that filled the cockpit of my plane and searched with my hands for the window and the latches," he wrote.
"Finally I found them and was able to unscrew them and open the window," he continued. "With what little air I had left in my aching lungs, I exhaled and followed those bubbles back up to the air pocket."
The lyrics offer little indication of Buffett's own associations with this phrase, instead turning it into a celebration of life that even suggests a champagne toast.
"Let's pop a cork to the rough and the right, to the bright blazing days and the sweet, starry nights," he sings.
Ultimately, the potency of the song is how it reflects on Buffett's own legacy and philosophy—a life lived in true fearlessness and authenticity but then distilled and sanitized for the joy and pleasure of the masses, leaving only the levity and none of the fear, suffering, pain and mundanity that loomed beneath the surface.
Epilogue: Since running the piece, it has come to my attention that Buffett was more politically active in left-wing politics than I had previously been aware.
That included his outspoken support for Andrew Gillum, the George Soros-backed gay crackhead who nearly defeated Florida Gov. Ron DeSantis in 2018.
Jimmy Buffett changes his tune – singing his support for Democrats at a campaign concert in Florida pic.twitter.com/yRRpPZJPff

— FOX & friends (@foxandfriends) November 4, 2018
Unfortunately, this does complicate Buffett's legacy in many ways, and readers who cannot see past his politics are justified in wishing him a special place in hell.
However, as may also be the case with "Rich Men North of Richmond" singer Oliver Anthony, who disavowed the MAGA movement shortly after I wrote about his overnight rise to fame, the views of the singer and the meaning of the music don't necessarily have to be reconciled with one another.
Buffett spent 50 years as an idle jetsetter hopping from one high-end vacation spot to the next while maintaining a regular tequila buzz, so it is unsurprising that his political views were tainted by his sphere of influence.
At the same time, I won't cast aside the lifetime's worth of joy his music has brought to people of all political persuasions for his ill-advised decision to go public with his Trump Derangement Syndrome. But it will give me second thoughts about purchasing his final album.
Ben Sellers is the editor of Headline USA. Follow him at twitter.com/realbensellers.