(Ken Silva, Headline USA) Former CNN legal analyst Jeffrey Toobin, who achieved infamy in 2020 when he masturbated on a Zoom conference call in front of his colleagues, released a new book today that compares the Oklahoma City bombing with the Jan. 6, 2021, Capitol Hill protest.
The book, Homegrown: Timothy McVeigh and the Rise of Right-Wing Extremism, is just as bad as one might think. When Headline USA obtained a pre-publication copy last month, it took a mere four sentences to spot an egregious error—as covered here.
Headline USA would need about 10,000 words to cover all the misinformation peppered throughout Toobin's book, but will suffice it to say that Homegrown is based on an incorrect premise: that McVeigh acted alone in attacking Oklahoma, receiving only minor assistance in building the Ryder truck bomb from Terry Nichols and Michael Fortier.
By pinning the bombing solely on McVeigh, Toobin ignored that the country's sitting attorney general, Merrick Garland, failed to prosecute others involved in the bombing. As will be revealed below, Garland actively attempted to steer the case away from McVeigh's mysterious accomplice—known only as "John Doe 2″ —which should be grounds for his immediate removal from office.
To call Toobin's work an "error" would be generous to the Zoom fapper. The book features an exclusive interview with Garland, but doesn't include any comments from him about John Doe 2.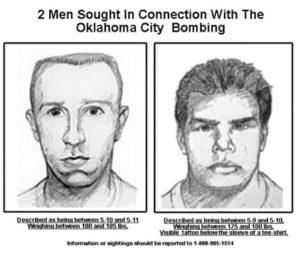 Moreover, the book quotes Garland's statements that he made while leading the prosecution at McVeigh's the April 27, 1995, preliminary hearing. Garland made numerous references to John Doe 2 during this hearing, but Toobin made no mention of this.
Indeed, Toobin ignored the fact that Garland heard direct evidence that John Doe 2 was indeed present with McVeigh. Proof of this is in the transcript from the preliminary hearing, which can be found here.
The key moment of the hearing came when McVeigh's defense counsel was asking Agent Hersley about how many people witnesses saw speeding away from the crime scene after the bomb detonated.
"Two," the FBI agent responded.
"Did this witness also identify the person that we know as number 2, 'unsub [unidentified subject] 2' at the scene?" McVeigh's defense attorney further asked, referencing John Doe 2.
Garland objected to this question, telling the presiding judge that "unsub 2 is not before the court."
The judge sustained Garland's objection.
But later during the hearing, FBI agent Hersley referenced "occupants" of the Ryder truck bomb—leading McVeigh's defense to ask about John Doe 2 again, and for Garland to object once more.
"Did you tell me [the witness] saw occupants of a Ryder truck and there was more than one?" McVeigh's defense asked the FBI agent.
"Objection," Garland interjected. "The only person on trial at this hearing is Mr. McVeigh. It doesn't matter whether there were two or 100 people in that truck, as long as there was somebody representing Mr. McVeigh there. It is discovery and totally outside of the scope of this hearing."
This time, the judge sided with McVeigh's defense, overruling Garland.
After McVeigh's defense repeated this question, FBI agent Hersley said: "This witness advised that there were two individuals in the truck. The individual resembling Mr. McVeigh was the driver."
Despite this revelation about McVeigh's accomplice, the U.S. government would go on to claim that the Oklahoma City bombing was a lone wolf attack—and Toobin is carrying on that myth to this day.
Later in the book, Toobin tried to explain away John Doe 2 by saying that a key witness, Elliott's Body Shop owner Eldon Elliot, was mistaken in seeing McVeigh was with an accomplice when he rented his Ryder truck two days before the bombing.
In doing so, Toobin spread more misinformation by retreading the already debunked story that Elliot confused McVeigh and John Doe 2 with two other people who rented a Ryder truck a day later, on April 18. Elliot was not at his body shop on April 18, meaning he could not have confused McVeigh and John Doe 2 with the two people other people.
Elliott maintained until the day he died that he saw McVeigh with John Doe 2. And he's not alone: Even the FBI admitted to still looking for John Doe 2 in 1996—almost a year after publicly calling off the investigation for him in June 1995.
Headline USA also recently interviewed a first-responder to the bombing who saw McVeigh with an accomplice, which puts the number of witnesses who saw John Doe 2 on April 19 up to at least 27.
"My guess is that Terry tried to give someone some information & they wanted him to play ball & he didn't & when he didn't want to play ball, then they eliminated him"- Steven Vassar, close friend of Terrance Yeakey, fellow first responder to the OKC bombing, & a JD2 eyewitness. pic.twitter.com/ZXS4UWLUSN

— Tower Gang Jose (@TowerGangJose) April 25, 2023
Luckily for readers, there are far better resources on the true story of the Oklahoma City bombing—particularly Aberration in the Heartland of the Real: The Secret Lives of Timothy McVeigh, and Oklahoma City: What the Investigation Missed—and Why It Still Matters.
And for non-readers, there is an ongoing television series from Showtime called Waco: The Aftermath, which tracks in dramatic fashion the time period from the April 19, 1993, Waco massacre to the OKC bombing exactly two years later.
While this show is a drama, it is far more truthful than Toobin's book—showing, for instance, the likelihood that the Aryan Republican Army terrorist group is among the "others" Garland failed to prosecute in relation to the bombing. Headline USA's early review of this show can be found here.
Meanwhile, Garland continues to prosecute peaceful Jan. 6 defendants and protesting parents under the guise of combatting white supremacy and domestic extremism.
But in the words of researcher Richard Booth, who has amassed the largest publicly available archive of OKC bombing records online, "Garland can kick off any effort to curtail white supremacists by finishing his work on the OKC bombing case.
"And he can finish by apologizing to the American people for letting dangerous still-unidentified white supremacists get away with being accessories to murder for the last 25 years."
Ken Silva is a staff writer at Headline USA. Follow him at twitter.com/jd_cashless.