Note: An earlier version of this story incorrectly ran a photo of the 2018 Green Party candidate for New York attorney general. The Perkins Coie attorney named Michael Sussman is a different individual.
UPDATED 9/16/21 1:30 P.M.: Special prosecutor John Durham appeared to be scrambling to secure an indictment against a Perkins Coie lawyer who helped spread the Russian collusion hoax to the US Justice Department.
A five-year statute of limitations on the alleged crime is set to expire this weekend, Breitbart reported.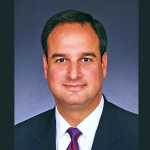 ...article continued below
Michael Sussman, now a partner at the Democrat-connected law firm, allegedly lied to FBI investigators during a Sept. 19, 2016 interrogation.
While raising allegations about then-Republican candidate Donald Trump's ties to a bank run by Russian oligarchs, Sussman claimed not to have been working on behalf of a client. However, he was later found to be representing the Democratic National Committee.
Another Perkins Coie attorney, Marc Elias, was the lead counsel for Trump's opponent, Hillary Clinton.
Both men were involved in helping to spread the now-debunked Steele Dossier. Elias commissioned the firm Fusion GPS to produce the reports.
...article continued below
Sussman reportedly used a personal connection with then-Justice Department general counsel James Baker to deliver the material to the DOJ via thumb drive, according to a 2019 filing by Judicial Watch.
A meeting between Baker and Sussman occurred in September 2016, shortly before the FBI filed its first request with the Foreign Intelligence Surveillance Court to spy on Trump campaign officials.
It is unclear whether the FBI's interrogation of Sussman was linked to the Baker meeting or came at his request.
The rush to indict Sussman before the statute of limitations expired raises questions as to what indictments the Durham investigation may already have dropped the ball on and what others may come down to the wire over the next few months.
Many of the questionable activities began in July 2016, when the FBI first opened its "Crossfire Hurricane" sting operation, and January 2017, when Trump became president.
Thus far, only one individual—low-level FBI attorney Kevin Clinesmith—has been indicted. Clinesmith, however, received a slap on the wrist for altering a potentially exculpatory CIA document that was included in the FISA surveillance warrant.
It was reported recently that he would have his license to practice law in Washington, DC, reinstated after a single year of probation.
Elias—often dubbed Democrats' "best Election-stealing lawyer" (in the words of Trump) recently split from Perkins Coie in what many presume was an effort to limit either the firm's or his criminal liability stemming from the Durham probe.
Following the public disclosure of the Steele Dossier, Elias issued intentionally misleading public statements about its source, denying any link with the Clinton campaign.
The truth ultimately was discovered by a team of GOP investigators, led by Rep. Devin Nunes, R-Calif., but much of the early disinformation promoted in by the smear campaign continued to hang over Trump's presidency for years afterward.
It is not yet known whether Elias may have been deposed by the FBI at the same time that Sussman was, and whether he made any false statements while under oath.
Reports indicate that his new law firm is heavily underwritten by radical leftist dark money groups, suggesting that he continues to be a conduit for illicit campaign contributions.
Sussman was a Green Party candidate for New York attorney general in 2018 but ultimately lost to Democrat Letitia James.
—Ben Sellers, Headline USA
Original story below:
(Techno Fog) Breaking report from the New York Times (Savage and Goldman, et al.):
Special Counsel John Durham "will ask a grand jury to indict" former DNC/Clinton campaign lawyer (and Perkins Coie partner) Michael Sussman for giving false statements.
The false statement charges would relate to a September 19, 2016 meeting FBI lawyer James Baker had with Sussman…
Sussman relayed to the FBI the discredited theory that the Trump Organization was communicating with Alfa Bank.
The New York Times states:
Mr. Baker, the former F.B.I. lawyer, is said to have told investigators that he recalled Mr. Sussmann saying that he was not meeting him on behalf of any client.
This was contradicted by (1) Sussman's testimony to Congress; and (2) Sussman's own billing records.
Sussman's lawyers acknowledged "they expected him to be indicted."