A pair of concerned voters filed suit in Detroit, Mich., the epicenter of a cascading election scandal involving Dominion Voting Systems that could ultimately entangle at least 28 states.
Among those that relied on Dominion's voting software were all seven of the crucial battleground states poised to determine the still-disputed outcome of the Nov. 3 election contest between President Donald Trump and Democrat Joe Biden.
The election software system in Michigan that switched 6,000 votes from Trump to Biden is called "Dominion."

It is used in 30 states including:

☑️Nevada
☑️Arizona
☑️Minnesota
☑️Michigan
☑️Wisconsin
☑️Georgia
☑️Pennsylvania

Every single major swing state. EVERY. SINGLE. ONE. pic.twitter.com/R6s2RnVmEF

— Kyle Becker (@kylenabecker) November 7, 2020
The suit hopes to prevent Michigan's Democrat leaders from certifying the election for Biden until the evidence is presented—or possibly to force a new election.
"We ask the Court to enjoin the certification of this fraudulent election, void the election, and order a new vote in Wayne County," said David A. Kallman, senior counsel at Great Lakes Justice Center, which is representing the two plaintiffs.
Trump officials were waging similar challenges in other contested "blue" states that the corrupt corporate media had already called for Biden, including Pennsylvania.
BREAKING: Trump campaign files PA lawsuit, alleges "'two-track' system resulted in voters being held to different standards depending on how they chose to exercise their right to vote." Read filing here: https://t.co/Iiml27lJUv pic.twitter.com/5SdkCiDqTp

— Carrie Sheffield (@carriesheffield) November 9, 2020
'RAMPANT FRAUD'
The Michigan suit, Costantino v. Detroit, was brought by two Trump-backing poll observers who accuse election officials of a litany of "illegal and fraudulent actions."
Among them:
Ballots were counted even though the voter's name did not appear in the official voter rolls.
Election workers were ordered to not verify voters' signatures on absentee ballots, to backdate absentee ballots, and to process such ballots regardless of their validity.
Election workers processed ballots that appeared after the election deadline and falsely reported that those ballots had been received prior to November 3, 2020 deadline.
Defendants used false information to process ballots, such as using incorrect or false birthdays. Many times, the election workers inserted new names into the QVF and recorded these new voters as having a birthdate of 1/1/1900.
Defendants coached voters to vote for Joe Biden and the Democrat party. Election workers would go to the voting booths with voters to watch them vote and coach them for whom to vote.
Unsecured ballots arrived at the TCF Center loading garage, not in sealed ballot boxes, without any chain of custody, and without envelopes.
Defendants refused to record challenges to their processes and removed challengers from the site if they politely voiced a challenge.
"This type of widespread fraud in the counting and processing of voter ballots cannot be allowed to stand," Kallman said in a statement.
"Michigan citizens are entitled to know that their elections are conducted in a fair and legal manner and that every legal vote is properly counted," he added. "Such rampant fraud cannot be undone."
A GLOBALIST CONSPIRACY?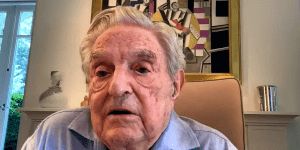 Although the lawsuit doesn't directly address it, the sought-after injunction may also seek to buy time to investigate an even bigger problem surrounding the voting software.
Days after the election, in which Michigan was declared for Biden despite an early Trump advantage, officials in Detroit revealed that more than 5,000 Trump votes had been switched to Biden due to alleged software glitches.
Some are now attempting to follow the thread of corporate ownership back to its source and determine who may be behind Dominion Voting, which has an extensive a history of problems related to its voting software.
The firm that reportedly owns it, Staple Street Capital, boasts a three-person executive board that includes William Kennard, the former chairman of the Federal Communications Commission under Bill Clinton and US ambassador to the European Union under Barack Obama.
In an unusual coincidence, Kennard was tapped on Monday to take over as the new board chairman for AT&T—the parent company of WarnerMedia, which controls several left-friendly media brands including CNN.
Kennard also sits on board of directors for Detroit-based Ford Motor Company, with the company's philanthropic arm, the Ford Foundation, being one of the leading donors to many radical leftist causes.
Other names linked closely with Dominion Voting's leadership hierarchy include House Speaker Nancy Pelosi, Sen. Dianne Feinstein, multi-billionaire George Soros and the Clinton Foundation.
That may cast the Left's grand push to encourage mass mail-in voting in a different light altogether.
While early absentee voting under the pretense of coronavirus precautions was long presumed to be part of a nefarious vote-fraud operation—one that even Biden himself acknowledged—it seems likely that the fix was in either way.
While focus has been on blue states' alleged efforts to pad the absentee vote with phony paper ballots, a parallel effort to undermine the integrity of in-person, electronic voting may have helped leftist operatives hedge their bets.
Speaker Pelosi: "I feel very confident that Joe Biden will be elected President on Tuesday. Whatever the end count is on the election that occurs on Tuesday, he will be elected, on January 20th he will be inaugurated President." pic.twitter.com/NNGAeiKSxP

— The Hill (@thehill) October 29, 2020
IN SEARCH OF A SMOKING GUN
The abundance of deep-state rabbit-holes notwithstanding, others others have raised questions as to whether third-party interference could be the culprit.
Dominion's voting software was vulnerable to the CIA-developed hacking programs Hammer and Scorecard, which were originally intended for US meddling in other countries' elections but was re-appropriated during the globalist-friendly Obama administration for domestic surveillance.
But if third-party hacking were at hand, Trump campaign legal adviser Sidney Powell said recently that logs of it may yet exist in Dominion's server databases.
Powell said that the use of the flawed voting systems extended far beyond the Trump fight, and may be part of a systemic program for leftist power-brokers to go after even intra-party rivals like socialist Sen. Bernie Sanders, I-Vt.
"They have invested in it for their own reasons and are using it to commit this fraud to steal votes," Powell said in an interview with Fox News's Maria Bartiromo. "I think they've even stolen them from other Democrats in their own party who should be outraged about this also."