A young Kentucky couple was fitted with ankle monitors and placed on house arrest after the wife tested positive for the coronavirus but refused to sign a paper agreeing to a mandatory two-week period of self-isolation.
The Hardin County Health Department told Elizabeth Linscott that she needed to sign documents agreeing to call them any time she left her house after she tested positive.
Linscott said she agreed to self-quarantine for two weeks, but told the department that she would not sign the documents because of how they were worded, according to WAVE.
The form stated: "I will not travel by any public, commercial, or health care conveyance such as ambulance, bus, taxi, airplane, train, or boat without the prior approval of the Department of Public Health," according to The Tennessean.
...article continued below
"My part was if I have to go to the ER, if I have to go to the hospital, I'm not going to wait to get the approval to go," she explained to the local news station.
"I could not comply to having to call the public health department prior if I had an emergency or I had to go pick something up for my child or myself as a necessity and could not wait."
Afterwards, Linscott said she received a text message informing her that law enforcement would get involved if she did not agree to sign the papers.
A few days later, her husband, Isaiah, said he was greeted by officers at their front door.
...article continued below
"I open up the door and there's like eight different people, five different cars, and I'm like 'What the heck's going on?' This guy's in a suit with a mask. It's the health department guy, and they have three papers for us. For me, her, and my daughter," he recalled.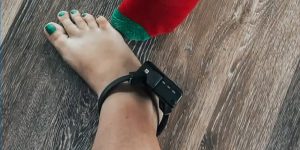 The couple said they were fitted with ankle monitors by police officers and told that if they stray more than 200 feet from their home, law enforcement will be alerted.
"We didn't rob a store. We didn't steal something. We didn't hit and run. We didn't do anything wrong," Elizabeth Linscott said.
Elizabeth Linscott also accused the health department of lying to the court in order to obtain the approval to put the Linscotts under house arrest.
She reiterated that she had never refused to self-quarantine, but "that's exactly what the director of the public health department told the judge," she said.
"I was like, 'That's not the case at all,'" she said. "I never said that."