(Mark Pellin, Headline USA) After conflicting reports from different factions of the Biden administration trying to explain the rash of allegedly unidentified objects being shot out America's skies, it was the White House's insurrectionist press secretary who gave podcasting superstar Joe Rogan reason to think that extraterrestrial forces were in play.
In the wake of the China spy balloon fiasco, three other unidentified objects have been shot down by the U.S. military over Alaska, Canada and Lake Huron in recent days.
General Glen VanHerck, commander of U.S. Northern Command and the North American Aerospace Defense Command, initially refused to rule out the possibility that the downed objects could have extraterrestrial origins.
"I haven't ruled out anything," VanHerck said when asked by a reporter if aliens could be involved, according to Time. "I'm not going to categorize them as balloons. We're calling them objects for a reason. I'm not able to categorize how they stay aloft."
That assessment flew in stark contrast to reassurances that the White House press secretary floated during a Monday press briefing, when she made a blanket denial that UFOs were the objects of military targeting.
"I just wanted to make sure we address this from the White House," Karine Jean-Pierre said.
"I know there have been questions and concerns about this, but there is no, again no, indication of aliens or extraterrestrial activity with these recent takedowns. I loved E.T. the movie, but I'm just going to leave it there.
Jean-Pierre's pronouncement put Rogan's renowned alien antenna on high alert.
"Now all of a sudden I think it actually is aliens," Rogan cracked on Instagram.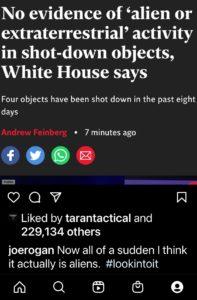 Follow-up during Monday's press briefing from White House national security council spokesman John Kirby likely didn't provide Rogan any reassurance.
"I don't think the American people need to worry about aliens with respect to these craft. Period," Kirby told reporters, but still wasn't able to bring any clarity to the origin of the objects. "I don't think there's any more that needs to be said."
NSC Strategic Communications Coordinator John Kirby: "I don't think the American people need to worry about aliens, with respect to these craft. Period." pic.twitter.com/dZxLKIbh6D

— CSPAN (@cspan) February 13, 2023