New York Gov. Andrew Cuomo and his Fake News allies declared this week that enough time had passed since the state-directed nursing home massacre in which he forced seniors infected with coronavirus to share facilities with those who did not have it.
The decision drastically increased the state's already astronomical death toll in the early days of the virus, making it the global epicenter of the highly contagious, airborne disease.
But now, Cuomo has begun the rehab effort to once again posture himself and his state as a COVID "success" story.
In fact, he issued a press release on Monday declaring that he planned a trip to Savannah, Ga., to counsel the Southern port city on "best practices."
"We'll tell them about what we did and will help them with testing programs, tracing programs," claimed Cuomo. "We're going to bring thousands of pieces of PPE and whatever they need from us they're going to get."
He also used his planned summer vacation/photo-op, predictably, as another in his long line of efforts to lay blame for New York's pandemic problem at the feet of President Donald Trump.
"The federal government is still in denial about this virus. It still refuses to follow the science," blathered Cuomo in the press release.
"It still thinks it's going to beat this virus by playing politics," he continued, while making what appeared to be a highly political statement about his politicized trip to a red-leaning "swing" state. "And I've said to the president from day one, this virus does not respond to politics."
Cuomo has taken considerable heat for his mixed messages; so have other Democrats, including House Speaker Nancy Pelosi of California and New York City Mayor Bill de Blasio.
As late as March, when the first cases already were circulating in New York, all continued to downplay concerns about the virus.
Cuomo took criticism for having depleted the state's emergency stockpiles and failed to prepare for such an occurrence.
And yet, he continued to demand federal help only to find he had far overestimated his emergency, which enabled him to dole off some of US taxpayers' emergency provisions to other states at his discretion.
Even so, Cuomo's efforts to deflect and finger-point had begun to fail as the criticisms mounted over his nursing home decision.
But following June's race-riot interlude, in which left-wing figures and media openly encouraged mass public gatherings, the desperate pivot back to COVID panic gave the New York political scion an opening to pepper his detractors with a spray of Cuomo-brand teflon.
"It doesn't respond to bullying. It doesn't respond to rhetoric. It doesn't respond to denial," Cuomo prattled on.
"It is the science," he proclaimed. "What did we do in New York? We did it as a science. We did it on the numbers. We did on the data."
Indeed, if there is one thing Cuomo did well, it was generating ample data to use.
This weekend COVID didn't quit but too many NYers did.

This is not NY Tough and it sure isn't NY Smart.

Wear a mask. Social distance.

It is NOT worth the risk.https://t.co/ivaOz4ycL1

— Andrew Cuomo (@NYGovCuomo) July 20, 2020
Of the officially recorded 3.7 million US cases in all 50 states as of Monday, July 20, 10 percent of them were in New York alone.
However, one major point of divergence with other states is New York's death rate.
Georgia, for example, had reported just over 143,000 cases as of Monday. However, the state had only 3,173 deaths—for a rate of 2.2%.
Of its more than 408,000 cases—with some estimates around 412,000—New York has reported more than 32,000 confirmed deaths, putting its mortality rate at nearly 8 percent.
While Georgia reported only 49 hospitalizations on Monday, New York's health department on Sunday crowed over the fact that it had reached a new low of 722 since the pandemic hit.
Media have played along with the ruse by supporting the use of misleading statistics. When seeking to hype the virus in the context of their narrative of a failed federal response, they will emphasize the total case count—a cumulative number that obviously increased with more testing, regardless of outcome and may, in fact, be a good thing in some scenarios.
Despite the phony claims, the data indicate that the US fatality rate—which has remained consistently below the global average, continues to drop, and the recovery rate of those who test positive continues to rise with only 7 percent of afflicted patients now succumbing to it.
When it becomes necessary to downplay the virus or to hype "progress" in blue states like New York, of course, the media quickly pivot from total count to rates of change.
Since New York's rate inevitably had to level off after reaching its critical mass, the number's steady decline in recent weeks likely meant it had nowhere to go but down.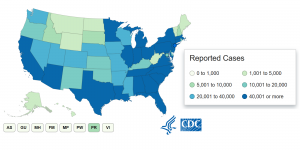 Meanwhile, the dishonest press will again fudge data by suggesting things like a "doubling" of cases in areas like Florida or Texas, where the low infectioncount may well have doubled but overall statistics still pale in comparison to New York City.
While Fake News likely would have reported that Texas and Florida on Monday had reported nearly 10 times the number of COVID deaths as New York, the roughly 8 versus 80 count is nothing when compared to the overall rates, populations per capita and other factors.
Texas's mortality rate of cases to deaths remains below 1.2 percent, and Florida's sits currently at  1.4 percent.
That, of course, is assuming that the data were accurately recorded, despite recent questions over whether Florida's health department conflated its number of positive tests by massive amounts.
In New York City, meanwhile—which as recently as last week, has a case count of its own that was equivalent to both of the larger states—the death rate exceeds 10 percent.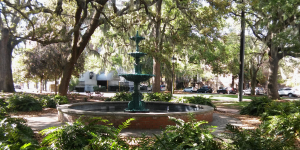 Savannah, one of the country's oldest, most historic cities—and located in the low-country marshlands of the Savannah River basin—has dealt with its share of past health outbreaks, including yellow fever.
Apart from political grandstanding—an opportunity to undermine Georgia Gov. Brian Kemp as he pushes back on blue cities' mask mandates—it seems there is little reason for it to solicit Cuomo's input.
But the city can only hope that Cuomo—whose younger brother Chris was previously seen walking around in public while contaminated with the virus—does not bring it there himself.