Congressman Michael Waltz, R.-Fla., attacked President Joe Biden for his lack of leadership today, claiming that he is having his "Jimmy Carter moment."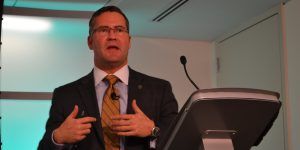 Waltz, a combat-decorated Green Beret, alluded to the famous "crisis of confidence," which Carter spoke in a time of American self-doubt and a radical questioning of leadership, especially in the federal government.
In light of President Biden's first four months, the congressman's statements were not without merit.
Biden's administration has ushered in an era of an increasingly vulnerable infrastructure, border crises, mass immigration, increasing inflation, and government support of transgender "rights," which puts millions of American children at risk.
The administration's failures, framed by Biden's ambitious campaign promises, have been magnified in recent days by the gas line crisis.
"Our energy supply has been attacked by Russian hackers and now Americans across the southeast are standing in gas lines akin to the 1979 crisis during the Jimmy Carter Administration," Waltz wrote. "All while President Biden has thrown the weight of the federal government behind killing pipeline construction that would fuel America and create jobs."
Waltz also rebuked Biden's response to the virus, citing excessive government stimulus as the cause of recent inflation.
According to Waltz, "Treasury Secretary Janet Yellen last week admitted 'interest rates will have to rise somewhat to make sure that our economy doesn't overheat,' while discussing stimulus spending."
The excessive intervention has also led to the stifling of small businesses, which cannot afford to compete for labor with the government's substantial handouts.
"The extensions of unemployment benefits rammed through Congress by Democrats have crippled our small businesses who can't compete with Democrat-created incentives not to work that has setback our unemployment numbers," Waltz added.
In short, the Biden presidency has, in a mere four months, led to a crisis in American confidence not witnessed since the 1970s.