(Mark Pellin, Headline USA) The depth and mendacity of CNN's collaboration with the Biden regime pushing White House talking points reached a new low, when the network was excoriated for its praise of President Joe Biden's insult-riddled and politically obtuse fly-by in Maui.
Biden came under intense and brutal criticism for what many residents took as a twisted insult that disgraced the survivors and insulted the dead, when the president dropped a series of callous remarks during his short visit to the island that was destroyed by wildfires. The death toll is reportedly at least 117, and hundreds more remain missing.
Biden's distortions of surviving a small electrical fire, which he portrayed as a deadly blaze, received especially blistering criticism from residents.
"Hearing you talk about your house that, you know, had a little fire, you almost lost your cat and your Corvette," said one enraged resident, who called Biden "a vile human being," ZeroHedge reported. "There were children that were incinerated to ash," the resident added. "You're a disgusting, despicable bastard."
CITIZEN RESPONSE TO JOE BIDEN'S SPEECH IN MAUI *
pic.twitter.com/krd0CaC9ON

— The_Real_Fly (@The_Real_Fly) August 22, 2023
CNN's Bill Weir offered a different perspective from his lofty perch as the network's climate reporter.
After gushing about the president and "Dr. Biden" engaging with the locals and first responders for a few hours, Weir declared that Biden "said the right things in many cases when he came to the microphone to give his statements."
Biden does a hit-and-run visit to the site of the catastrophic Maui fire and wheels out his disgusting lie about "losing his house in a fire".

He's a despicable ghoul. pic.twitter.com/ctwUIhjrGx

— Monica Crowley (@MonicaCrowley) August 22, 2023
Weir continued his cheerleading and lauded Biden for connecting with the common islanders' pain by rehashing long debunked tales about tragedies in his own family and reportedly falling asleep at a memorial diner.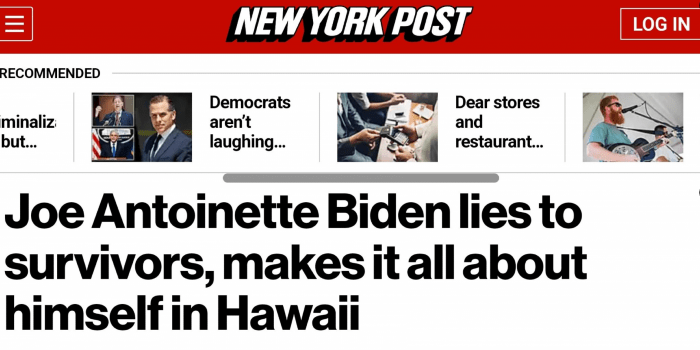 CNN's climate reporter, despite the repeated insults dropped by Biden, insisted the president "did serve as empathizer-in-chief after five days of being mostly silent on the issue publicly." Mostly silent, except for an original dismissive snub, followed by a string of insults and tone-deaf jokes.
"I am a British guy living in England. How much do you get paid to concoct fairy stories and pass them off as news and on camera too?" scolded one X commentator.
"You call yourself a journalist, then try being one and follow and report the facts of a story without fear or favour to any political view," he added. "Or you can just carry on telling fairytales showing how democrat you are, and like Biden, telling lies for political favour."
"empathizer-in-chief" pic.twitter.com/HSJWKcQklN

— Katie Scarlett (@Katiescarlet2) August 22, 2023
"I've been inside the presidential bubble for two presidents, a Republican, and a Democrat. I've never seen a display of callousness and arrogance like I saw yesterday in Maui with Biden," wrote Dan Bongino, in a dual condemnation of Biden and CNN's blatantly biased coverage.
"It wasn't just bad optics, it was evil. It's rare to see a display so devoid of common decency, even for someone as malicious as Biden."