Editor's Note: Article contains discussions of graphic and obscene content unsuitable for some audiences. The Twitter account being reported on contains publicly visible images that may be illegal.
Headline USA confirmed that the content in question remained uncensored prior to publication of this article but is not linking directly to the content.
(Joshua Paladino, Headline USA) The Idaho County Sheriff's Office on Oct. 12 arrested an alleged pedophile, Ronald Emerson, after he repeatedly posted sexual content involving children on Twitter, which the platform still has not removed.
The Idaho police officers spoke with 38-year-old Emerson, obtained a search warrant from a judge, and then brought him into custody, KLEW reported.
Authorities charged Emerson, of Kooskia, Idaho, with "two felony counts of sexual exploitation of a minor, one felony count of destruction of evidence, one misdemeanor count of possession of marijuana, and one misdemeanor count of possession of paraphernalia."
STILL ACTIVE
Despite Twitter's censorship of conservative political discourse, the platform has not removed Emerson's account or blocked content on it. His Twitter handle, @RonnieE420, remains active.
...article continued below
Even after activating Twitter's sensitive content filter, the profile still contains extremely disturbing posts and graphic images, including photographs and videos of body parts, sex acts and fluids.
While the exact age of those depicted is not specified, some of Emerson's posts indicate that they involve underage victims.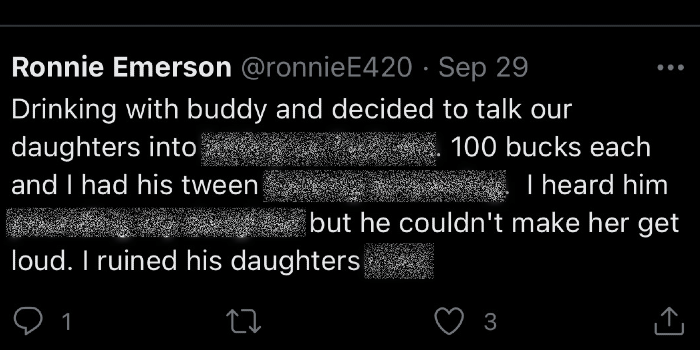 Ironically, Twitter's only safeguard against being exposed to the content is requiring users to log in and confirm that they are over 18 years of age.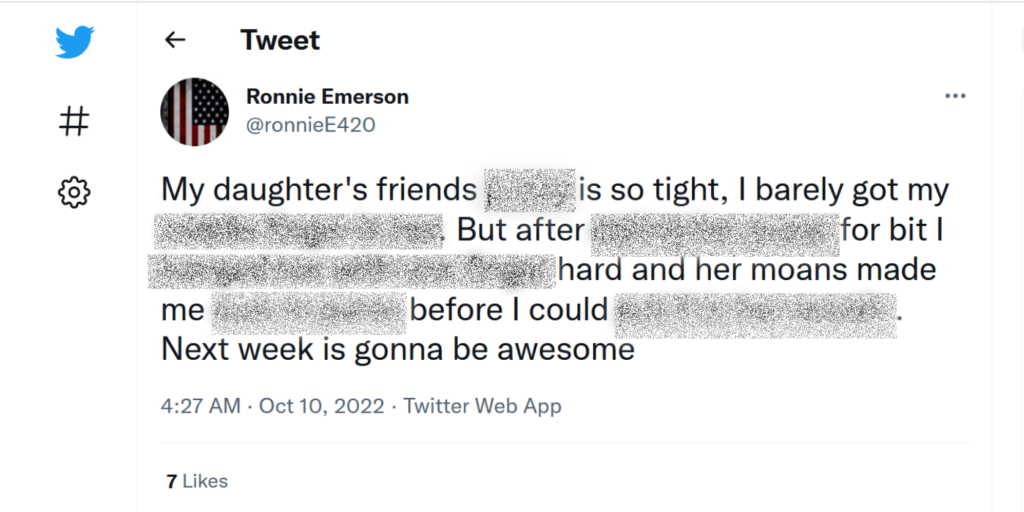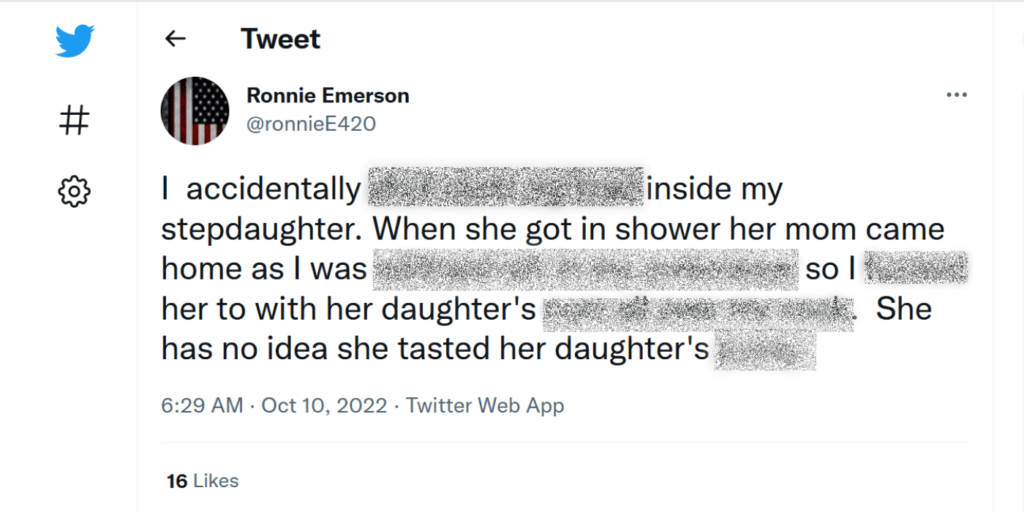 Additionally, in at least one post, Emerson appeared to be trying to recruit other Twitter users to join in his depraved debauchery.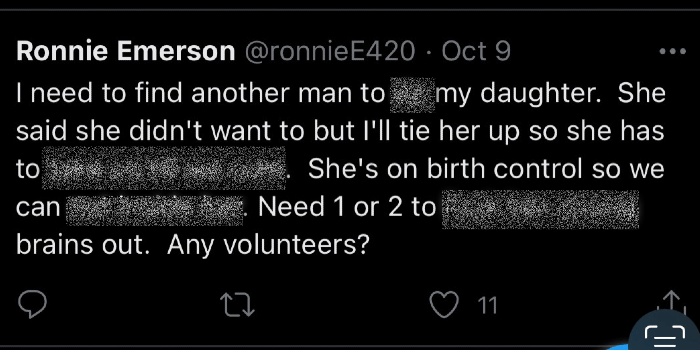 Headline USA reached out to Emerson for comment via Twitter and will update with any response, provided it is appropriate to print.
A CHILD-PORN PANDEMIC
Emerson's arrest comes amid growing scrutiny over Twitter's egregious censorship double-standard.
...article continued below
While the online publisher has been overzealous about banning political content with which it disagrees, claiming that the so-called misinformation violates its community standards, Twitter frequently fails to screen for pornography, the Daily Mail reported.
In September, several major advertisers announced they were pulling their ad campaigns due to a report exposing the presence of child sex-abuse material in user tweets on the same page as their ads.
Users do have the option to block some, though not all, exploitative posts and images, by clicking "More" on the left sidebar, then "Settings and Support," then "Settings and Privacy," then "Privacy and Safety," then "Content you see," then disabling  "Display media that may contain sensitive content."
Unfortunately for Twitter users interested in a free-speech platform, disabling inappropriate sexual content will filter more conservative-leaning posts than actual illegal, exploitative and pornographic content.
Immediately after disabling sensitive content, for example, Twitter hid a post about Black Lives Matter Founder Patrisse Cullors due to "sensitive content."
BLM founder Patrisse Cullors spends thousands renovating backyard of posh $1.4M LA homehttps://t.co/skQc7fjG8n

— Tom Fitton (@TomFitton) October 9, 2022
CENSORSHIP DOUBLE-STANDARD
Twitter's failure to remove pornographic posts and images while actively censoring users who oppose the Biden regime's narratives has solidified its role as a partisan gatekeeper and criminally liable publisher—not a mere neutral platform.
The socia-media giant has permanently banned former President Donald Trump, as well as doctors and scientists who reject COVID-19 orthodoxy.
Last year—less than two weeks after Twitter permanently banned the sitting president— Twitter explicitly affirmed a user's right to post pornographic images from a minor sex trafficking victim, the New York Post reported.
When Twitter failed to remove the videos, the 13-year-old sex trafficking victim and his mother filed a federal lawsuit in the Northern District of California. The boy, now an adult and living in Florida, claimed that Twitter profited from the child pornography.
Twitter got a devastating ruling against it in a lawsuit brought by an underage sex trafficking victim.

"the Court finds that Plaintiffs have stated a claim for civil liability under the TVPRA … the claim falls within the exemption to Section 230…." pic.twitter.com/LIycNGlsnW

— Cernovich (@Cernovich) August 19, 2021
The boy's abusers posed as a 16-year-old female classmate on Snapchat, and then blackmailed him into sending more pornographic videos and images.
The videos spread on Twitter, causing him to face such severe "teasing, harassment, [and] vicious bullying" in his school that he contemplated suicide.
"Thanks for reaching out. We've reviewed the content, and didn't find a violation of our policies, so no action will be taken at this time," Twitter said in response to a complaint filed by the boy's mother.
Twitter happily serves sex traffickers and pornographers who run a criminal enterprise against children, but not well-respected doctors or politicans—let alone ordinary citizens—exercising their right to speak freely about the most pressing political, moral, and economic issues.