(Ben Sellers, Headline USA) A funny thing happened at Headline USA in mid-January: Google took the unprecedented step of trying to demonetize us.
As it has with a who's who of conservative websites—from The Federalist to ZeroHedge—Google has attempted in the past to regulate our content through ultimatums. But this time, rather than complain about an isolated article, the monopolistic online publishing company sent a list of more than 25 stories that it deemed unacceptable.
In Google's subjective opinion, the articles all promoted "Unreliable and harmful claims," "Dangerous or derogatory content" or "Shocking content"—the latter offense for an article about Nancy Pelosi confusing "Kwanzaa" with the German word for "penis."
In one case, Google banned an article about the obscene performance at an all-ages drag show, claiming it was "Adult: Sexual content," which was sort of the point of exposing it in the first place. The article itself contained no obscenities or graphic content other than a written account of what occurred at the show.
The longstanding debate over whether Google, as a key utility in the public square, has an obligation—legal, moral and otherwise—to allow rather than attempt to suppress an open dialogue is one that must play out in the courthouses and statehouses, which may never happen as long as the company has powerful lawyers and lobbyists advocating for it.
But from a strictly financial standpoint, the matter may be a no-brainer.
MANIC RECESSION
Less than a week after Google determined that it would no longer extend its ad services to a mid-size, mostly reputable conservative website as a matter of higher principle, it announced its intention to cut 12,000 jobs—or 6% of its own workforce.
That, in turn, created a panic among the "surviving" employees. According to a recent article in the Post Millennial, they now fear for their "psychological safety" with the prospect of a guillotine dangling over their heads.
"How are we supposed to ever feel safe again?" one employee asked during an all-hands meeting on Monday.
What incentive do employees have to "keep working super hard," asked another. "Does it matter?"
Another said the process was like a "really bad game of Russian roulette."
As much as I'd like to think Google's decision to cut Headline USA's ads and its decision to cut its staff were causally related, our livelihood was but a gnat in the eyes of the $1.24-trillion-dollar juggernaut.
Nonetheless, a company that is in the process of belt-tightening to brace for recessionary impacts in the year ahead is hardly one that wants to begin taking new measures to alienate its own revenue streams on the basis of arbitrary political values.
So, the question, then, is what may be driving Google toward this apparent cognitive dissonance in its policies?
Perhaps the explanation lies in the timing.
THE DAVOS DIRECTIVE
Google's announcement—and those echoed by other woke Big Tech companies like Facebook, Amazon, Microsoft and Salesforce—coincided with the declaration by "chief economists" at the World Economic Forum in Davos that a global recession was on the horizon.
"With two-thirds of chief economists expecting a world-wide recession in 2023, the global economy is in a precarious position," said WEF Managing Director Saadia Zahidi.
"The current high inflation, low growth, high debt and high fragmentation environment reduces incentives for the investments needed to get back to growth and raise living standards for the world's most vulnerable," Zahidi continued.
"Leaders must look beyond today's crises to invest in food and energy innovation, education and skills development, and in job-creating, high-potential markets of tomorrow," Zahidi concluded. "There is no time to lose."
Clearly, Big Tech took the message to heart, and other major companies that look to Silicon Valley as their guiding beacon on controversial policies, will follow suit.
But do the layoffs from major corporate entities help to mitigate a financial crash, or to usher it in?
With so much of the WEF's cabalistic summit dedicated to social-engineering objectives, it seems as if key players are not attempting to avoid a recession (the U.S. arguably has been in one already with two consecutive quarters of negative growth under the Biden economy) but to exacerbate it.
OFF-YEAR ENGINEERING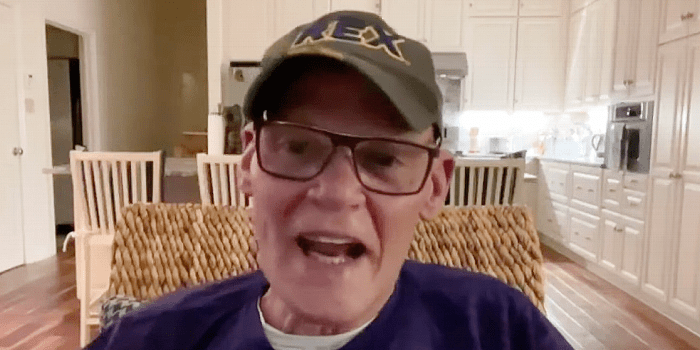 Just as the timing was right for deep-state operatives to plant the seeds of a potential Biden exit via his snowballing classified-documents scandal, the political off-year is an opportunity to sow orchestrated chaos in the financial sector with the express purpose of effecting a miraculous economic recovery in 2024 at the hands of—well, whoever is the Democrat president then.
That person, who likely will be the party's next nominee, will be celebrated as the second-coming of FDR for bringing the nation back from the brink of its preordained fiasco.
Everywhere you look, major leftist networks who, last year, trashed James Carville's Clinton-era words of wisdom that "It's the economy, stupid" will be trotting out the ex-campaign manager to ride his one-trick pony like he was Carl Bernstein.
Meanwhile, Google—which was just sued by the Justice Department for monopolizing digital advertising technologies, prompting a plunge in its stock value—may take the opportunity to sell off parts of its advertising business and invest in "high-potential markets of tomorrow" like cricket farms and invisible flutes.
Fortunately, Headline USA will be just fine, with or without Google—because, in times of crisis, we offer a high-demand service that few others do: supplying the information that Google and the WEF don't want you to see.
Ben Sellers is the editor of Headline USA. Follow him at twitter.com/realbensellers.