UPDATE: Early indications suggest Danchenko may have been arrested for making false statements during interrogations in the Durham probe—a charge similar to that of recently indicted Perkins Coie lawyer Michael Sussmann.
False statement – indictment thread! pic.twitter.com/XUHtUqmJhp

— Ryan M (@RyanM58699717) November 4, 2021
Original story below:
(Headline USA) A Russian analyst who helped provide information for a dossier of research used during the Trump-Russia hoax has been arrested as part of an ongoing special counsel investigation, a person familiar with the matter said Thursday.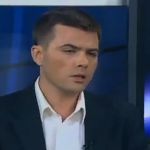 The arrest of Igor Danchenko occurred Thursday and is part of special counsel John Durham's probe into the origins of the Russia investigation, according to the person familiar with the matter, who was not authorized to discuss it by name and spoke on condition of anonymity.
It was not immediately clear what charges Danchenko might face. However, it was reported last year that he had been suspected of being a Russian agent even before he became involved with the nototious Steele Dossier.
The New York Times first reported the arrest. A spokesman for the Justice Department did not immediately return a phone message seeking comment, and a lawyer for Danchenko had no immediate comment.
Danchenko also has been linked to deep-state operatives including Fiona Hill, who testified against then-President Donald Trump at his Democrats' first failed impeachment attempt.
He and Hill became friendly while working together at the far-left Brookings Institution, and she reportedly introduced him to disgraced ex-British spy Christopher Steele, whose dispatches were used as opposition research by the Hillary Clinton campaign despite there being little evidence to support them.
The Clinton campaign used back-door channels through the law firm of Perkins Coie to funnel them into the Justice Department and the FBI, where they were delivered via thumb drive to disgraced Deputy Director Andrew McCabe, who also had partisan ties to the Clintons via then Virginia Gov. Terry McAuliffe.
McAuliffe, a former Clinton campaign bundler and advisor, had given McCabe's wife nearly half a million dollars to support her run for Virginia's state Senate. McCabe was subsequently rebuffed by the DOJ inspector general for refusing to recuse himself, but although he was fired by the Trump administration, he recently had his full pension restored, with back pay, by President Joe Biden.
Adapted from reporting by the Associated Press