Sports Illustrated has dubbed "The Activist Athlete" as its 2020 Sportsperson of the Year, choosing five woke sports stars as representative of the term.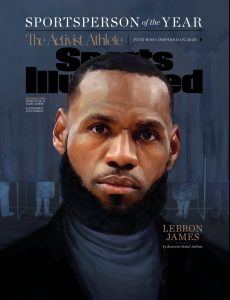 Best-known among those chosen is NBA star LeBron James, who was praised by the magazine for his advocacy for criminal justice and law enforcement reform.
"As we're all painfully aware, 2020 was a year to try the patience of even the most positive among us," the outlet wrote. "The [coronavirus] has now claimed more than 275,000 American lives. The Memorial Day killing of George Floyd set off nationwide protests against police brutality and racial inequality. An ugly presidential election further divided a deeply partisan nation."
Presenting the #Sportsperson of the Year: The Activist Athlete.

Congratulations to five who inspired in 2020: @KingJames, @breannastewart, @PatrickMahomes, @naomiosaka and @LaurentDTardif https://t.co/uLEiwWyaDO pic.twitter.com/6i6DSqw0wN

— Sports Illustrated (@SInow) December 6, 2020
...article continued below
"There's a choice to be made at moments like this," the outlet continued. "We can turn inward, cowering from destructive forces that feel beyond our control, or work to bend the arc of history. That is the more difficult option, the braver path — and yes, even someone as driven and accomplished as James can have moments of frustration. But it's clear which path he has chosen, and he is not alone. If there is brightness in this dark year, it's the leadership — and sorely needed optimism — shown by some of the nation's top athletes in facing down our many challenges."
The other athletes selected by Sports Illustrated included the WNBA's Breanna Stewart, Kansas City Chiefs quarterback Patrick Mahomes, tennis player Naomi Osaka, and the Kansas City Chiefs' Laurent Duvernay-Tardif.
James has been a strong supporter of the Black Lives Matter movement and has said disparaging things about law enforcement officers repeatedly.
"I got nothing nice to say about those cops at all," James said earlier this summer after Jacob Blake was shot in Wisconsin. "I know people get tired of hearing me say it but we are scared as Black people in America. Black men, Black women, Black kids, we are terrified. Because you don't know, you have no idea. You have no idea how that cop that day left the house. You don't know if he woke up on the good side of the bed, you don't know if he woke up on the wrong side of the bed."