(Ben Sellers, Headline USA) It is a little known fact that I am a former Hillary Clinton voter.
No, not in the 2016 election against Donald Trump, but rather in the 2008 primary election against Barack Obama.
Readers old enough to remember (and still young enough not to have forgotten) the primary campaign from 15 years ago will recall that "Operation Chaos" was coordinated largely by the late, great Rush Limbaugh.
The rationale was that in a low-enthusiasm election year—when then-Sen. John McCain of Arizona had already all but clinched the GOP nomination and secured a general-election loss after the cascading catastrophe of the George W. Bush administration—voting in the Republican primary made little difference.
However, disaffected Republicans still had the power to sow disarray in the Democrat primary by drawing out a long and nasty fight between Obama and Clinton.
At first, the aim was to elevate the relatively unknown Obama. But as the cult of personality around him grew to diva-size proportions, it became clear that Hillary was the weaker candidate who needed buoying.
To some extent, leftists and their pro-Establishment allies have since borrowed the strategy. In the 2022 primary season, many registered Democrats migrated over to the GOP primaries—although accounts vary whether they were attempting to block Trump-endorsed candidates or to help amplify far-right candidates whom they deemed unelectable.
Whatever the case, it is now time for conservatives to reclaim the old playbook.
Despite the political circumstances being vastly different from what they were in 2008, the upcoming 2024 race may be a critical opportunity for Republicans to help pick the opposing candidate most capable of de-platforming the extreme Left and its empty-suited avatar, President Joe Biden, from their bully pulpit.
That means doing the one thing many would consider even greater anathema than casting one's vote for a Clinton: doing it for a Kennedy.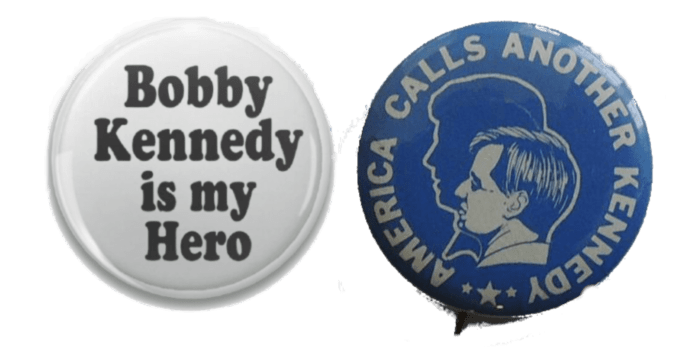 ALL THE RIGHT BOXES
It should come as no surprise to readers that Robert F. Kennedy Jr. isn't like the other members of his family, who for decades were the public face of limousine liberalism—as well as the hypocritical sense of elite entitlement and bad behavior that accompanied that mindset.
If Kennedy himself is not a rare breed among the Hyannis Port clan, then it only goes to show how drastically the political dynamics have shifted since radical leftists began to embrace, as their own, the corporate special-interests and military–industrial complex once monopolized by globalist neocons.
The Democrat Party's migration to its former fringe has now made strange bedfellows of traditional liberals and everyday, middle-class Americans who once scoffed at their out-of-touch, bleeding-heart pomposity.
— Elon Musk (@elonmusk) April 28, 2022
Yet, all things considered, RFK Jr., who has become best known as a leading vaccine skeptic, seems downright conservative according to today's standards, if only by virtue of his shared opposition to the corrupt deep state.
That much became clear on a recent interview with fellow red-pilled liberal Russell Brand, the British comedian who has since become a podcaster promoting anti-establishment viewpoints.
Trying to recap the May 9 interview's 68-minute final cut hardly does it justice. (Note: Brand says even more segments of the conversation are available exclusively via his page on Locals.com.)
Suffice it to say, Kennedy checks all the right boxes for MAGA listeners in a three-part discussion that delves into the assassination of his uncle, President John F. Kennedy; the U.S. government's role in pushing the COVID pandemic; and the way that America's shadow-war with Russia has victimized the Ukrainian people.
RFK Jr. already has gone on record stating with unequivocal certainty that it was the CIA who killed JFK.
RFK Jr. says the CIA killed John F. Kennedy! pic.twitter.com/xoB7SYxDqB

— Sulaiman Ahmed (@ShaykhSulaiman) May 7, 2023
He recounted during the Brand interview how assassin Lee Harvey Oswald had close ties with the CIA and had worked on projects to help develop the U-2 spy plane before his 1959 defection to Russia (which itself may have been a CIA operation to uncover a mole).
RFK Jr. also suggested that perhaps an executive order from JFK to bring home the relatively small delegation of military advisers in Vietnam might have inspired the CIA's decision to dispatch with the rogue president.
The Making of the Pandemic
The podcast also addressed the conspiracies surrounding the spread of the COVID-19 pandemic, including the CIA's work in coordinating outbreak dress-rehearsals like the October 2019 "Event 201," which was intended less as a public-health response than a test run for how to clamp down on information and curtail civil liberties.
Kennedy pointed out that atop of the organizational chart for Operation Warp Speed, the Trump administration's vaccine development program, the two lead organizations were the National Security Agency and the Pentagon, rather than health-related groups under the Department of Health and Human Services.
Kennedy, the bestselling author of The Real Anthony Fauci, further noted that Fauci, the former COVID czar, had received a major salary increase from the Defense Department that was expressly tied to his work in bioweapons development in the aftermath of the Sept. 11 terrorism attacks. Fauci later moved the program to Wuhan after Obama halted gain-of-function research domestically.
Finally, Kennedy put into context the provocative actions that the U.S. and its allies had taken against Russia in the years since the fall of the Soviet Union by further pushing eastward their expansion of NATO.
He said that since the 2014 color revolution which would lead, eventually, to the installation of ultra-nationalist Ukraine President Volodymyr Zelenskyy, the U.S. had effectively victimized Ukrainians by supporting a shadow war, the goal of which was simply to weaken Russian President Vladimir Putin and his military forces.
Meanwhile, globalist investors like BlackRock, and weapons companies like Raytheon, Lockheed and Battelle are among the few continuing to flourish in the Biden economy, while taxpayers are bearing the extreme financial burden of Biden's Ukraine war.
STILL A DEMOCRAT
Kennedy's deep understanding of the political arena from a lifetime spent observing it would undoubtedly make him a formidable statesman, while he could potentially prove more effective than a Swamp outsider like Trump or Florida Gov. Ron DeSantis at dismantling the very system he was raised in.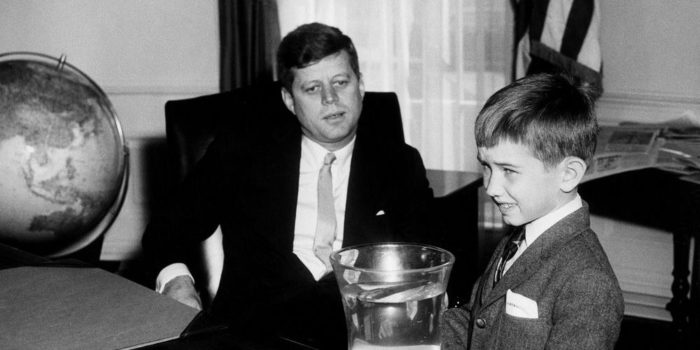 Of course, conservatives are right to have their own reservations about his campaign. Even if he is not a radical progressive, the longtime environmental lawyer is still a liberal at heart, and likely to funnel more money into a Green New Deal agenda while blocking key energy exploration that is crucial to driving economic prosperity.
He likewise supports big spending on government subsidies and welfare programs—continuing the Biden-era trend of high unemployment, even in a robust job market.
The other prongs of his platform—"Honest Government," "Reconciliation," "Peace" and "Civil Liberties"—sound nice in the abstract but lack any logistical heft.
Still, it marks a step up from the depths to which his party has plunged under Biden—and even before that during the race-baiting Obama administration.
"Our operating principle is not guilt for the sins of one's ancestors, but rather compassion," says his website, conjuring the spirit of his father's fellow slain contemporary, Martin Luther King Jr. "We will invoke the authentic desire in all Americans, white and black, liberal and conservative, to improve the condition of our Black and Native brothers and sisters.
Kennedy's appeal to traditional American values—if not conservative and libertarian principles—is strong enough that some have floated the possibility of a coalition ticket involving him and one of the GOP frontrunners.
That seems unlikely, but Kennedy nonetheless carries tremendous potency as a disruptor to the Democrats' game plan, whether that strategy is to run the incumbent Biden or pull a last-minute bait-and-switch.
Already, RFK Jr. is polling in the ballpark of 20% among Democrats—enough to convince the party leaders that he should never set foot on a Democratic National Committee debate stage.
Given the DNC's efforts to thwart his campaign, seeing Kennedy continue to gain in stature and poach votes from the moderate middle would be devastating when they find themselves faced with the prospect of trying to pitch four more years of feeble dotage from the Emperor of Ice Cream.
In the wake of a school shooting, Joe Biden says he came down to speak because he heard there was ice cream and gets distracted by "good looking kids" in the audience. pic.twitter.com/7d3Utjn0Uv

— ALX 🇺🇸 (@alx) March 27, 2023
Thus, freedom loving Americans, whether they would welcome an RFK Jr. presidency or not, must empower him to rise above the censorship and become his party's nominee.
GOP: OK EITHER WAY
Some stalwarts will likely object to switching parties for the primaries with a potentially tight race on the GOP side.
But while others may have a strong preference between Trump and DeSantis, both would be just as good in my book.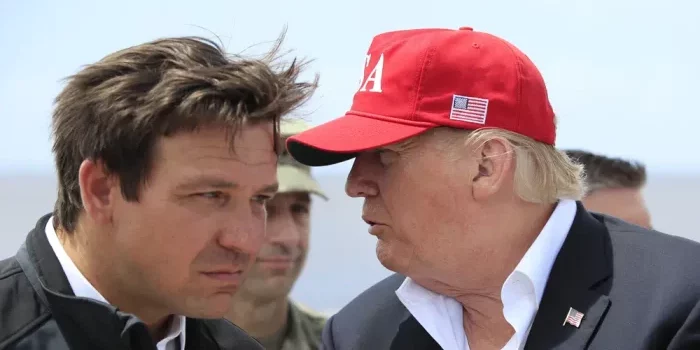 The two leading Republican contenders have discernibly different styles but are cut from the same cloth. Indeed, I have both fluctuated in my support and been reluctant to enter the fray since taking sides does more harm than good.
On one hand, Trump carries with him all the legal baggage and bombastic rhetoric that his supporters know and love—but he also has the weight of having lost, on his watch, the past three election cycles, all because his presence in the election cycle mobilizes those who really don't like him.
DeSantis seems to support largely the exact same policies as Trump but is more measured, for better or worse, in his approach. Yet, he lacks the showmanship and charisma that Trump brings to the table, and he also has found himself hitching his wagon to members of the GOP establishment, including Georgia Gov. Brian Kemp and the Bush family.
At this point, there would be no reluctance to get behind either nominee, but for both of them the general election fight will be formidable, even if Biden is (by some unlikely chance) the Democrat nominee.
A WIN–WIN SITUATION
Unlike Operation Chaos in 2008, supporting RFK Jr. is not necessarily because he would be the weaker Democrat option, but rather because he would be the more palatable one in the event that the Left's powerful chokehold on election integrity proves too overwhelming for Trump or DeSantis.
The absolute worst of Kennedy's policies couldn't be worse than any of Biden's, while at best he stands a genuine shot at restoring the relative political normalcy that existed in the Camelot era.
Seeing Kennedy, as a Democrat, square off against either Trump or DeSantis would be a win–win compared to the alternative.
In many states that hold open primaries, unaffiliated voters may not even need to switch their party affiliation to vote in the Democrat primary. However, it is a good idea to check with the local registrar for the specific requirements of a given locality.
Ben Sellers is the editor of Headline USA. Follow him at twitter.com/realbensellers.