(Ben Sellers, Headline USA) Most of the time, Americans are likely kept in the dark about the corrupt bargains that Democrats are making behind the scenes to enrich and empower themselves while covering their tracks.
It's anyone's guess, for instance, what President Joe Biden's true purpose in visiting the CIA on Friday may have been, or what Rep. Adam Schiff, D-Calif., is hoping specifically to hide with a new amendment that would hinder any public investigations with which the military was even tangentially involved.
But sometimes they get sloppy—and never more so than when First Freeloader Hunter Biden is involved.
Over the weekend, Hunter appears to have checked out of his posh Malibu rehab retreat for an appearance at Camp David—and resurfaced again at the White House during a ceremony Thursday to dole out the Presidential Medals of Freedom.
Per the White House, the country's highest civilian honor—which was given to Joe Biden by his former boss, Barack Obama—signifies that recipiants "have overcome significant obstacles to achieve impressive accomplishments in the arts and sciences, dedicated their lives to advocating for the most vulnerable among us, and acted with bravery to drive change in their communities, and across the world, while blazing trails for generations to come."
Among its latest honorees were a litany of partisan hacks (Megan Rapinoe, Gabby Giffords, Simone Biles, Khizr Khan) whose crowning achievements were using their public exposure to insult conservatives and affront their values. That included two Trump-bashing former RINO senators: the late Sen. John McCain of Arizona and former Sen. Alan Simpson of Wyoming.
A RINO ALLIANCE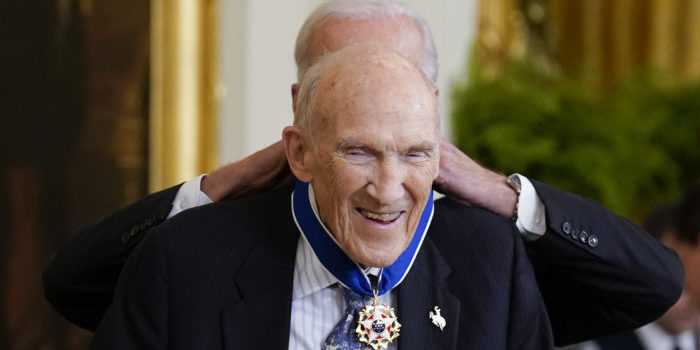 Simpson, 90, recently threw his weight behind embattled Wyoming Rep. Liz Cheney. In an interview with NBC News he also referred to former President Donald Trump as a "spoiled brat," according to CNN.
"[T]his guy is so full of himself that he would overturn every kind of rule of law or Constitutional process because of his own ego, which is twisted," Simspson said of Trump, for whom he admitted voting in the 2016 election.
"I'll never vote for him again—that's for G**d**n sure," Simpson added.
Although rewarding his former Senate colleague and fellow blasphemer for betraying the GOP might be reason enough for Biden to trot out the retired nonagenarian statesman in one last, undignified go-round, video from the event fueled suspicion that another scandalous partnership may be at play.
In it, Hunter Biden appeared a bit overeager to gladhand Simpson, who was seated with Cheney on the second row.
I know the piano makes it hard to hear, but this what he asked the old guy.

-Hey! Hey! Are you OK?
-Everything fine?
-Are you hurt in any way?
-Any way? Are you hurt?
-Is anything hurt on you?

Then he hugs the old man.

Fact checked by Reuters.

— Hackable Animal #09552345 (@Sasha09552345) July 7, 2022
THE BIDEN FAMILY BUSINESS
The president, for his part, appeared surprised to see his son in the audience.
Joe Biden: My son Hunter is here at the White House pic.twitter.com/DS8XMXSH5C

— RNC Research (@RNCResearch) July 7, 2022
But perhaps a visit with dear ol' Dad wasn't the underlying reason for it at all.
In June, the Washington Examiner reported on a damning audio file from Hunter's abandoned laptop, during which he revealed that the elder Biden was not shy about adapting his public policy to accommodate the needs of his wayward, drug-addict son.
"He'll talk about anything that I want him to, that he believes in," Hunter said of his father in the Dec. 3, 2018, recording.
"If I say it's important to me, then he will work a way in which to make it a part of his platform," Hunter continued. "My dad respects me more than he respects anyone in the world, and I know that to be certain, so it's not going to be about whether it affects his politics."
That certainly appeared to be the case in Biden's decision to push billions of US dollars into a war in Ukraine that has been a stalemate at best while generously agreeing to cover the salaries and pensions of Kiev's public officials.
Hunter previously held a seat on the board of the country's leading natural gas purveyor, Burisma, and had noted in correspondence that instability in the region might allow the company to capitalize on the Western European market.
Biden likely heeded his son's interests also in the decision to ship millions of barrels of oil from America's Strategic Petroleum Reserve to China and other foreign markets, despite claiming it was to be used to bring down domestic fuel costs (which it did not).
GOING NUCLEAR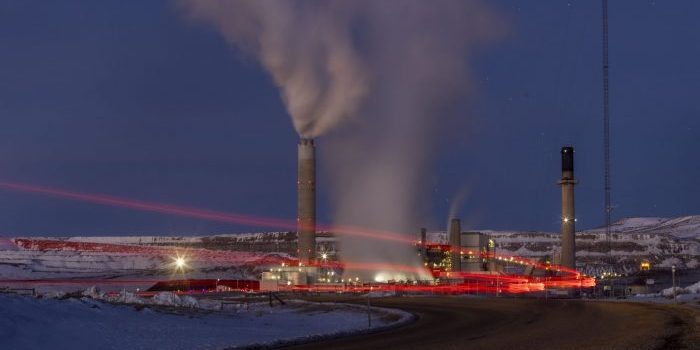 Coincidentally, European officials this week made the surprise declaration that they now considered nuclear and natural-gas energy sources among those they considered "green," potentially undermining the many investments that US Democrats, including Biden, have made while smearing those energy sources.
Lo and behold, the move does not come out of the blue, exactly. Globalist oligarch Bill Gates also doubled-down on nuclear energy with the announcement in January that his company TerraPower would lead a "reboot" of nuclear energy using a "nontraditional, sodium-cooled nuclear reactor" at a facility planned in—where else?—Wyoming.
Conservatives in the tiny mountain hamlet of Kemmerer have thus far hailed the project, expected to bring new jobs just as the town's coal plant is scheduled to shut down.
But in all likelihood it will be a Trojan horse intended to harm and exploit the deep-red state, just as leaders like Simpson and Cheney are doing within the GOP by cowtowing to deep-state and globalist special interests.
It is not entirely clear what role Simpson or the corrupt Biden family may have in the TerraPower project. But certainly Hunter's interest in making something a pet project for his own personal business deals has been one of the strongest predictors for the erratic foreign policy of his dad's administration (second, perhaps, only to the interests of the multi-trillion-dollar BlackRock investment firm, whose corporate leadership overlaps with the Biden administration in several key areas).
While TerraPower is not currently traded publicly, some websites appear to offer means for obtaining private shares in the company. It is also partnered with the Centrus Energy Corp. (NYSE American: LEU) and General Electric (NYSE: GE) on some of its nuclear projects.
Admitedly, my stock predictions for profiting off the Biden administration have been as bad as the rest in this historically horrendus bear market.
Yet, with rolling blackouts and brownouts expected nationwide in the months to come, it seems highly likely that Biden is poised to take the "nuclear option" on his previously espoused green-energy policies.