(Brett Rowland, The Center Square) Pandemic learning loss could reduce the lifetime earnings of students by $70,000, according to a study from a Stanford economist.
The study, based on math test scores, projects the losses could total $28 trillion over the course of the century, said Eric Hanushek, the Paul and Jean Hanna senior fellow at the Hoover Institution of Stanford University.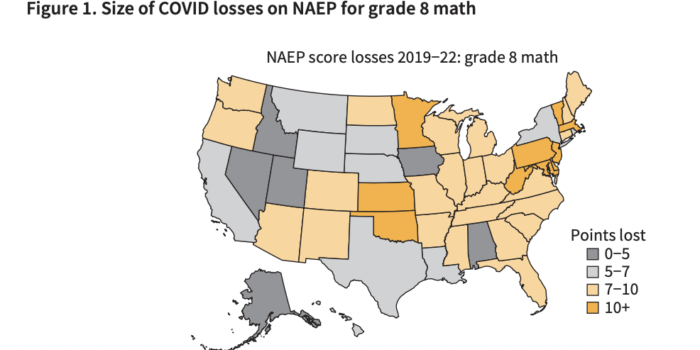 Hanushek compared the 2022 National Assessment of Educational Progress math scores of eighth-grade students to those of students in 2019, before the COVID-19 pandemic.
"Looking across the nation, the average score for eighth-grade math fell for every state, with a national average decline of eight NAEP scale score points," Hanushek wrote. "This was enough to erase all of the gains that had occurred since 2000."
He estimated the losses were equal "to 0.6-0.8 years of schooling lost."
He further estimated that loss could reduce the lifetime earnings of students who attended school during the pandemic by $70,000.
"The evidence on the labor market value of skills implies that the average student during the pandemic will have 5.6% lower lifetime earnings," Hanushek wrote. "This figure compares the expected earnings given the eight-point loss in math achievement to what could have been expected without the pandemic."
The lower lifetime earnings could reduce state gross domestic product significantly in the coming years.
"The pandemic's effects imply that the future workforce will be less prepared to contribute to economic growth," he wrote.
"Even if education returns to its pre-pandemic quality, there is a cohort of students that will move through the future labor force with lower skills and achievement than those both before and after them," he continued. "This lowered aggregate skill level will, by historical observations, lead to a slowdown in growth relative to what would have occurred without the pandemic."
He said that in spite of the fact that the study was dealing with largely intangible factors that could not be readily measured, the conclusions it came to were very much a wake-up call.
"The abstract nature of the discussion belies both the seriousness of the problem and the certainty of economic harm that lies ahead," Hanushek wrote. "Without action, not only will individuals in the COVID cohort of students suffer long-term income losses, but also the individual states will see shrunken economic activity."