As presidential candidate Joe Biden gets closer to announcing his vice president pick, some Democrats argue Sen. Kamala Harris, D-Calif., will be his top choice.
"He's going to take less of a chance because the polls look so good and political observers would say the race has tilted toward Biden," Democratic strategist Joel Payne said.
"There are no surprises with Kamala," he continued. "You know what you're going to get out of her. No one will be shocked that Kamala Harris is the choice. It's the safer, more conservative choice."
The carefully-worded language hints at the campaign's hope for wooing disaffected pro-Trump moderates away, despite Biden's sharp veer recently to the far Left.
...article continued below
But others say Harris– the most recognizable name on his remaining shortlist, which focuses predominately on women of color—may be a red-herring, there to keep the buzz alive as he vets a slate of lesser-knowns.
The Obvious Choice?
Harris is firmly in the liberal branch of the party but has shied away from openly embracing an extremist, socialism-tinged agenda in favor of a more Establishment-friendly approach.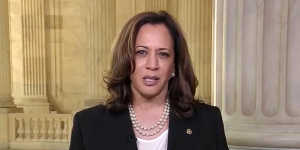 The junior senator from California, who vehemently opposed Biden's candidacy during the primaries, checks many of Biden's boxes:
She's a first-generation American woman of Jamaican and Indian heritage.
She is the only one in contention with legislative experience at the federal level, as well as her own experience on the presidential campaign trail.
While she comes with a certain amount of baggage—including a perceived abrasiveness stemming from her prosecutorial style and demeanor, she's been able to shed it during some softball interviews to show the kinder, gentler Kamala.
Her quality as a political chameleon is likely to be especially crucial in the campaign of a man who has openly boasted about his ability to "prostitute" himself to whoever is in the room at the time.
...article continued below
As far as vice-presidential assets go, of course, one of the most important is being able to let the top of the ticket shine by not stealing the limelight.
And Harris's own tendency to flub statements and flip–flop on policies could be a welcome reprieve for the former Obama veep who has garnered a reputation for doing such things in his own right.
"Knowing him, Kamala is the best pick for him," one longtime Biden confidant told The Hill. "Their politics are very similar. I would be surprised if it wasn't her."
Reckonings on Race and Crime Ahead?
Yet, in an era where "defund the police" leads the Democrat agenda, Harris's ties to law-enforcement may put off some far-left rioters—explaining, perhaps, why her own campaign sputtered early without even carrying her home state of California.
Harris enacted controversial policies during her tenure as a San Francisco prosecutor and California attorney general—among them, the threat of jail time for parents of students who were regularly truant in school.
Biden, likewise, will have to answer for his prominent role in a tough Bill Clinton-era crime bill that has contributed to mass incarcerations in the black community especially.
And just as Biden was forced to answer for racially insensitive remarks when he joined the Obama team, he likely will need to face a reckoning with Harris, who grilled him over his previous racist policies during the debates.
Since then, Biden has only gotten worse with several other flubs that appeared to belittle and take for granted the black community.
Another Crowded Field
Harris is so determined to become second-in-command to the 77-year-old Biden (who will turn 78 before the election) that she was reported last week to have been dropping opposition research on her rivals.
Harris's backers argue that Biden's other choices—which include former national security adviser Susan Rice, Massachusetts Sen. Elizabeth Warren, Michigan Gov. Gretchen Whitmer, and California Rep. Karen Bass—are too risky, according to the source.
Despite Biden's pledge to pick a woman of color, Warren's claim to be Native American were widely mocked and Whitmer—whose totalitarian streak during her state's coronavirus lockdowns may have damaged her stock—has no known ethnic heritage.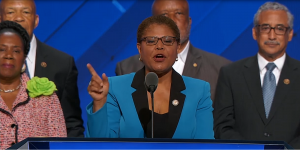 But other Democrats have argued that Rice and Bass are more appealing picks than Harris for several reasons. Rice has the experience, and she has a long history with Biden since they worked together in the Obama administration. And Bass is the head of the Congressional Black Caucus, which is a significant advantage given the current climate, the source explained.
"The Bass thing is real," the source said. "In many ways, she's the easiest pick, even though she may not be the most obvious pick," the source said of Bass.
A Known Entity
Democrats have said the same thing of Rice, considered "safe" because Biden already knows and trusts her, according to Obama administration alumni.
He knows firsthand how she operates in close proximity to a president, and their personal relationship is one he could rely on.
She could also focus primarily on foreign policy while Biden turns his attention to domestic issues, specifically the COVID-19 pandemic and the economic slump the country is currently facing. 
Biden's "entire theory of politics is personal relationships," Ben Rhodes, who served as deputy national security adviser for communications under Rice.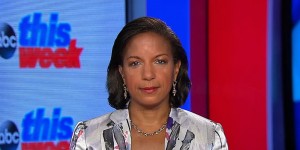 "The idea of him taking a leap of faith on someone he really doesn't know because it seems to check a political box seems very unlikely to me," Rhodes said.
Rhodes worked in tandem with Rice on controversial matters such as the Benghazi cover-up and the failed Iran nuclear deal, in which he popularized the term "echo chamber" to boast of the administration's ability to lead obsequious media outlets by the nose.
But those—and the ties that both Biden and Rice have to the ongoing Obamagate spying scandal—would make her an immediate target of conservative critics, likely deepening the existing partisan rancor.
Clawing Her Way to the Top
There are many other names being floated—from Sen. Tammy Duckworth of Illinois to former First Lady Michelle Obama.
In fact, as noted by Politico, the one common threat seems to be the uncertainty about the selection with the election now less than 100 days away.
"I don't think there is an obvious frontrunner," one campaign insider told Politico.
"And that's why it is going to come down to trust and relationships," the source continued. "There is no one ideal home run choice."
But despite her acrimonious past rivalry with Biden Harris isn't willing to give up her VP chances just yet.
She seems to be waging a behind-the-scenes campaign for the vice presidency, digging up dirt on her opponents and sending them to the media, according to the Atlantic.
For example, Vox and Politico published similar stories criticizing Rep. Val Demings, D-Fla., because of her record as Orlando's police chief.
Around the same time, ABC News published a story criticizing Atlanta Mayor Keisha Lance Bottoms's ties to "controversial figure" Kasim Reed, the former Atlanta mayor who left office in disgrace amid a federal corruption investigation.
And shortly thereafter, Politico also published a hit-piece against Bass, who once described Cuban dictator Fidel Castro as "comandante en jefe," meaning, commander in chief. 
None of this is a coincidence. But still, some see Harris as the smartest choice to assuage fears about Biden's age and declining cognitive ability, which seem likely to give his running mate an outsize role in the administration.
"I think when all is said and done, [Biden will] land on the woman who is ready to be president on day one and will help fill some of the gaps that he has," the source said.
Liberty Headlines' Ben Sellers contributed to this report.