Coronavirus guru Dr. Anthony Fauci isn't as infallible as the mainstream press would have you believe.
Nor—according to some of those in the White House who have worked with him during the coronavirus pandemic—is the National Institutes of Health's resident contagion authority entirely above-board when it comes to his seemingly altruistic motives.
In fact, a recent investigation by trusted conservative reporter John Solomon cast additional light on the disease expert's checkered past while overseeing AIDS research.
Passing the Buck, Claiming the Credit
Fauci has become known for flip-flopping and indecisively taking multiple sides of Wuhan virus-related issues to hedge against criticism.
When in doubt, he defers to shutting down the economy.
Last week, White House economic adviser Peter Navarro penned an unauthorized, frustrated op-ed saying the revered doctor has been wrong about almost everything.
But when confronted, Fauci continues to rely on his past government service to validate his coronavirus performance.
"I think you can trust me," he recently told reporters, citing his record at the National Institute of Allergies and Infectious Diseases.
But that's likely what he told foster children in New York, Illinois and other states when they were enrolled in an AIDS drug trial under Fauci's supervision.
According to the investigative journalism website Just the News, an independent investigation concluded that the AIDS research division that reported to Fauci had failed to provide patient advocates to the children, which was not only unethical but in many cases illegal.
A One-Man Ego Trip
In an NPR interview, Dr. Jonathan Fishbein of the National Institutes of Health admitted to alerting an agency inspector general, and added that "the institute seemed unwilling to enforce many of the federal research rules, and punished me for trying to do so."
Fishbein was fired for whistleblowing but was later reinstated when he was proved correct.
He told Just the News journalist John Solomon that "Fauci is all about Fauci" in an interview published this week.
"He loves being the headline. It's his ego," Fishbein said.
But using foster children as AIDS research guinea pigs without required protections wasn't Fauci's only instance of terrible judgment.
Just the News reviewed three decades of his leadership at the NIH and found numerous lapses.
Plagued by Scandals
Some past Fauci accusers, like former associate Judy Mikovits, have been brutally censored or derided in the media for making unsupported accusations.
But increasingly, the evidence has revealed a pattern of risky research practices unearthed by reliable and established reports.
In 2004, an internal review concluded that Fauci's AIDS research division was a "troubled organization" where managers were creating a hostile atmosphere with "sexually explicit and colorful language."
In another instance, an internal investigation determined that at least 10 children had died during an AIDS drug study and that the deaths were "significantly higher" than were expected or could be unexplained.
Drug trials in Africa were similarly plagued by safety reporting violations.
The U.S. Department of Health and Human Services nailed Fauci's division for failing to report two stark vaccine conflicts of interest.
And at one point, two-thirds of the employees under his watch were moonlighting for private companies but without required ethics screenings.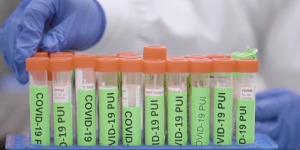 Outlets including Newsweek and the Washington Post previously reported on the fact that he played fast and loose with research involving the transmission of diseases like the coronavirus from animal to human exposure.
In fact, he and the NIH gave millions in US taxpayer-funded grants to support research at the Wuhan Institute for Virology that specifically dealt with studies of bats transmitting coronavirus to humans.
For his part, Fauci has shrugged off the criticism, insisting that the risks (e.g. a mass pandemic) did not outweigh the rewards in a potential medical breakthrough.
"Information gained through biomedical research … provides a critical foundation for generating appropriate countermeasures," he maintained in a said in a 2011 Post op-ed defending his practices.