The wife of a top Antifa leader in Charlotte, North Carolina, was fired from a major hospital system for accessing the records of a conservative activist.
Amber Woods, a former employee of Atrium Health, may also have violated federal law by retrieving Brian Talbert's private data four times since 2019 and allegedly sharing his medical details with her husband, Andrew, a well-known local Antifa organizer.
The domestic-terrorist group apparently used the information to dox and harass Talbert, who is the founder and lead organizer of Deplorable Pride, a gay–straight conservative alliance based in Charlotte.
FIGHTING MULTIPLE BATTLES
Talbert first came into prominence in 2017, when Deplorable Pride garnered national media attention after being refused a spot in the city's annual Pride parade.
...article continued below
Since then, his group has maintained a regular presence at local conservative demonstrations, drawing the wrath of Antifascist Charlotte, which has targeted Talbert in particular.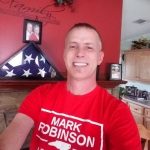 "I'm just one who's refusing to back down from these terrorists, and that's why I'm getting the brunt of their attention," he told Headline USA in a recent interview.
The Antifa website brands Talbert as a "fascist" and an "ultranationalist." It also includes information about his home address, as well as the address of his mother's workplace.
...article continued below
"While the enemy boasts a large social media following we have a superior strategy and have no fear of the consequences of our fight," the Antifacist Charlotte blog says. "Talbert has many weaknesses which will work in our favor."
In addition to the stigma he faces from both the Right and Left for the double-whammy of being a gay conservative, Talbert is also living with cancer.
When he was diagnosed in October 2016, the doctors said the only option for eliminating it would be to amputate the fingers from his hand.
"I chose not to take that route," he said.
Fortunately, Talbert's doctors told him that it was a slow-growing cancer.
"I just weighed my options—that I would rather just continue living my life and having that complete hand," he said.
He sought treatment at Atrium Health's Levine Cancer Institute, unaware that the wife of his Antifa nemesis was on the hospital's staff.
AN ESCALATING FEUD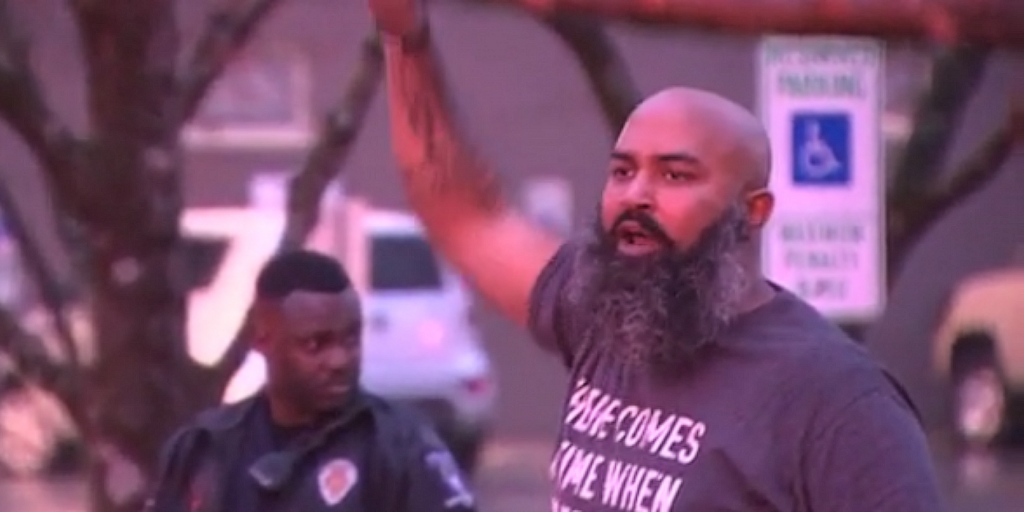 Talbert had become quite familiar with Andrew Woods due to their regular encounters at political events, where Antifa members would frequently show up to counterprotest.
"They pretty much follow Deplorable Pride… find out what rallies we're gonna be holding," Talbert said.
• During a 2018 rally with then-President Donald Trump at the Spectrum Center arena, Woods allegedly tormented attendees by conducting a "Stump a Nazi" event, which drew the attention of the FBI due to reports of violence.
• At another clash that year—ostensibly protesting the Sept. 11 remarks made by a leftist city-council member—Talbert was arrested for misdemeanor "assault on a female," as reported by a pro-Antifa website. However, after fighting the charge, he was later found not guilty.
• A 2019 Antifa ambush of Deplorable Pride members during a local GOP gathering, which occurred only a few blocks from the pizza parlor where Woods worked, wound up costing him his job a bartender there.
• And while the left-wing extremists denied having any direct knowledge of a vandalism incident at Talbert's home—doing thousands of dollars in damage to his truck—they later posted pictures and gloated about the attack online.
Talbert said there was never any doubt about who was responsible.
"That Saturday, I had organized a 'Stand Against Communism' rally," he said. "… They came that Friday night and slashed the tires."
Talbert was able to get a friend to pick him up. When he arrived back at home, he noticed that the vandals had returned and smashed his back windshield with cinder blocks.
"Needless to say, I don't have cinder blocks sitting in my driveway any more," he mused.
THE DISCOVERY
Talbert was left to wonder how Antifa had obtained his address.
A year later, during the 2019 March for Life rally in Charlotte, he was even more troubled by a comment that Wood made.
"He hollered out across the street and said, 'You've got some pretty interesting medical history, Brian,'" recalled Talbert. "That kind of disturbed me a little bit, but I thought he was just talking out his ass."
Talbert said a witness who was there with him also heard the remark.
But it wasn't until two years later that Talbert discovered the truth behind it.
After stumbling across the TikTok page of Woods's wife, Amber, Talbert noticed a video of her wearing scrubs with the Atrium Health logo in the background.
He zoomed in on her badge and saw that it was the same cancer center where he had received treatment.
After putting two and two together, he contacted Atrium on Feb. 19 to see if his personal information had been breached.
"I don't believe in coincidences, and I just thought this was a little too much of a coincidence," he said. "I was just throwing that out in the dark—I didn't know what to expect."
Three days later, he received a call back to discuss launching an investigation. And on March 8, he received a letter confirming that his data had been illicitly accessed on four occasions: three times between January and August of 2019, and once on Feb. 5 this year.
In a statement to Headline USA, Atrium spokesperson Chris Berger confirmed that the guilty party had been identified and was no longer employed with the company.
"We recently received a complaint from an individual who believed an employee, who is no longer with our organization, did not follow our established policies," Berger wrote.
"We immediately conducted a thorough investigation and have shared our findings with this individual," said the statement. "Because of privacy regulations that apply to patients and to healthcare workers, we are not able to share any additional details."
OTHER VICTIMS?
The validation of his suspicions was far from reassuring for Talbert.
He said he has since filed reports with local law enforcement, as well as the Department of Health and Human Services (which oversees HIPAA law), and the FBI.
Despite his status as an LGBT activist, Talbert said he was not planning to lodge a complaint with the Justice Department's Office of Civil Rights.
"I just really don't think Biden's Justice Department is interested in helping any Trump supporter, regardless of their race or sex orientation or anything," he said.
But Talbert remained fearful of what the Antifa group may do next to retaliate.
"I've been dealing with this kind of crap for four years, and I'm kind of accustomed to it," he said, but he worried about the possibility that they may target others.
Talbert said Antifa often takes pictures of Deplorable Pride members during rallies, and he wondered if other conservative activists might also be victims of the Atrium breach.
"I just thought, if they doxed me, they might have doxed these other people," Talbert said.
Late Friday, those suspicions were confirmed. Talbert notified Headline USA that a second victim also had his records accessed.
He recently warned the pro-life activist to be on alert after discovering his home address and cell-phone number on the Antifa website.
"Underneath, they said 'kill him,'" Talbert noted.
He said Wood, in particular, appeared to be growing increasingly violent and dangerous.
"He has progressively gotten worse and worse, and I just think it's just a matter of time before this man kills someone," Talbert warned.
Antifa Charlotte was invited to comment for this report but had not responded by press time. Headline USA will update with any new developments.