In addition to bleeding audience share and plummeting ratings, public trust in mainstream media continues an unabated tumble that has been a rolling disaster for several years.
Pick a headline from Google, encouraged NewsBusters, and you can follow the decline in real time.
"The results of a new Knight Foundation and Gallup poll released on Tuesday won't come as a huge surprise to most journalists: Trust in the media is down. Again," reported Columbia Journalism Review in 2018.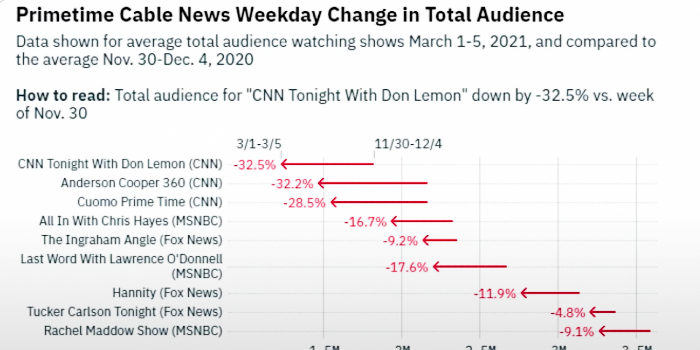 And in a clueless example of why that trust continues to tumble, the woke wizards at CJR blamed not a glaringly left-leaning media replete with unrepentant bias, but instead chose to castigate former President Donald Trump, as well as a gullible public.
"Is this decline in trust related to the repeated attacks on 'the lying media' by President Trump and his supporters, who like to describe the press as "the enemy of the people?" CJR asked.
"That kind of analysis is beyond the scope of the latest Knight/Gallup study," it concluded, "but it has to be part of the backdrop."
No, it doesn't; unless an allegedly unbiased source like CJR consciously decides to frame it as such.
Which is why it should come as no surprise that trust in media continues a steady decline, evidenced by last year's headline from the Morning Consult: "News Media Credibility Rating Falls to a New Low," which still tried to cast the blame on Trump.
If the leftist media is still struggling to understand why its trust factor has taken such a mighty wallop, NewsBusters provided a brutally accurate explanation:
Question: What do Trump-Russia Collusion, Covington, Kentucky high schooler Nicholas Sandmann, the BLM riots of 2020, January 6th and Kyle Rittenhouse all have in common?
Answer: All were presented to the American people by the "mainstream" media through the lens of a liberal narrative …
…  Thus it is that Trump colluded with Russia to win the 2016 election – when in fact it was Hillary Clinton's campaign paying for the infamous dossier. Thus it was that all those riots in 2020 that resulted in death, looting, burning and destruction were really "mostly peaceful." Perfectly decent high schoolers Sandmann and Rittenhouse were racist brats. And the riot by a relative handful of out-of-control protestors at the Capitol on January 6th was really an "insurrection", with the U.S. government itself hanging by a thread, with a coup attempt incited by President Trump under way.
NewsBusters concluded: "At this point, the 'mainstream media' has done so much self-inflicted damage to itself that one can only wonder if they will literally survive, much less thrive again."
A look at the continuing downward spiral of ratings, viewers, readers, and listeners, from CNN to NYT to NPR, paints a bleak and wholly deserved future.