(Jacob Bruns, Headline USA) A medical doctor specializing in obstetrics and gynecology testified before the U.S. Congress on Monday that miscarriage rates have doubled since the arrival of the COVID-19 vaccine, Vigilant News reported.
"I've never seen this before," said Kimberly Biss, who testified alongside Robert Malone, a prominent vaccine skeptic, and Tom Renz, an attorney and anti-vax activist.
I'm here with Rep. Holly Jones in D.C., heading over to the capital to cause some trouble with @RepMTG and get the #truth out there. Don't miss this rare opportunity to hear someone speak truth in #Congress.

You won't want to miss this!

REGISTER NOW for your special access… pic.twitter.com/KFCmhF1oPq

— Tom Renz (@RenzTom) November 13, 2023
Rep. Marjorie Taylor Greene, R-Ga., organized the panel discussion on "Injuries Caused by COVID-19 Vaccines" on Monday, which included members of both the House and Senate.
Among the participants, all Republicans, were Sen. Ron Johnson of Wisconsin, and Reps. Clay Higgins of Louisiana, Warren Davidson of Ohio, Andy Biggs of Arizona, Matt Gaetz of Florida and Thomas Massie of Kentucky.
Greene, who came prepared with a chart noting the uptick in miscarriages, asked Biss whether she had noticed an increase that may be correlated with the vaccine.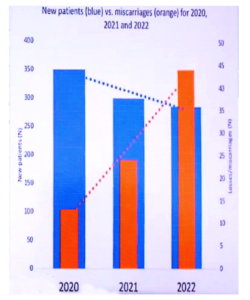 "How many of your patients or pregnant women that you know of experience miscarriages after taking the COVID-19 vaccines — or injections?" she questioned.
According to Biss, most of her patients had received three jabs, but stopped getting them recently.
"Very few received four or more," she noted before suggesting that the effects of the vaccines appeared to be enduring quite far into the future.
"The majority of the patients received their injections in 2021 and early 2022," she said.
"However, we're still seeing lingering effects," she added, calling the trend "concerning."
Biss also told congress that the normal miscarriage rate lingered around 4%, but in recent year, they have experienced periods of rates exceeding 30% at her practice–what she called a "huge number" that she has "never seen" before.
Nationwide, the rate now hovers around 15%.
Still, according to Biss, it is difficult to determine how closely linked the miscarriage spike is to the vaccine, even though the timing is rather suspicious.
The difficulty lies in the fact that there is little data that has been collected to suggest a broader correspondence.
"I'm the only person in my practice [who] asks every patient, 'Have you gotten a vaccine?' 'How many?' 'Which brand?' 'When?' 'Have you had COVID?' 'How many times?'" she said. "I'm the only one [who] asks those questions."
She also noted that it's hard to ask a woman who recently miscarried about such things at a particularly delicate time.
"You don't want to ever make a woman feel like she caused her baby to not be born," Biss concluded. "So it's hard to get the exact data in all those patients."