(Headline USA) A Nobel-prize winning ISIS survivor has been censored by a Canadian school over fears that her story will "foster Islamophobia."
The Telegraph reported that Nadia Murad was scheduled to speak at the largest school in Canada before a school administrator cancelled the speech over the Islamophobia concerns, sparking outrage among some parents.
Murad is publishing a book next year called, "The Last Girl: My Story Of Captivity," where she tells her story of being kidnapped and tortured by ISIS.
I am a Democrat – and I hate this.
It is hysterical wokeness at its worst.
You don't promote human rights by silencing truth, or by feeding a GOP narrative about Cancel Culture & the Left being afraid of Free Speech.
Dumb. And not helpful.https://t.co/DK06FYJ7XX via @MailOnline

— Billy Ray (@BillyRay5229) November 27, 2021
...article continued below
In a book the Washington Post called "courageous," Murad details her suffering at the hands of the terrorist regime.
"Nadia Murad was born and raised in Kocho, a small village of farmers and shepherds in northern Iraq," reads the publisher's summary of her book. "A member of the Yazidi community, she and her brothers and sisters lived a quiet life. Nadia had dreams of becoming a history teacher or opening her own beauty salon. On August 15th, 2014, when Nadia was just twenty-one years old, this life ended. Islamic State militants massacred the people of her village, executing men who refused to convert to Islam and women too old to become sex slaves. Six of Nadia's brothers were killed, and her mother soon after, their bodies swept into mass graves. Nadia was taken to Mosul and forced, along with thousands of other Yazidi girls, into the ISIS slave trade."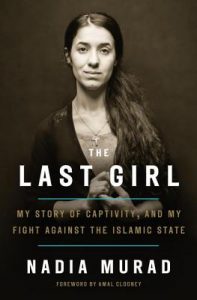 After experiencing this tragedy, Murad nearly died before escaping the brutal terrorists.
...article continued below
"Nadia would be held captive by several militants and repeatedly raped and beaten. Finally, she managed a narrow escape through the streets of Mosul, finding shelter in the home of a Sunni Muslim family whose eldest son risked his life to smuggle her to safety," the summary reads. "Today, Nadia's story—as a witness to the Islamic State's brutality, a survivor of rape, a refugee, a Yazidi—has forced the world to pay attention to an ongoing genocide. It is a call to action, a testament to the human will to survive, and a love letter to a lost country, a fragile community, and a family torn apart by war."