The passing of the late, great Rush Limbaugh left a hole in the talk radio world that may be impossible to fill.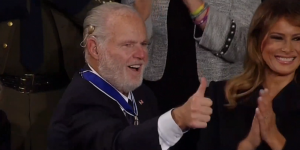 Limbaugh was famously "talent on loan from God," but conservative talk radio is now looking for that same talent to replace the vacuum the radio legend left behind.
Now it appears one conservative commentator will take a shot at filling Limbaugh's time slot.
According to reporting from Outkick, conservative commentator and podcast host Dan Bongino has agreed with Westwood One to kick off a live radio show from 12-3 p.m. Eastern, the time slot Limbaugh held for years.
Big media news: Sources tell @OutKick that Dan Bongino (@dbongino) has agreed to terms with Westwood One to air a live three-hour radio show from 12-3 ET.

No one can replace Rush, but should this deal get finalized, it's a strong option.

Details here:https://t.co/w2PeJW4ioC

— Bobby Burack (@burackbobby_) March 16, 2021
Cumulus Media, which carried Limbaugh's show through its affiliates, owns Westwood One, though it remains unclear just how widely Bongino's show would be syndicated.
Premiere, Limbaugh's syndicator, has not officially announced who will carry the time slot for them.
Bongino would likely be featured on some but not all of Rush's previously held affiliates, but if he is successful, his number of affiliates could expand to Rush-level reach.
"The Rush Limbaugh Show" came on the air in 1988, when right-leaning media was in its infancy.
Fox News was still years away, and the online conservative news apparatus was even further out.
Bongino, a former Secret Service agent and New York Police Officer, also holds a partial stake in the conservative sites, Parler and Rumble.
His podcast will reportedly remain separate from the deal.
Bongino honored Limbaugh's memory after his death earlier this year, telling Fox & Friends, "we became different people because of Rush Limbaugh. Every conservative I know, everyone has had that Rush Limbaugh moment where they were listening and heard an idea for the first time ever."
Limbaugh died in February after a battle with cancer. His wife provided the information for death certificate, which lists his occupation: "Greatest radio host of all time."