Do rallies by President Donald Trump decrease the number of coronavirus cases?
According to a recent analysis by the far-left Center for American Progress, they might.
At the very least, the data suggest little to no correlation between the two events.
The propagandist group, founded by Hillary Clinton flunky John Podesta, analyzed 22 recent Trump rallies and determined that in 11 of them cases of coronavirus increased after Trump's visits.
That means, of course, that in the other 50 percent, they did not.
"In the other 11 instances, the number of new cases in the local area appeared consistent with the pre-event trend or declined after the rally," the CFAP reluctantly acknowledged in the eighth paragraph of its so-called study.
"This category included rallies in Phoenix, Arizona; Yuma, Arizona; Jacksonville, Florida; Freeland, Michigan; Duluth, Minnesota; Minden, Nevada; Fayetteville, North Carolina; Winston-Salem, North Carolina; Tulsa, Oklahoma; Pittsburgh, Pennsylvania; and Mosinee, Wisconsin," it said.
Yuma, which saw a spike of 188 new cases on Aug. 1, was down to only 7 new cases by Sept. 8, following Trump's Aug. 18 rally.
Its 7-day average went from 139.43 at its peak to 11.86, a reduction of 93 percent.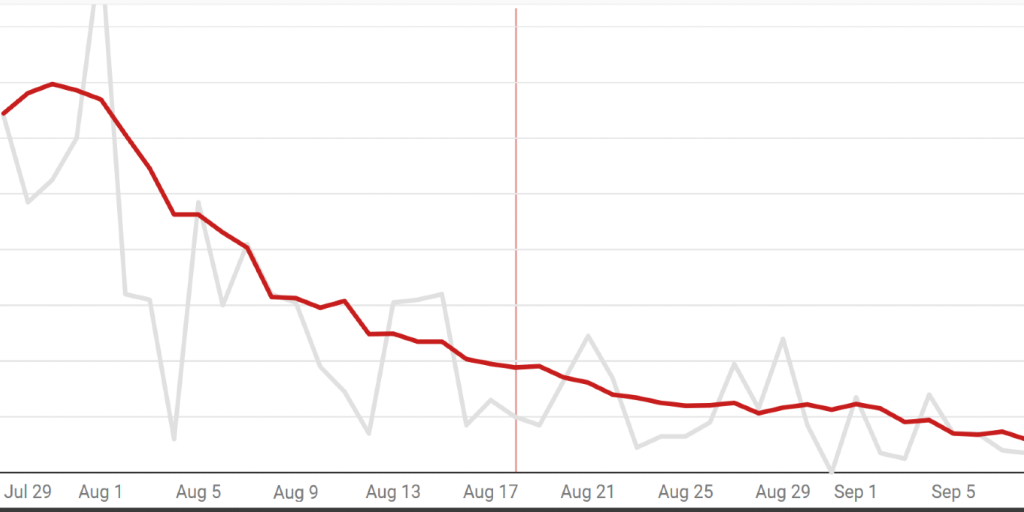 Moreover, CFAP noted that "counties that had a lower COVID-19 incidence—a measure of new cases per capita—prior to the rally were more likely to have a visible increase in cases after the rally, perhaps because any uptick in cases was more likely to stand out against the pre-event level."
In other words, CFAP's junk-science promulgators likely would have reported a single case in a county with no prior cases as a 100 percent uptick, and so forth.
Most of those areas where a dramatic spike occurred saw only a handful of new cases despite the rallies drawing thousands of supporters, including those from neighboring areas.
As the report observed, "Most Trump rallies during the pandemic have been outdoors in airplane hangars, which may have helped mitigate transmission relative to indoor settings."
Nonetheless, the report falsely hyped increases with the screaming headline "Trump Rallies Are Often Followed by Increases in Local COVID-19 Cases."
It comes as leftists have waged an unprecedented disinformation and censorship campaign in their effort to pull deeply flawed Democrat presidential nominee Joe Biden across the finish line.
Many outlets have suppressed damning stories about the Biden family's corruption and lawlessness, some of which point to the possible sexual abuse of minors close to the former vice president and his son Hunter.
Despite an abundance of corroborating evidence, Biden's left-wing media allies have justified their blackout by falsely claiming the stories either lack evidence or are the result of Russian disinformation.
The strategy mirrors that devised by Clinton and Podesta in their failed 2016 campaign, during which they sought to deflect from an e-mail controversy by using sympathetic—and corrupt—leaders of the Obama intelligence agencies to promote a hoax that the Trump campaign had colluded with Russia.
The onset of the coronavirus pandemic has only amplified their attempts to exploit yet another media-driven crisis for their own political imperatives.
On the very day that Trump declared a national health emergency, top Democrat lawyer Marc Elias and other thought-leaders in the party began their pitch to increase mail-in voting, arousing widespread suspicions of potential vote fraud.
Democratic governors then proceeded to lock down their states, effectively wrecking the national economy, only to relax their authoritarian mandates for the race riots that began in June following the death of George Floyd.
While considerable evidence shows that the virus is not a great danger to most healthy members of the population—with many who contract it remaining asymptomatic and more than 90 percent of those hospitalized making a full recovery—Democrats and their media allies have touted what they claim is a new "spike" in cases as the election approaches.
It remains unclear whether the purpose is simply to smear Trump or if they intend to implement new lock-downs in crucial battleground states prior to in-person voting on Nov. 3.
What is clear, however, is that Podesta was among those involved in seditious "war games" organized by the George Soros-linked Transition Integrity Project.
The alliance of NeverTrumpers strategized over the summer about how it would use various Election Day scenarios to undermine a Trump victory and secure a win for Biden.
That included everything from having blue-state governors refuse to certify the results and send delegations of rival electors—resulting in delays that would let House Speaker Nancy Pelosi (or someone even more radical) assume power on Jan. 20—to encouraging far-left states like California, Washington and Oregon to secede and form a new nation called Cascadia.