(Tony Sifert, Headline USA) With the peculiar glee that accompanies every expansion of the self-loathing leftist's word-hoard, an Australian professor has taken to the Internet to declare that climate change is another name for the "white colonization of the atmosphere," and that the United States owes "reparations" to the Third World.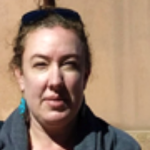 "It's long been recognised that people of colour suffer disproportionate harms under climate change," wrote Erin Fitz–Henry, senior lecturer in social and cultural anthropology at the University of Melbourne, as she lamented the failure of "rich white countries" to "address this inequity."
Fitz–Henry went on to suggest that climate change was a kind of "atmospheric colonisation … a form of deeply entrenched colonial racism that arguably represents the most pressing global equity issue of our time."
What to do?
...article continued below
Well, according to Dr. Fitz–Henry, only white people can solve the world's problems, and they must do so by jetting off to global summits whose carbon footprint is large enough to be seen from space.
"Several upcoming global talks, including the Pacific Islands Forum this week, offer a chance to urgently elevate climate justice on the global agenda," she wrote.
Fitz–Henry, of course, reserved particular ire for the United States—not for waging a proxy war against Russia in Ukraine that could lead to a nuclear winter, but rather for refusing to do China's G77 bidding and pledge trillions in aid to "developing countries."
"At Bonn, the G77 (a coalition of 134 developing countries) and China wanted financing for [yet another global entity that would] deliver funding to developing nations to cope with the consequences of climate change," Fitz–Henry wrote. "But the United States and the European Union opposed the move, fearing they would become liable for billions of dollars in damages."
...article continued below
A rare moment of fiscal discipline for a globalist administrative state that loves nothing more than to infinitely fund the figments of the United Nations' imagination.