(Headline USA) California's confirmed coronavirus cases have topped 409,000, surpassing New York for most in the nation.
Meanwhile, liberal outlets—including a new poll by left-skewed Quinnipiac University—seemed laser-focused on critiquing conservative states where the spike was much less prevalent.
John's Hopkins University data show California has about 1,200 more cases than New York.
However, New York's 72,302 confirmed deaths are by far the highest total in the country and nine times more than California's tally of nearly 8,000.
California is by far the most populous U.S. state, at nearly 40 million people, while New York has about 19.5 million.
President Donald Trump and Republicans have taken a more somber and less optimistic tone recently that the disease will pass quickly but are continuing to encourage a return to normalcy with measures like schools reopening.
Meanwhile, Democrat governors including California's Gavin Newsom and New York's Andrew Cuomo persisted in deflecting on their role in letting infections run rampant.
Both states—and many other blue areas—actively encouraged mass public gatherings during race-riots in June that helped transmission.
Cuomo was also one of several blue-state governors who forced infected senior citizens in nursing homes to co-mingle with healthy residents.
Yet, both have exploited the panic-mongering to score political points while deflecting to red herrings as they cast blame for their states' dire circumstances.
Newsom was met with intense criticism for subjecting churches and other essential institutions to draconian regulations while permitting his own Napa Valley winery to remain open.
Cuomo has directed much blame at Trump, despite his own constant mixed-messages and clear policy failures.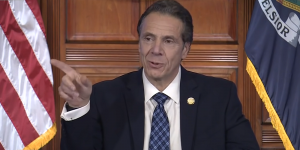 After Cuomo over-estimated the need for personal protective equipment and supplies at the virus's initial peak, the federal government was forced to devote many of its resources to the poorly prepared New York epicenter.
Cuomo has since played Santa Claus to politically useful areas like Savannah, Georgia, which he recently visited to advise them of "best practices."
Meanwhile, left-wing media seemed more intent to zero-in on red-state governors like Texas's Greg Abbott and Florida's Ron DeSantis.
In a poll released Wednesday afternoon, Quinnipiac University focused exclusively on shifting blame to Texas, where it claimed citizens were blaming Abbott for the "out of control" situation.
"The concern is palpable as the number of virus victims soars and it's getting more personal every day, as the patient lists increasingly include friends, family and neighbors," Quinnipiac University Polling Analyst Tim Malloy somberly claimed.
The poll suggested that three-quarters of Texans deemed it a serious problem and touted an 8 percent drop in Abbott's approval rating as evidence that he and Trump were the culprits.
While both Texas and Florida are among the states that have seen significant upticks in cases, data indicate that their mortality rates continue to be well below the US average (which is skewed by New York and other reckless states).
In contrast to the nearly 8 percent death rate in New York, Florida and Texas both remained under 2 percent as of earlier this week.
The US mortality rate has dropped overall, despite increases in testing, since more confirmed cases have the effect of lowering the rate.
With treatments improving, the recovery rate has steadily increased since April from just over 70 percent to around 93 percent.
Scientists say reported coronavirus cases vastly underestimate the true number of infections because of the small number of tests.
A recent Centers for Disease Control and Prevention study says COVID-19 cases were more than 10 times higher than reported in most U.S. regions from late March to early May.
It's based on COVID-19 antibody tests performed on routine blood samples in 16,000 people in 10 U.S. regions that showed many with the virus antibody.
Disease skeptics have hung to that fact—evidence that most of those afflicted are wholly asymptomatic—to suggest that the spike in cases may, in fact, be a good thing.
Some argue that controlled exposure, helping pave the way for herd immunity, is the most practical path to overcoming the disease rather than riding it out in the hopes of a less-than-certain vaccine or evolutionary change in the virus.
Adapted from reporting by the Associated Press