Editor's Note: Song contains profanity and obscene gestures that may not be suitable for children or snowflakes.
A boisterous and somewhat crude anti-vaccine ditty found itself over Christmas in the unlikely company of pop stars like Sir Elton John, Ed Sheeran, Adele, Kelly Clarkson and Coldplay.
Last week, the Daz Band reached No. 16 on the UK's iTunes pop charts, climbing from No. 47 the week prior, with their catchy yet incredibly poignant anthem "We Are The 99%."
The song also reportedly reached No. 1 on Amazon's UK downloads.
Not surprisingly, Big Tech has scrambled to censor and suppress it.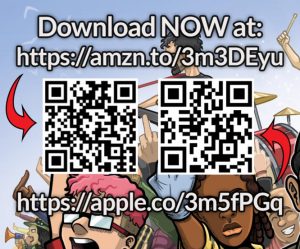 "They tried to stop us—even the recording session for 'We are the 99%' got stopped because of the 'controversial' nature of the lyrics," says the band's website, "and one distributor also refused to allow it, using the reason of 'medical misinformation'—as if anyone is going to get health advice from a comedy song."
The song, however—set to the tune Americans know best as "She'll Be Coming 'Round the Mountain"—is hardly a laughing matter with lyrics like "Oh I'd rather be a human than a slave."
Its verses run the gamut in attacking globalist conspiracies such as vaccines, chem trails, genetically modified foods, the central bank and the British monarchy.
Like another famous British quartet that fused music and politics, frontman Darren "Daz" Nesbitt hails from the port town of Liverpool—and true to Lennonesque tradition, his biting social critique, informed by his working-clas roots, holds nothing back.
"Writing and performing for over 30 years, Darren woke up in 2012/13 to discover everything is a deception, made for an agenda, to technoractically enslave the whole of mankind," says his online biography. "He decided there and then that he was going to do everything possible to help stop that from happening, and so became a committed activist for truth, justice and freedom for the individual everywhere."
But while John Lennon's classic "Imagine" pushes the framework for a socialist/collectivist utopia free from private possessions, Nesbitt's signature song lays out the unintended, dystopian consequences of such social engineering on the world that Lennon left behind with his 1980 assassination.
In fact, Nesbitt wrote the song, which also critiques the "New World Order" and the "Great Reset," nearly eight years ago, but it has "found new life since 2020 and the covid scamdemic," says the band's website.
When it comes to topping the charts with anti-globalist protest songs, the Daz Band is not alone.
Prominent classic rockers including Van Morrison and Eric Clapton have come out vocally against COVID lockdowns—and have risked getting "cancelled" by the leftist gliterati in the process.
Meanwhile, several up-and-coming American performers have used their verboten critiques of the Biden administration to carve out their own—extremely successful—niche genre.
At least two rap songs titled "Let's Go Brandon"—by Loza Alexander and Bryson Gray— dominated the iTunes charts in October.
With staff shortages and scaremongering about the new omicron variant contributing to mass cancelations of flights, Daz and company may want to stick to their side of the pond for now.
Nonetheless, the time could soon be ripe for a new brand of Beatlemania, should they someday opt to lead a British anti-vax invasion stateside.
Until then, they are hoping to maintain their chart position—and, if not make it to No. 1, at least keep a seat near the throne.
"Our aim is to make it Christmas Number 2 this year, for a crap on the doorsteps of the rulers and a lifting of good festive cheer for all those who see the world as it really is, and no longer through the distorted lens of their deceptions" says the website.