As America's gas prices skyrocket, President Joe Biden on Wednesday issued a "pathetic and embarassing" plea to the Organization of the Oil Exporting Countries to produce more oil, the Washington Times reported.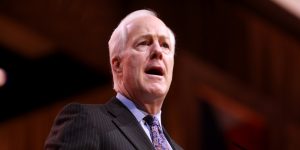 "It's pretty simple: if the President is suddenly worried about rising gas prices, he needs to stop killing our own energy production here on American soil," Sen. John Cornyn, R-Texas, said in a press release.
Upon taking office, Biden signed several executive orders to crush domestic oil production by halting efficient oil pipelines and prevent federal land leases to oil producers.
Now that gas has risen by more than $1 per gallon since this time last year, from $2.17 to $3.18, Biden is calling on African, Middle Eastern, and South American nations to do the work that he prevented American oil producers from doing.
...article continued below
"Begging the Saudis to increase production while the White House ties one hand behind the backs of American energy companies is pathetic and embarrassing," Cornyn said.
National Security Adviser Jake Sullivan said the Biden administration begged OPEC-member nations to increases their oil production—a request the producers may not oblige because more production means lower prices and lower profits for them.
"While OPEC+ recently agreed to production increases, these increases will not fully offset previous production cuts that OPEC+ imposed during the pandemic until well into 2022," Sullivan said. "At a critical moment in the global recovery, this is simply not enough."
Sullivan called for competition in the energy market, even as Biden's orders prevent free domestic competition.
...article continued below
"Competitive energy markets will ensure reliable and stable energy supplies and OPEC+ must do more to support the recovery," he said.
Open competition and reduced regulations on drilling in the U.S. kept gas prices low—often below $2 per gallon—during former President Donald Trump's tenure.
The Biden administration also tasked the Federal Trade Commission with harassing domestic oil producers about potential illegal conduct that may have caused gas prices to rise.
National Economic Council Director Brian Deese said Biden worries that "anti-competitive or other illegal practices" may be causing consumers to pay "more for gas."
Biden himself implemented the anti-competitive policies through unconstitutional and illegal executive orders.