(Ken Silva, Headline USA) For the 30th anniversary of the April 19, 1993, Waco massacre, Headline USA interviewed attorney Kirk Lyons, who represented some of the Waco victims against the U.S. government in the wake of the tragedy.
Lyons spoke about his role in helping secure legal representation for David Koresh, the leader of the Branch Davidian religious group that was besieged by federal agents for 51 days. He also provided evidence that ATF agents fired on the Davidians from helicopters during their ill-conceived raid.
Equally interesting, Lyons talked about how a CIA asset allegedly sabotaged the civil lawsuits that were filed against the U.S. government in the wake of the massacre.
But first, a disclaimer: Lyons is a highly controversial figure on all sides of the political spectrum.
He has received criticism for years over his connections to the white power movement, while also being viewed with suspicion among right-wingers due to his friendships with people such as Andreas Strassmeir—a German national suspected by some of being an agent provocateur involved in the Oklahoma City bombing.
"The right wing turned its back on me, basically. A lot of people still think I'm a CIA or Mossad agent," said Lyons, who moved on from politics after the 1990s to focus his efforts on preserving Confederate monuments.
Nevertheless, Headline USA chose to speak to Lyons because he is a significant historical figure in the 1980s- and '90s-era right-wing extremism movement. He was a defense attorney in the 1987 sedition trial—one of the few sedition cases in American history, along with the ongoing Proud Boys sedition trial—he was involved in the response to the 1992 Ruby Ridge standoff, and was involved as an attorney during and after the 51-day Waco siege.
To that latter event, Lyons recalled that he received a phone call from his brother-in-law when the ATF began its botched raid on the Branch Davidians on Feb. 28, 1993. The ATF's poorly planned raid—agents could have arrested Koresh on firearms charges when he was out jogging, but they instead decided to storm his home on Mt. Carmel—resulted in four dead federal agents and six murdered Davidians.
"I got a call that afternoon from my brother in law in Austin, said, 'You've got to get on the television. The ATF has botched a raid, and they are in retreat,'" Lyons said.
A native Texan who had already taken on the U.S. government in the 1987 sedition trial, Lyons was used to involving himself in "extreme" cases like the Waco siege. His law firm at the time, CAUSE, specialized in representing what he called "dissident churches."
"We were in touch with a lot of alternative churches, dissident churches—things like that. And we started getting calls. And they were saying, 'Are we next?'" Lyons told Headline USA.
Lyons and his CAUSE team decided to become involved. They drove from North Carolina to Texas, arriving in Waco on the sixth day of the siege.
Lyons said he tried to talk to the FBI, but agents refused to speak to him. He also filed for a temporary restraining order against the feds—"to give peace a chance," as he put it—but the application was dismissed by a federal judge with no explanation.
So Lyons said he endeavored to form the "Lawyers Response Committee" to gather top attorneys from around Texas.
"We felt that we needed to get the smoke-breathing, rhino-killing attorneys in Texas to line up to represent these people … to give them a reason to surrender," Lyons said.
To that end, he already personally knew the man to eventually become Koresh's attorney, Dick DeGuerin, having served as a witness for him in a murder trial—Lyons became a witness for DeGuerin after police wouldn't allow his client to speak to him in jail.
"He said, 'Kirk, I'll represent anyone in there, as long as it's David Koresh. But you've got to have his mother call me,'" Lyons said of his recruiting DeGuerin, who would enter the Branch Davidian home during the 51-day standoff. Other attorneys Lyons said he helped bring into the case included Waco's former district attorney, Vic Feazell, and prominent lawyer John Doss.
"John Doss is a hero to me. He didn't know me from Adam's housecat, but he agreed. He said, 'We need to give these people attorneys so they have an incentive to come out,'" Lyons said.
Along with gathering some heavy hitters, Lyons filed for a temporary restraining order against the federal agents besieging the Branch Davidians at their home. However, a judge denied Lyons' request on March 3, 1993, without any explanation.
The next day, CAUSE issued a scathing—and prescient—press release, blasting the judge's decision and warning that the standoff could end in "fire" if federal agents weren't constrained by the law.
"In every federal standoff since Wounded Knee, those which used outside, neutral negotiators ended in a peaceful solution," stated the press release, which Lyons provided to Headline USA. "Those that have not and in which the government retained control have ended in injury and death, mostly by fire."
A March 1993 press release from the CAUSE Foundation chillingly warned that if federal agents weren't constrained, the standoff at Waco would likely end in fire and death. Tragically, that's exactly what happened on this day 30 years ago.#Waco pic.twitter.com/fPLLvzJ0U8

— Ken Silva (@JD_Cashless) April 19, 2023
Tragically, that's exactly what happened.
On April 19, 1993, FBI-sanctioned tanks and Bradley Fighting Vehicles started ramming holes into the Branch Davidians' home, injecting highly flammable CS gas that had been outlawed by the U.S. and 99 other countries three months earlier during the January 1993 Chemical Weapons Convention in Paris. The FBI would later claim that it didn't realize the gas had been banned at the time they deployed it against the Branch Davidians.
A massacre ensued: 76 Branch Davidians, including 25 children and two pregnant women, died in the fire.
Lyons and CAUSE represented many of the burn victims who survived, including multiple Jamaicans—a fact Lyons points to when accused of being a white supremacist. One of the victims, Oliver Gyarfas, who departed the compound on March 12, provided evidence to Lyons indicating that federal agents had fired at the Branch Davidians from helicopters—a damning fact that the U.S. government continues to deny to this day.
Gyarfas explained to Lyons that one of the Davidians, Winston Blake, had been laying in the bottom bunk of a bed on the home's first floor. A bullet entered Blake's head at an angle indicating that the shot had been fired from above in a helicopter, Gyarfas told Lyons.
Gyarfas provided a drawing to Lyons of the scenario, which the lawyer provided to Headline USA. The drawing has been unpublicized until now.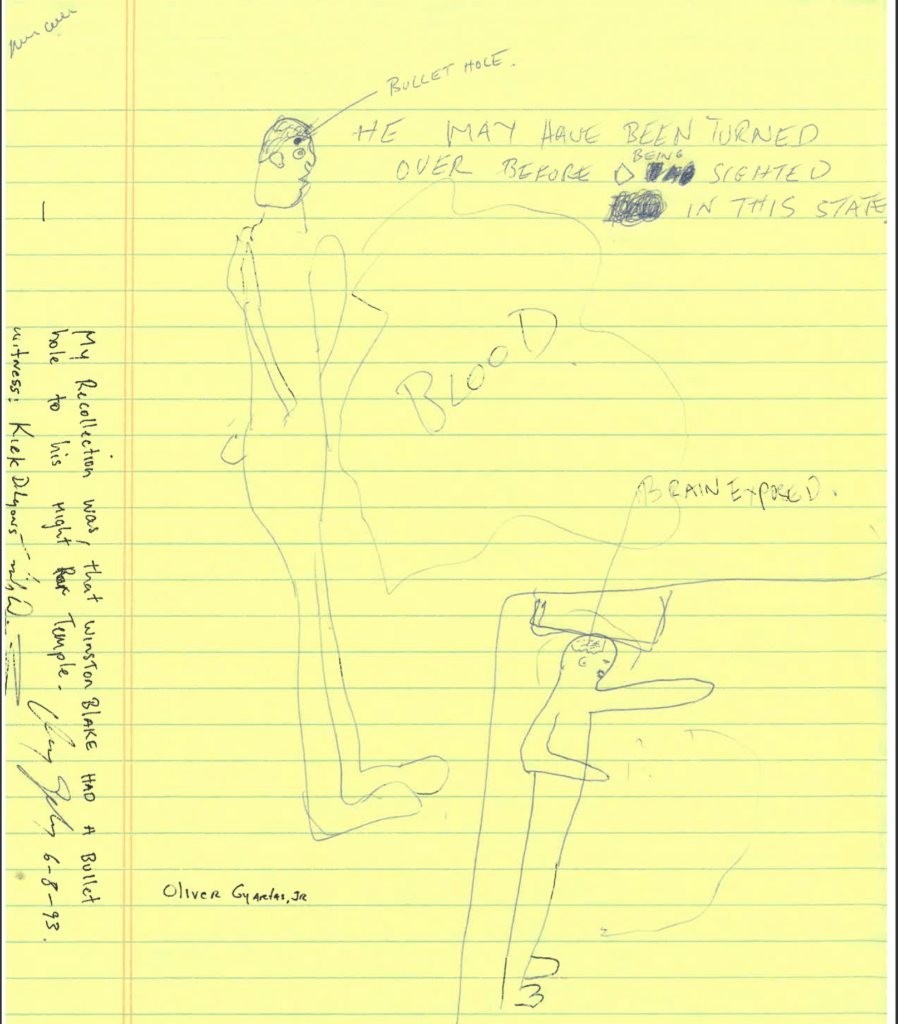 Lyons used this and other evidence to file civil suits against the U.S. government in the aftermath of the massacre. However, his lawsuits were ultimately unsuccessful.
Lyons suspects the team of attorneys suing the U.S. government had a mole in its ranks. Specifically, Lyons accuses private investigator Gordon Novel of being a CIA asset who sabotaged the lawsuits.
Lyons wouldn't be the first one to accuse Novel, who is now dead, of being a CIA asset. Novel had previously been accused of this by Jim Garrison, the New Orleans district attorney who famously investigated the JFK assassination.
Lyons said that Novel convinced the lawyer he was working for—former U.S. attorney general Ramsey Clark—to include wild conspiracy theories in the lawsuits, which were laughed out of court by judges.
"There was our team and there was the Clark team, who had Novel, the one who talked about the flame-throwing tanks, which was kooky stuff in my opinion," Lyons said. "I think that's where our civil cases were discredited—by the nonsense Novel put in there."
Some 30 years later, Lyons still takes exception to the FBI-sponsored propaganda being disseminated about the Waco case and other matters he was involved in. Netflix published a documentary about Waco earlier this year, featuring FBI agents who he despises—including Bob Ricks, who was the bureau's mouthpiece during the Waco siege.
Ricks caused a stir online with his insensitive comments to Netflix about the Waco siege—declaring that the "hostages were not the Davidians in there; the hostage in this whole process was the FBI."
The fact this was aired and the guy filming it did not jump in there and pop him in the mouth says it all pic.twitter.com/a80DDAIfm8

— 🧩Nom De Plume 📝📚 (@booth_okc) April 17, 2023
While Lyons is no longer in position to take legal action against agents such as Ricks, he did tell Headline USA a biting joke about the spokesman, who was known for always dressing to the nines and never having a hair out of place.
"We had a joke about Bob Ricks because he wore all these turtle-neck sweaters," Lyons said. "So, we said, 'Why does Bob Ricks keep wearing turtle-neck sweaters all the time? It's to keep the foreskin from rolling up over his head.'"
Ken Silva is a staff writer at Headline USA. Follow him at twitter.com/jd_cashless.