Fifteen years after Duke University was brought to its knees by a rape hoax implicating four white members of its lacrosse team, the North Carolina school finds itself in another uproar that breaks down along racial lines.
Rather than resting on the false testimony of a stripper, the current scandal follows an anonymous person's outrageous attempt to present facts about the racially charged George Floyd trial, which is set to commence soon.
It could offer a sneak preview of what the rest of the country can expect if former Minneapolis officer Derek Chauvin is acquitted of killing Floyd, who died of an apparent drug overdose last May while in police custody.
Duke said it has launched an investigation into the recent posting of Floyd's toxicology report on a dormitory bulletin board celebrating Black History Month.
...article continued below
It is unclear why the bulletin-board display remained up nearly three weeks after the end of the February commemoration, but the printout of the toxicology report was discovered on March 20 beside a photo of Floyd's face, reported the school's student newspaper, the Chronicle.
The student journalists made no bones about dubbing it a "racist" incident, even as black activists in the surrounding Durham community have insisted that monuments they deem offensive should include additional "context."
"It wasn't mirroring what was put up on the board," said first-year Matt Mohn, who made the unsettling discovery on Saturday morning and shared it to a group messaging service.
"… It was literally just the author voicing their own opinion that he wasn't a good man because he had a counterfeit 20-dollar bill," Mohn said.
...article continued below
Although the identity of the culprit remained uncertain, Mohn assumed it was an outsider since the dorm is specially designated to house minority students in the pre-health program.
"This was someone who came into this building knowing that it was basically this community of color and then put this up there," Mohn claimed.
"The alternative was that they've lived here the entire year and struck from within by putting that stuff out," he added. "Neither of those options are good."
The bulletin board was on the third floor, meaning that someone with no connection to the dorm would have gone to great lengths in printing the report, entering a residential space where they clearly were an intruder, and traversing several halls without arousing suspicion while specifically seeking out a photo of Floyd.
A meeting with the dean of students did little to alleviate those triggered by the incursion of facts into their safe space.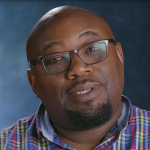 Dean John Blackshear, who is black, acknowledged that it was intended to "distress the community" but ultimately wrote it off as a constitutionally protected viewpoint expressed on a public forum.
First-year Emily Prudot Gonzalez claimed the meeting with Blackshear was "dangerous" for failing to satisfy the impulsive demands of the woke mob.
"[A] lot of the things that Blackshear said just sounded like he was allowing that to happen," Gonzalez told the Chronicle.
"It just sounded like it was simply an opinion that someone can have—even though that 'opinion' that literally targets black people," the mystified student-activist said.
Although "critical-race" dogma maintains that people of color cannot be racist, some suggested that Blackshear might at least be sympathetic to the cause of white supremacy for dismissing their grievances.
"I was met with distasteful remarks that seemed to invalidate my feelings and experiences while simultaneously epitomizing just how insincere Duke's anti-racist platform truly is," said student Michael Manns.
Yet, the dean opened up candidly about the challenges he faced in compartmentalizing his own personal encounters with prejudice while acting in the best interest of the school and broader community.
"As I said to students yesterday, I am not blind to the fact that we have a community here of people with all sorts of opinions and beliefs about everything we do, but that was not what that was about," Blackshear told the Chronicle.
He said he took a "deep breath" before meeting with the students.
"I can't escape from being a black man who has a reaction to that, but I had to set my reactions aside and go see my students," Blackshear said.
Duke said any outcomes from the investigation would likely be subject to federal privacy restrictions. However, if no perpetrator was identified, it planned to inform the school community by April 15, the Chronicle reported.