(Ken Silva, Headline USA) The Department of Homeland Security has an initiative that has been aptly described by some researchers as a "pre-crime" program—dispersing millions of dollars in grants to local organizations that attempt to identify potential terrorists based on their "problematic" beliefs.
The Media Research Center exposed more shocking information about the DHS program on Thursday. The program—which has gone by multiple names, including the "Targeted Violence & Terrorism Prevention Grant Program" and the Center for Prevention Programs and Partnerships, or CP3—was initially launched to de-radicalize or de-program potential terrorists, but has now apparently turned to target conservatives and Christians.
"In Ohio, DHS awarded the University of Dayton $352,109 to establish the PREVENTS-OH program, which promised to 'draw on the expertise of the University of Dayton faculty' to fight 'domestic violence extremism and hate movements,'" MRC reported.
MRC revealed that the University of Dayton's research initiative flags groups such as The Heritage Foundation, Fox News, Christian Broadcasting Network, the National Rifle Association and the Republican National Committee—marking these organizations as potential gateways to Nazism and other odious beliefs.
A PREVENTS-OH seminar used the following graphic to illustrate its point: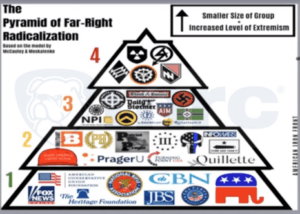 MRC also noted that the seminar included a University of Cincinnati Research Fellow Michael Loadenthal, who is "a self-proclaimed member of Antifa whose Twitter feed is rife with posts celebrating acts of left-wing violence—often against police officers."
Loadenthal has locked his Twitter account—apparently in response to the MRC's reporting, as Headline USA was unable to access it recently.
The University of Dayton has also removed videos related to the seminar.
According to MRC, the Biden administration spent nearly $40 million in American tax dollars spread across 80 grants to teach "media literacy and online critical thinking initiatives," among other initiatives, in an effort to weaponize the DHS against conservatives, Christians and the Republican Party.
Luckily, numerous civil-liberties organizations have called to defund this program—including, to their credit, many liberal and left-leaning groups.
Indeed, last month a coalition of 40 pro-privacy groups sent a letter to the U.S. Senate and House appropriations committees, urging them to defund the dystopian initiative.
The groups—which included the ACLU, Electronic Privacy Information Center and Muslims for Liberty—said CP3 is "wasteful, providing no security benefits and actively undermining civil rights, civil liberties, and privacy."
The groups explained that the DHS's initiative is relying on the discredited "radicalization" theory—the false idea that there are reliable predictive risk indicators demonstrating that someone is on a path to violence.
"Government-identified behavioral indicators have included communicating that one is in distress, deviating from one's routine, isolation, economic stress, paying off debts, or being preoccupied with a person, place, belief, or cause. They are often commonplace, innocuous, or otherwise easily explained," the groups said.
Privacy researcher Ed Hasbrouck, a consultant to the nonprofit Identity Project, is the one who coined it a "pre-crime" program.
"CP3's attempts to predict future crimes are to be based on behavioral patterns— i.e., profiling—and on encouraging members of the public to inform on their families, friends, and classmates," he wrote when CP3 was first announced.
"The problem, of course, is that the law does not permit prosecution based solely on patterns of lawful behavior. With good reason: 'precrime' prediction is a figment of the imagination of the creators of a dystopian fantasy movie, Minority Report."
Ken Silva is a staff writer at Headline USA. Follow him at twitter.com/jd_cashless.