Shenanigans unfolded exactly as predicted in several blue-led battleground states where President Donald Trump translated a heavy campaign presence into encouraging leads only to see them suspiciously erode overnight.
On the plus side, it looks like Democrats finally figured out how to flatten the curve.

— Andy Swan (@AndySwan) November 4, 2020
One update appeared to add nearly 130,000 votes in Michigan, all for Biden.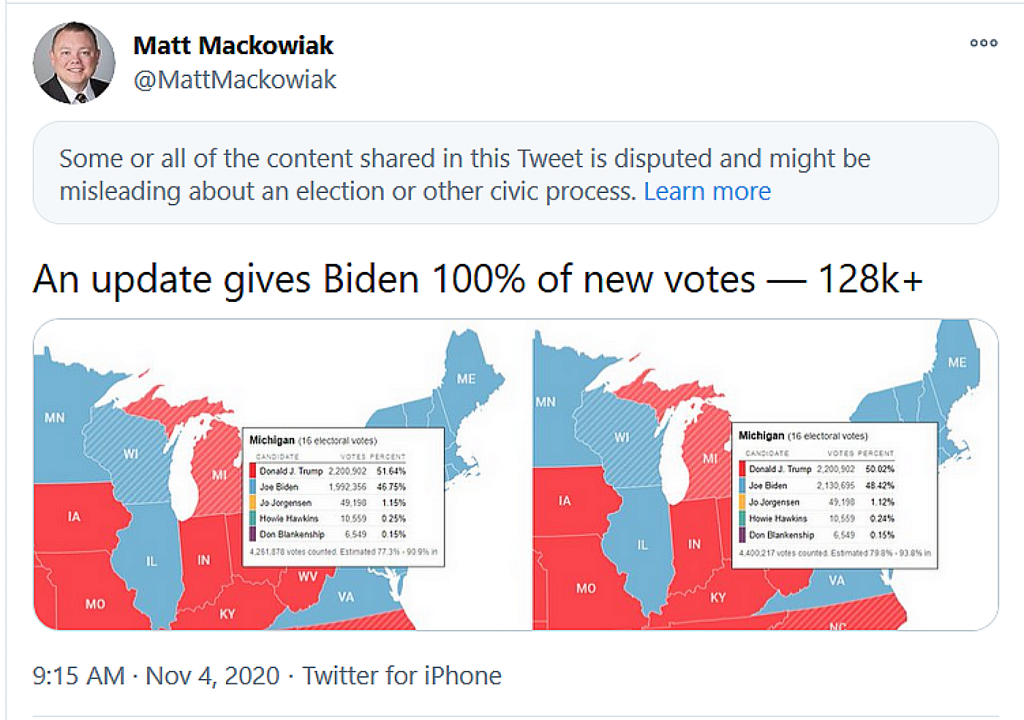 Some commenters online suggested the graphic appearing to show live screenshots from verified Twitter user Matt Mackowiak was manipulated.
...article continued below
Twitter itself removed the widely shared tweet, as it had been aggressively doing with many of those that case aspersions on the vote tally.
Several of President Donald Trump's tweets were given a disclaimer—something Twitter had said announced in advance was part of its "pre-bunk" campaign to censor and discredit information from right-leaning sources.
The Trump campaign said it would demand a recount in Wisconsin, and at least one Michigan county where GOP state officials noted a "suspect" Biden victory said it was doing a careful recount and review of the ballots.
The Trump campaign also announced it had launched a lawsuit to halt the state from its illicit collection and counting of late ballots.
...article continued below
But anti-Trump officials including Michigan's secretary of state, Jocelyn Benson, pushed back by insisting that their so-called election-integrity safeguards and protocols were the reason for the delays.
Many of the rules were controversially changed at the last minute under the auspices of coronavirus emergency measures.
Despite the efforts by Trump's legal team to challenge the arbitrary and inconsistent rules regarding mail-in voting, courts wavered on whether un-elected administrative officials had the authority to circumvent GOP state legislatures in places like Michigan, Pennsylvania and North Carolina.
Pennsylvania, which would be a key race if Michigan and Wisconsin's counts stood, had what Trump described as an insurmountable lead late on election night.
However, officials in Philadelphia, who had delayed their counting as totals from elsewhere in the state came in, continued to seek opportunities to erode that margin.
With 80 percent of precincts reporting as of Wednesday afternoon, Trump's lead had narrowed to around 450,000 votes.
Pennsylvania's secretary of state claimed there were "millions" left to be counted.
We are winning Pennsylvania big, but the PA Secretary of State just announced that there are "Millions of ballots left to be counted."

— Donald J. Trump (@realDonaldTrump) November 4, 2020
Meanwhile, additional questions lingered about Georgia and North Carolina, states where Trump continued to lead by narrowing margins as left-wing election officials sought to slow-walk the final tallies and discover new ballots.
Sudden infusions of votes for Biden seems to be a common pattern. Georgia here. pic.twitter.com/AKWDZelqDg

— Anticipating Possible Unrest Platts??? (@WarrenPlatts) November 4, 2020
The Supreme Court allowed a lower-court verdict to stand that allowed Pennsylvania to continue accepting mail-in ballots through Friday, regardless of whether signatures and postmarks were verifiable.
Trump continued to push examples of suspect outcomes as quickly as Twitter could suppress him.
He announced that the state had recently found the ballots to overturn a commanding election-night lead by Republican challenger John James, who hoped to unseat Democrat incumbent Gary Peters in a closely watched Senate race in Michigan.
Wow! It looks like Michigan has now found the ballots necessary to keep a wonderful young man, John James, out of the U.S. Senate. What a terrible thing is happening!

— Donald J. Trump (@realDonaldTrump) November 4, 2020