A former Biden transition-team official has been blocked from all future work with Immigration and Customs Enforcement just months after he helped his nonprofit organization secure an $87 million contract to house migrants.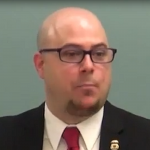 Andrew Lorenzen–Strait, the senior director for migrant services and federal affairs at the nonprofit Family Endeavors, was denied the proper clearance to work on the contract that he helped secure for the organization back in April, according to a high-ranking ICE official.
"Mr. Andrew Lorenzen–Strait was not cleared to work on the [Intensive Supervision Appearance Program IV's Support Services]. Please remove Mr. Andrew Lorenzen–Strait from supporting the ISAP IV contract," Joshua Jones, the management and program analyst for the Alternatives to Detention program within ICE Enforcement and Removal Operations's Custody Management office, wrote in a note to his colleagues on June 2, according to the Washington Examiner.
...article continued below
The contract Lorenzen–Strait was involved in was a $530 million no-bid federal contract for Family Endeavors to care for unaccompanied minor children at the southern border.
However, Republicans raised concerns about the contract because of Lorenzen–Strait's past connection to the Biden administration.
It was clear, they said, that this connection was the only reason Family Endeavors had been awarded the contract in the first place, since it had never worked with ICE or on immigration issues before.
"He has a conflict of interest under 5 CFR 2641.201, which permanently bans any former federal employee from working on a federal contract that he or she substantially participated in or had some influence over while serving as a federal employee," Carol Thompson, a lawyer for Federal Practice Group, explained.
...article continued below
House Republicans have asked ICE and the Department of Health and Human Services to provide all relevant internal correspondence between administration officials and Family Endeavors to make sure the contract was legitimate.