(Ken Silva, Headline USA) After being reportedly kicked out of the U.S. Army in 2008 "due to mental health concerns," suspected Allen, Texas, mass shooter Mauricio Garcia embarked on a career as a state-licensed security guard.
Garcia would have needed a background check from Texas before becoming a licensed guard. But according to one of the security firms Garcia worked for, the state never reported his purported mental-health issues when conducting the background check.
Headline USA learned this while reaching out to the firms Garcia reportedly worked for, including Ruiz Protective Service—a company founded by former FBI agent Hector Ruiz.
Ruiz Protective provided the following information in an email: "Based on the information available concerning the incident at the Allen mall, we believe that the Mauricio Garcia who worked for Ruiz Protective Service, Inc. from November 2015 to June 2016 is the same person involved in the shooting. This individual was terminated in 2016 and was not employed by Ruiz Protective Service, Inc. after that time.
"We were not aware of any mental health issues related to Mr. Garcia nor did the State of Texas report any issues when conducting a background check prior to issuing him a security license," said the Ruiz Protective vice president, Rob Minnis.
Other companies Garcia worked for—Statewide Patrol and Verified Response Security & Investigations—have not responded to Headline USA questions about whether they were aware of the shooter's reported mental health problems.
The Texas Department of Public Safety has yet to respond about whether the state's background check spotted Garcia's mental health problems.
According to the Texas Online Private Security database, Garcia underwent training after receiving his license, including in "firearms proficiency"—training that presumably wouldn't have occurred if the state's background check flagged his mental health problems.
Garcia's license expired in April 2020, according to the database.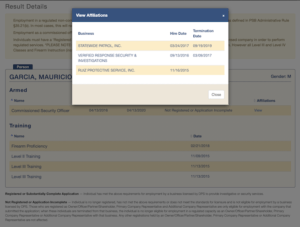 Saturday's mass shooting killed eight individuals and left seven others critically injured. Garcia was killed by an officer at a parking lot of a Texas mall.
Rather than focus on Garcia's mental health, most media outlets have focused on his purported ideology.
According to the Washington Post, investigators at the scene found a sign on the man's chest that said "RWDS," an acronym for Right Wing Death Squad.
Media efforts to frame the mass shooting as a right-wing attack under dubious circumstances drew strong backlash on Twitter, with many users pointing to the fact that it was, at the very least, premature.
Meet the white supremacist neo-Nazis next door: pic.twitter.com/VG2eof5zlE

— Aimee Terese (@aimeeterese) May 8, 2023
Ken Silva is a staff writer at Headline USA. Follow him at twitter.com/jd_cashless.