After more than a year of dismissing and attempting to de-legitimize any suggestion that COVID-19 escaped from the Wuhan Institute of Virology, Democrats and their media allies are now trying to cover their tracks.
As the lab-leak theory gains more credibility, Health and Human Services Secretary Xavier Becerra recently called on the World Health Organization to launch another independent investigation into the origins of the coronavirus pandemic.
The Biden administration claimed its rhetorical shift had come in response to newly emerging evidence that supported the lab-leak theory.
However, much of this evidence was available months ago.
AN OPEN SECRET
Like many other conservative outlets, Headline USA reported as early as April 2020 on COVID czar Anthony Fauci's financial ties to the Wuhan institute and the risky research it was conducting.
The Trump State Department even published a report detailing the likeliness that COVID-19 escaped from the WIV because of the dangerous "gain-of-function" research, which involved scientists intentionally trying to mutate naturally occurring viruses into more contagious strains.
Such research could be used to help discover new vaccines—or to create deadly biological weapons.
Nonetheless, mainstream media and Big Tech monopolies systematically suppressed any fact-based inquiries into the theory, even using phony "fact-checks" to promote disinformation and Chinese propaganda.
Despite—or rather, because of—the damning evidence, pro-Chinese President Joe Biden promptly shut down the State Department's probe and refused to acknowledge its report.
THE TRUTH REVEALED?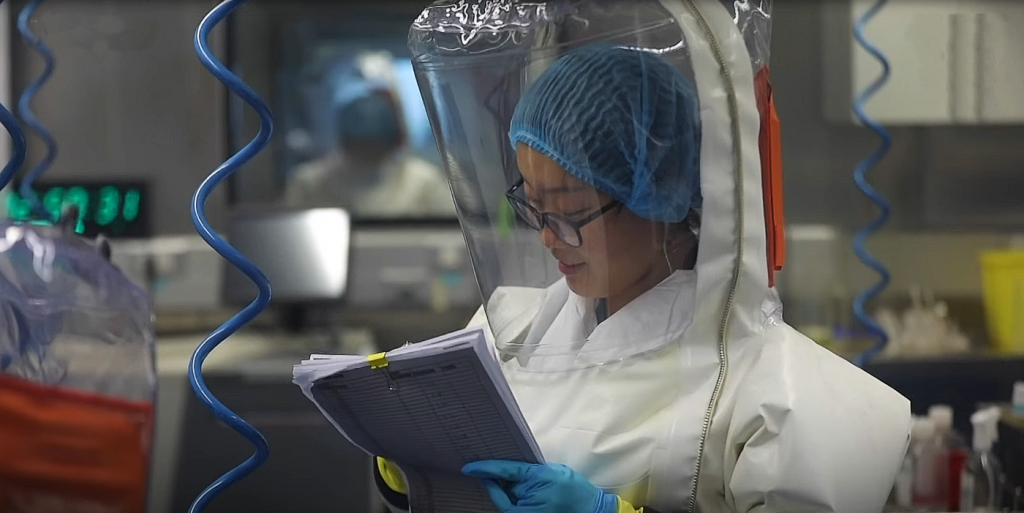 The cover-up began to unravel during a May 11 Senate hearing, when Sen. Rand Paul, R-Ky., grilled Fauci over the questionable funding that may have helped trigger the pandemic.

Fauci admitted in the hearing that he did "not have any accounting of what the Chinese may have done."
Subsequent media reports have piled on even more evidence debunking the supposed wet-market narrative, which claims the virus evolved organically outside the lab.
"I'm fully in favor of any further investigation of what went on in China," Fauci said during the May 10 hearing.
On Tuesday, he went even farther, admitting before the House Appropriations Committee that his National Institute of Allergy and Infectious Diseases had partaken in a "modest collaboration" with China to research the transmission of coronaviruses from bats to humans.
While the lab-leak theory now appears to be gaining widespread traction, the White House attempted to downplay skepticism yet again.
"We don't have enough information to draw a conclusion about the origins," White House Press Secretary Jen Psaki claimed on Monday, according to Summit News.
"We need data," Psaki added. "We need an independent investigation. And that's exactly what we've been calling for."
But many cast doubts on the reliability of a WHO-led probe, given the corrupt health organization's clear conflicts of interest and its close-knit ties to China.
Publicly, the WHO has continued to insist that the virus originated in wildlife.
FAKE NEWS BACKPEDALS
Several left-leaning publications have now tried to walk back their initial opposition to the lab-leak theory.
Politifact was forced to update its "fact check" claiming the theory had been disproven, and Vox stealth-edited an old article supposedly "debunking" it.
Some of the stealth edits that Vox made to its article debunking "conspiracy theories" that Covid-19 originated in a lab leak between its original publication in March 2020 and now. pic.twitter.com/RYxZ2B81mc

— Paul Graham (@paulg) May 24, 2021
When asked why the media didn't take the lab-leak theory seriously from the get-go—even though there was no evidence to discredit it—the New York Times's Maggie Haberman blamed former president Donald Trump for not providing "evidence" to back up the theory.
"Look, I do think that it's important to remember that … President Trump and Mike Pompeo, the Secretary of State, both suggested they had seen evidence that this was formed in a lab, and they also suggested it was not released on purpose," Haberman said, according to Breitbart.
Haberman and others in the media appeared to admit that because Trump officials had made the allegation during a hotly charged election season, they reflexively sought to discredit it.

"[T]hey refused to release the evidence showing what it was," she said. "So, because of that, that made this instantly political."

'TOLD YA SO…'
Trump responded this week by pointing out that he was right about the lab-leak theory all along.
"Now everybody is agreeing that I was right when I very early on called Wuhan as the source of COVID-19, sometimes referred to as the China Virus," he said in a statement.
"To me it was obvious from the beginning but I was badly criticized, as usual," Trump continued. "Now they are all saying 'He was right.'"
Sen. Tom Cotton, R-Ark., who was one of the first high-profile proponents of the lab-leak theory, also responded to the Democrats' flip-flop and blasted leftists for pushing Chinese propaganda.
Because the media doesn't like my politics, they lied to the public about the origin of covid-19.

They ought to be held accountable for covering up for the Chinese Communist Party. pic.twitter.com/ne6hdSsRvc

— Tom Cotton (@SenTomCotton) May 26, 2021
Headline USA's Ben Sellers contributed to this report.